Daily Review for January 22, 2021
January 22, 2021, 9:56
Global market correct. DAX drops 145 points, the Dow Jones 192 points and the VIX index is at 3.89%
In Europe, the Italian stock market is the one that is falling the most with 1.70%, losing 385 points
Gold in negative territory, but starting to recover in the wake of equities volatility
The cryptocurrency market corrects and its market capitalization falls below USD$1 Trillion
---
ETHEREUM -13.06%
Ethereum is currently down 13.06% and is trading at 1,140.98. The current market capitalization of Ethereum is USD$134 Billion. The fall in cryptocurrency prices from recent days has been generated by the sale of these assets by investors, who have begun to close profits from the rally of the last few weeks. Cryptocurrency market capitalization has dropped from USD$1 Trillion to USD$902 Billion. Another reason for the price drop was the statement of the Treasury Secretary, Janet Yellen, who demanded more regulation for the crypto market. The ECB is also working on further regulation.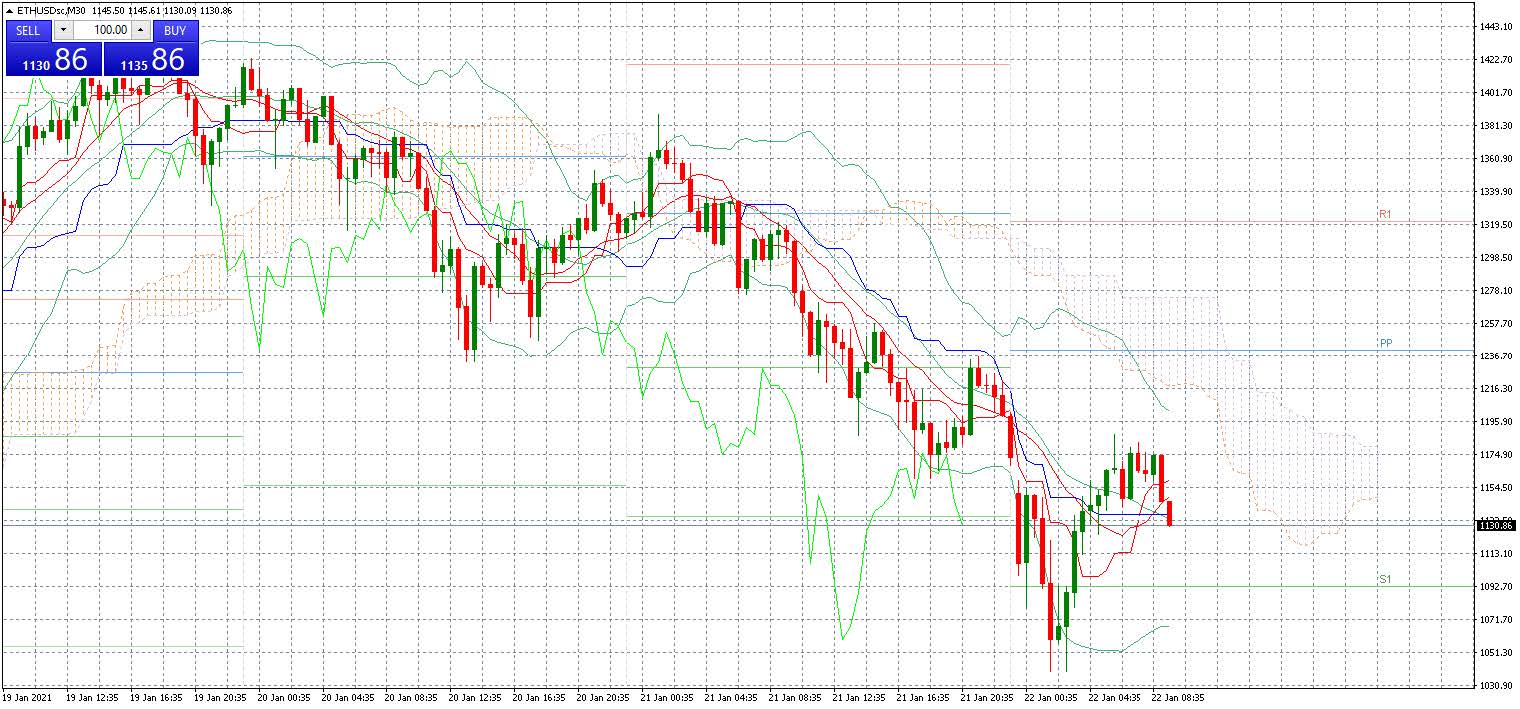 Support 1: 1,143.74
Support 2: 1,138.96
Support 3: 1,129.39
Resistance 1: 1,158.09
Resistance 2: 1,167.66
Resistance 3: 1,172.44
Pivot Point: 1,153.31
Expected trading range between 1,129 and 1,172 with Pivot Point for change in trend at 1,153.31. Bulls are starting to revise current entry level. Bulls forecast an upside to 1,500. However, if the massive selloff continues, price may look for levels below the 1,000 support.
---
GBPUSD -0.46%
The sterling pound against the USD is currently down 0.46% due to the shorts positions by FX traders, which are anticipating that the UK retail sales data will not meet the market forecast. This due to the UK's economic slowdown.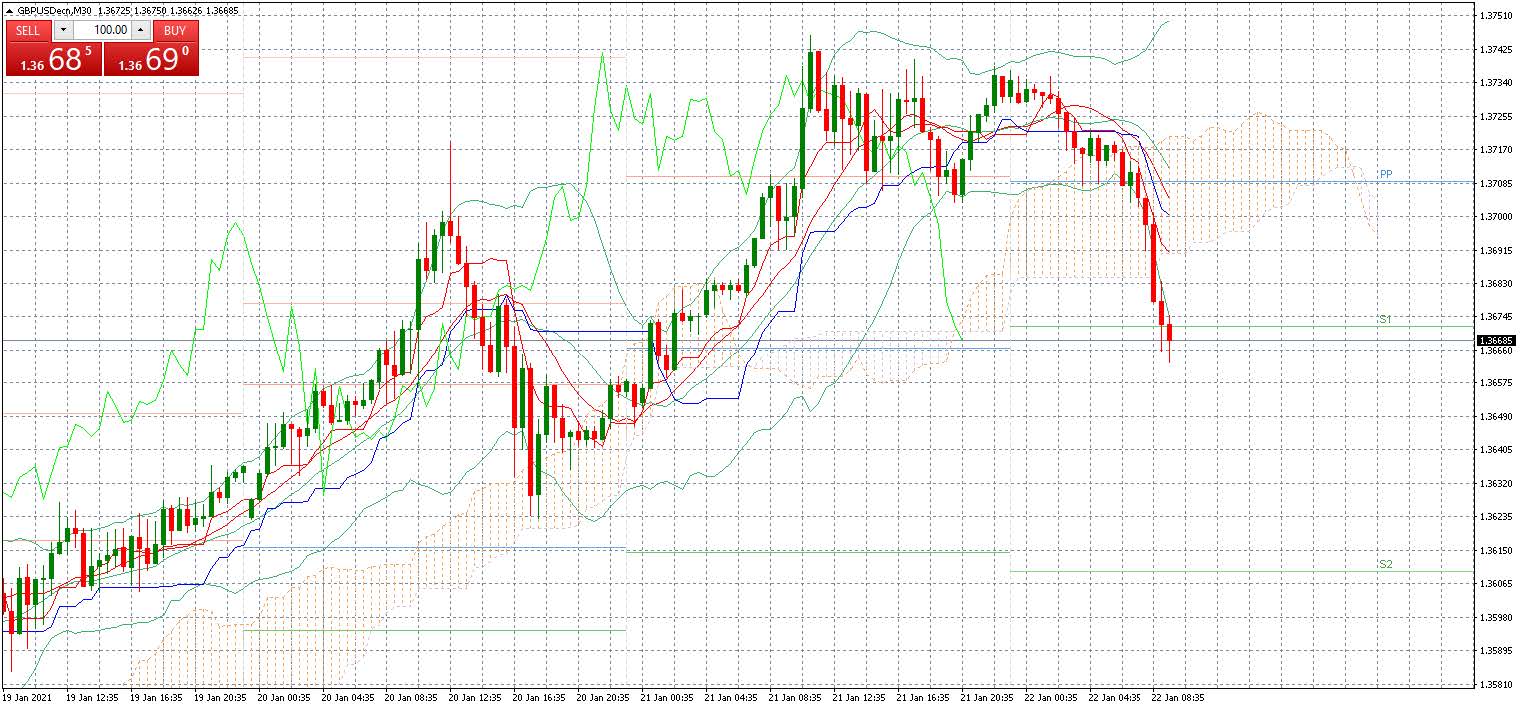 Support 1: 1,3661
Support 2: 1,3652
Support 3: 1,3635
Resistance 1: 1,3686
Resistance 2: 1,3704
Resistance 3: 1,3712
Pivot Point: 1,3678
The currency was in a rising channel moving to 1.3742 level before correcting. The price is still above the 25 and 15-day moving averages. The RSI is at a neutral level. The price may reach the support at 1.3623 before setting a new trend. If the retail sales data is positive, we can see a recovery and a rise in the price above resistance 1. If on the other hand, the data is not convincing, the price may fall below support 2.
---
DAX 30 -0.75%
Markets are in the red zone globally due to profit taking by investors and also due to the risk of systemic contagion caused by the pandemic in the real sector worldwide. The German index is currently down 0.75% and is trading at 13,820. Bulls have failed to overcome the resistance at 14,000 and at this moment the price is heading towards the support at 13,792. In Europe, the ECB is going to maintain the current monetary policy program, based on negative interest rates and bond purchases by the bank to try to stabilize the fixed income market.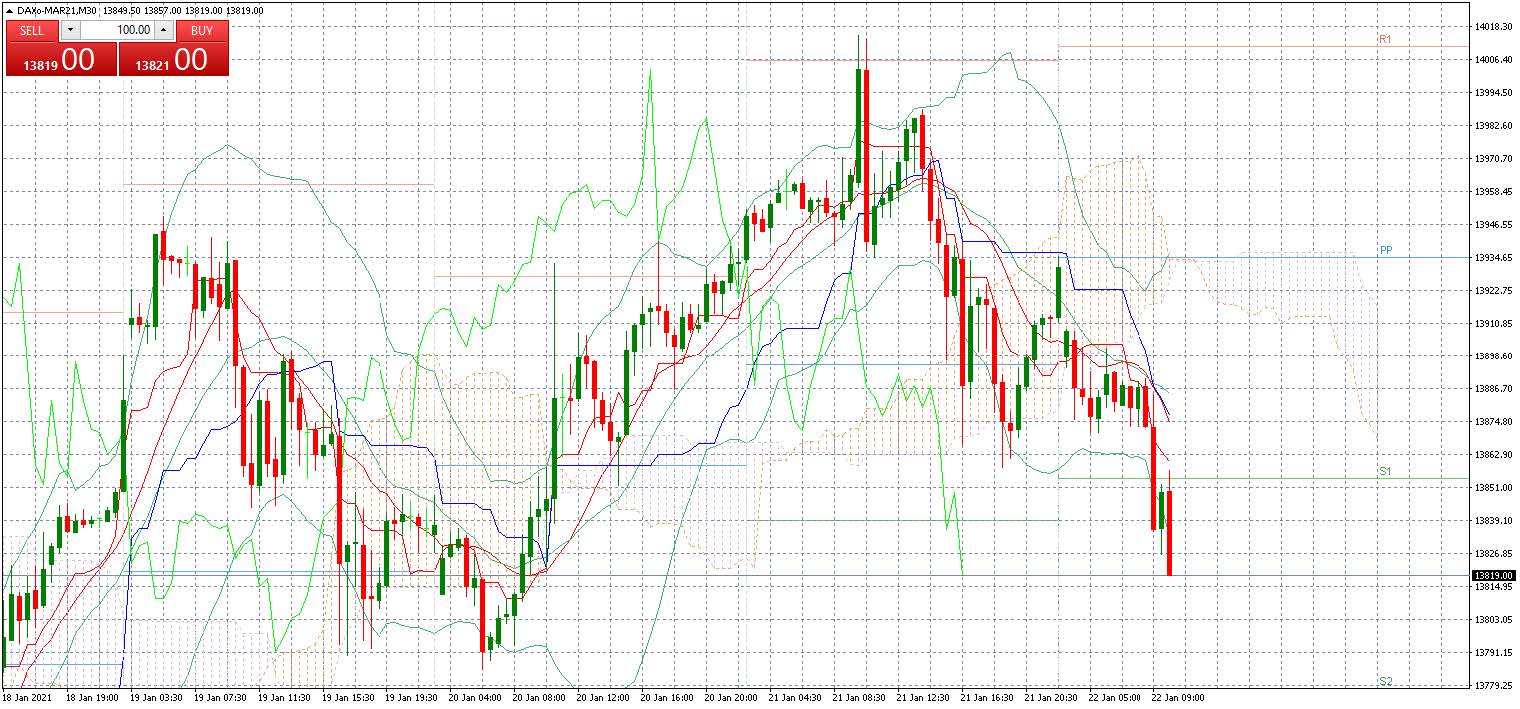 Support 1: 13,836
Support 2: 13,820.5
Support 3: 13,812
Resistance 1: 13,860
Resistance 2: 13,868.5
Resistance 3: 13,884
Pivot Point: 13,844.5
Expected trading range between 13,812 and 13,884, with pivot point at 13,844. Ichimoku cloud projects price towards 13,837. Bears point below the support of 13,778 and then towards 13,700.
---
Gold -0.35%
Global index futures are in negative territory indicating that the market has started to correct the rally of the beginning of the year. This could become an interesting event for gold, which has had the FED and ECB support to continue being the safe heaven asset not only for investment funds, but also for governments. Gold is currently down 0.35% and is trading at USD$1,860. Bulls are starting to buy the metal, so the price is starting to recover.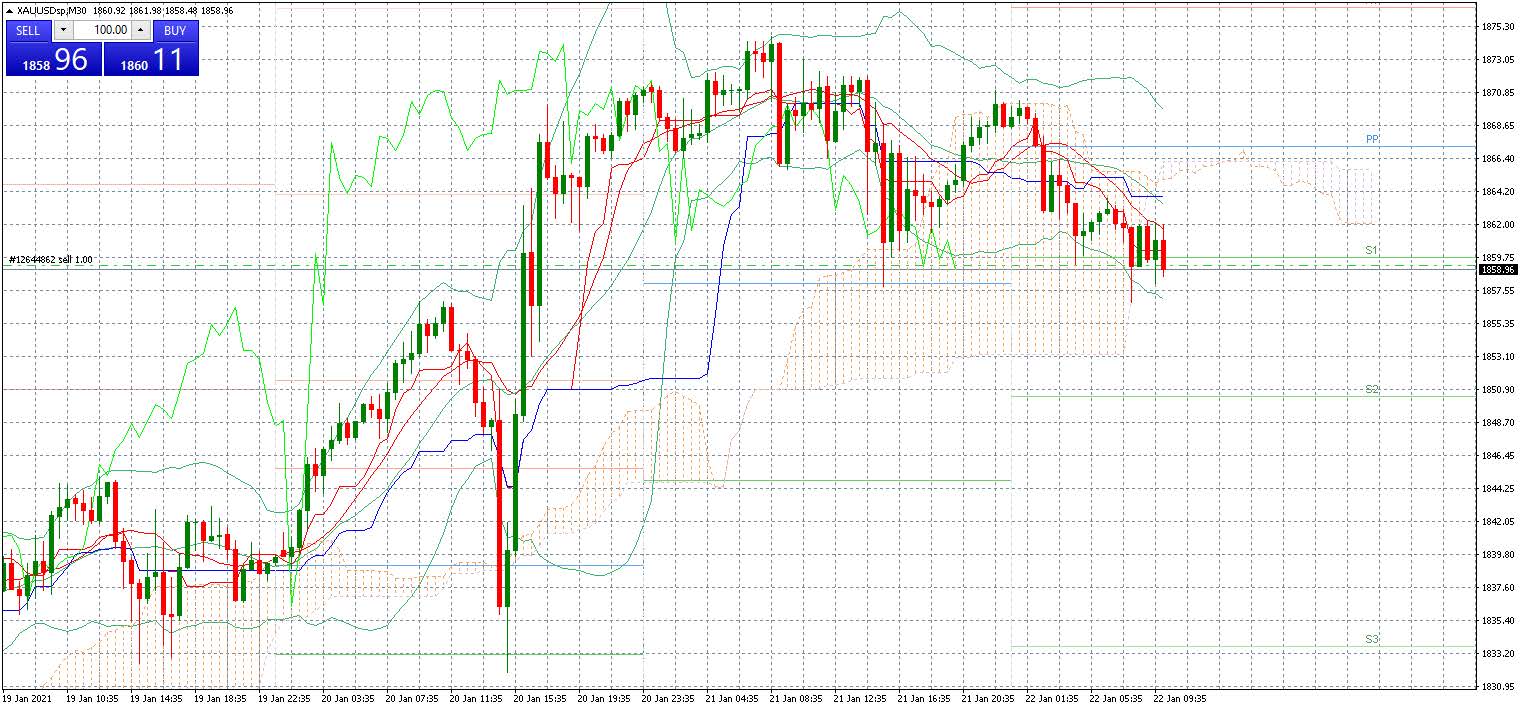 Support 1: 1,858.59
Support 2: 1,856.77
Support 3: 1,855.54
Resistance 1: 1,861.64
Resistance 2: 1,862.87
Resistance 3: 1,864.69
Pivot Point: 1,859.82
Expected trading range between 1,855.54 and 1,864.69. Pivot point at 1,859.82. The Ichimoku cloud projects the metal towards 1,866. Main resistance to overcome is 1,873. Main support at 1,833. Traders are evaluating the market's performance today in order to take hedge strategies. VIX is at 3.89%.
---
Sources
Reuters
Market watch
Bloomberg
Capitalix Market Research
Risk Disclaimer
Any information/articles/materials/content provided by Capitalix or displayed on its website is intended to be used for educational purposes only and does not constitute investment advice or a consultation on how the client should trade.
Although Capitalix has ensured that the content of such information is accurate, it is not responsible for any omission/error/miscalculation and cannot guarantee the accuracy of any material or any information contained herein.
Therefore, any reliance you place on such material is strictly at your own risk. Please note that the responsibility for using or relying on such material rests with the client and Capitalix accepts no liability for any loss or damage, including without limitation, any loss of profit which may arise directly or indirectly from the use of or reliance on such information.
Risk Warning: Forex/CFDs trading involves significant risk to your invested capital. Please read and make sure that you fully understand our Risk Disclosure Policy.
You should ensure that, depending on your country of residence, you are allowed to trade Capitalix.com products. Please ensure that you are familiar with the company's risk disclosure.
Want to read more?
Login and enjoy all Daily Analysis articles