Daily Review for January 20, 2021
January 20, 2021, 10:33
Global stock exchanges in an upward trend, driven by Biden's inauguration
FTSE 100 takes a positive view of the financial results of companies listed in the US, and prepares its mining portfolio
EURUSD rising in consecutive two days and waiting for Eurozone inflation data
US indexes in upward trend. Main movements in DJIA and S&P500. Investors aware for reactions in Nasdaq 100 companies
Commodities on the rise. Investment funds buying Gold to hedge from possible riots. Institutions prefer the metal above the cryptos for hedging
---
FTSE 100 +0.26%
Today, many of the mining companies listed in London will publish their financial results. These include Rio Tinto, Autofagasta and BHP. As such, the British index is expected to open up. It is currently trading at 6,681 which is 0.26% higher than yesterday's close. British companies are also trading higher as a result of the good results presented by companies in the United States.
The index is also on an upward trend, due to Biden's inauguration, as his administration promises greater economic stimulus which is good for the stock market in the short term.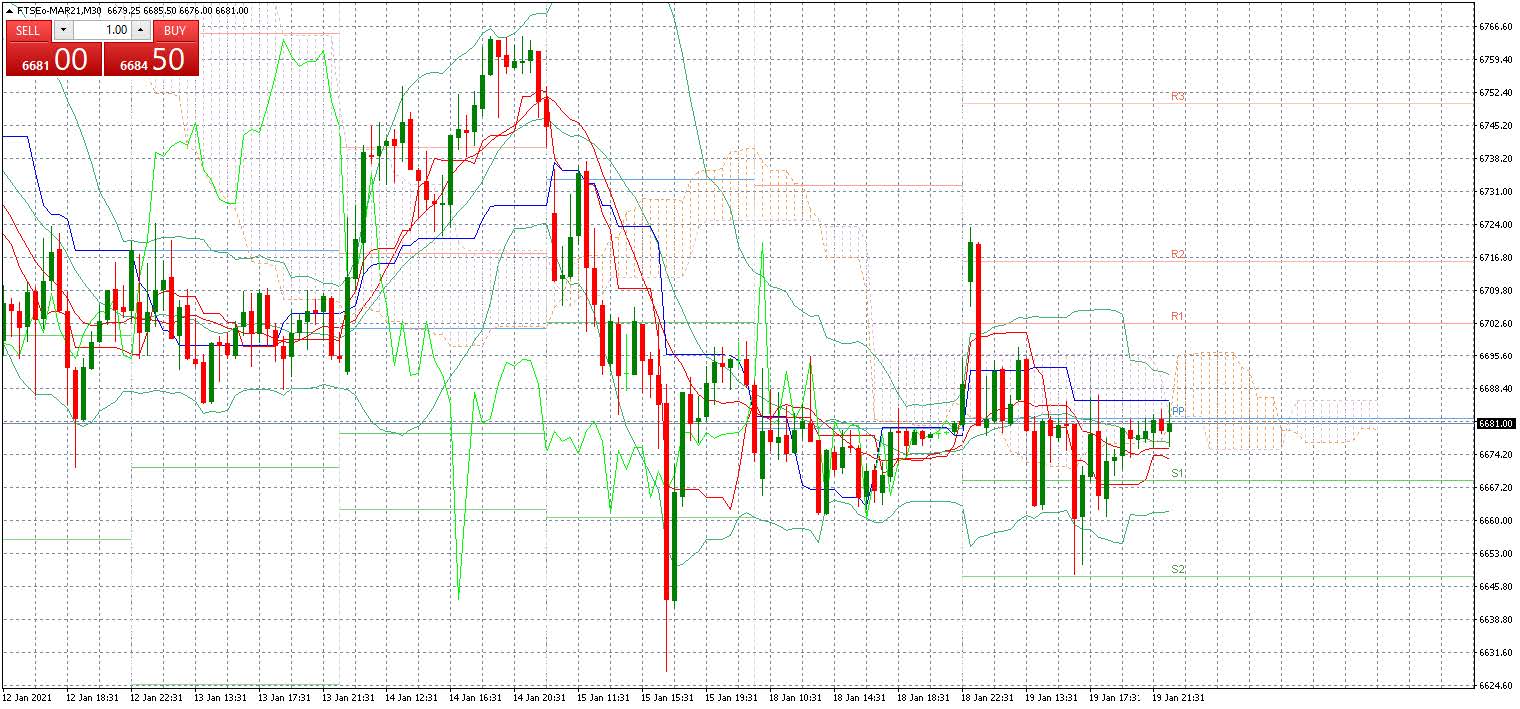 Support 1: 6680.2
Support 2: 6671.5
Support 3: 6666.0
Resistance 1: 6694.4
Resistance 2: 6699.9
Resistance 3: 6708.6
Pivot Point: 6685.7
The index is above the support of 6,680 and the resistance of 6,817. Price is above the 38.2% of the Fibonacci retracement level. Expected trading range between 6,666 and 6,708. Pivot Point in 6,685.7.
---
EURUSD +0.21%
The currency continues to rise for the second day in a row and awaits the Euro Zone inflation data. It is currently trading at 1.2154. The market is waiting for Biden and with it the economic stimulus package. The currency is expected to react to the Eurozone inflation data which will be released today. Analysts expect inflation to remain below 1%.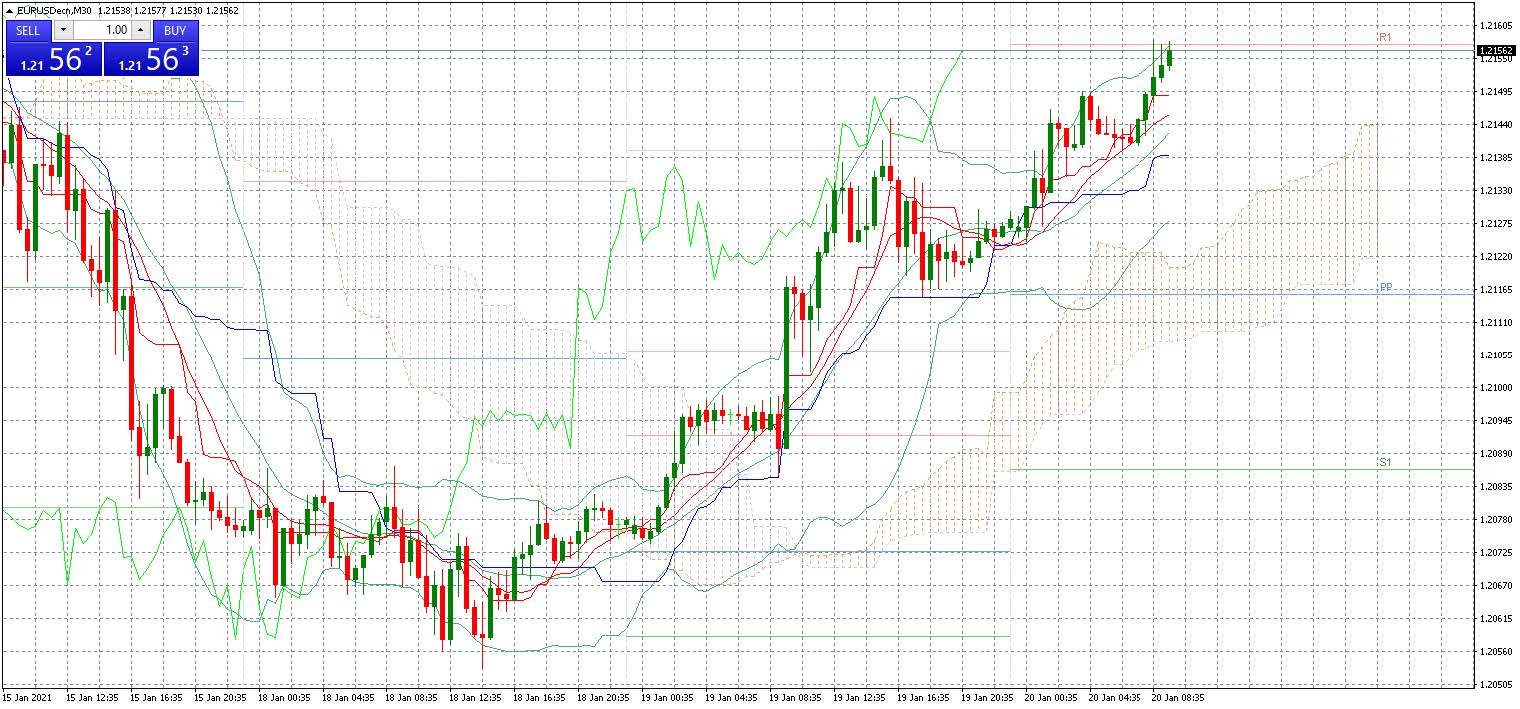 Support 1: 1.2085
Support 2: 1.2043
Support 3: 1.1972
Resistance 1: 1.2157
Resistance 2: 1.2186
Resistance 3: 1.2256
Pivot Point: 1.2115
The currency has moved above the trend line and is above the 50 and 25 day moving average. It has also managed to stay above the Ichimoku cloud. The Bulls are targeting 1.2200. Pivot point at 1.2115.
---
DOW JONES -0.02%
Investors are aware of Joe Biden's presidential inauguration in the USA. Riots are expected, but in general the market is optimistic about the new administration, mainly because of the economic stimulus packages. Yesterday, Biden's new Treasury Secretary, Janet Yellen, presented the contents of the USD$1.9 trillion stimulus plan to the US Financial Committee.
Her main argument was that the US must take advantage of the low interest rate and think big on investment and economic development. US indices are beginning to rise at this time, primarily the Nasdaq 100 and S&P500 futures. In additional the good financial results presented so far by the companies listed on Wall Street are rising the market.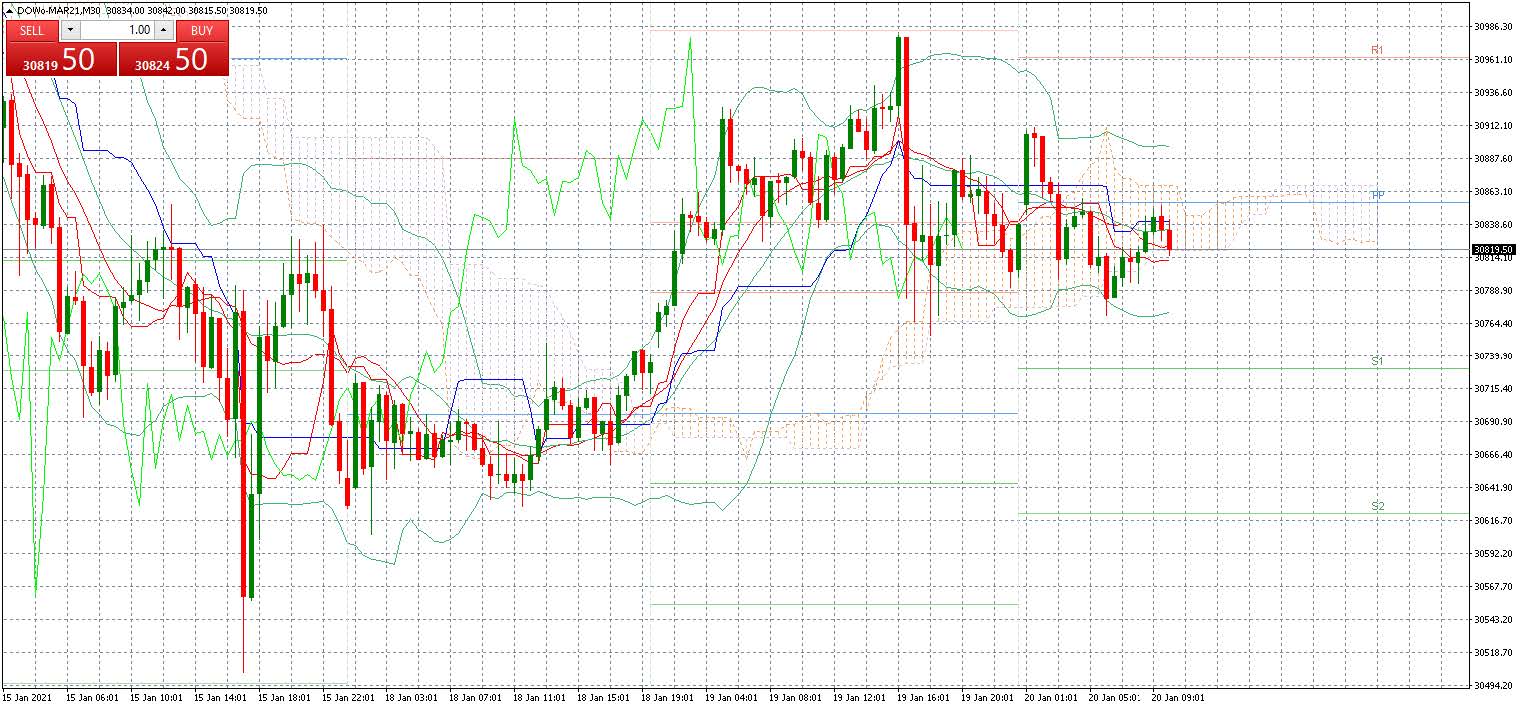 Support 1: 30,729
Support 2: 30,619
Support 3: 30,388
Resistance 1: 30,961
Resistance 2: 31,086
Resistance 3: 31,316
Pivot Point: 30,854
Expected trading range between 30,388 and 31,316. Bulls have managed to keep the index above the 30,000 support and are now targeting the 31,000 resistance. Bullish outlook. Investors are aware of market corrections due to possible riots.
---
Gold +0.78%
Commodities are rising due to the weakening of the USD. Traders started to buy gold to hedge the risk of volatility of their portfolios at times of political transition in the U.S. As mentioned above, riots could occur at the inauguration of Biden.
For this reason, gold has managed to enter again the portfolio of investment funds. At this moment, gold is rising 0.78% and is trading at USD$ 1,854.59.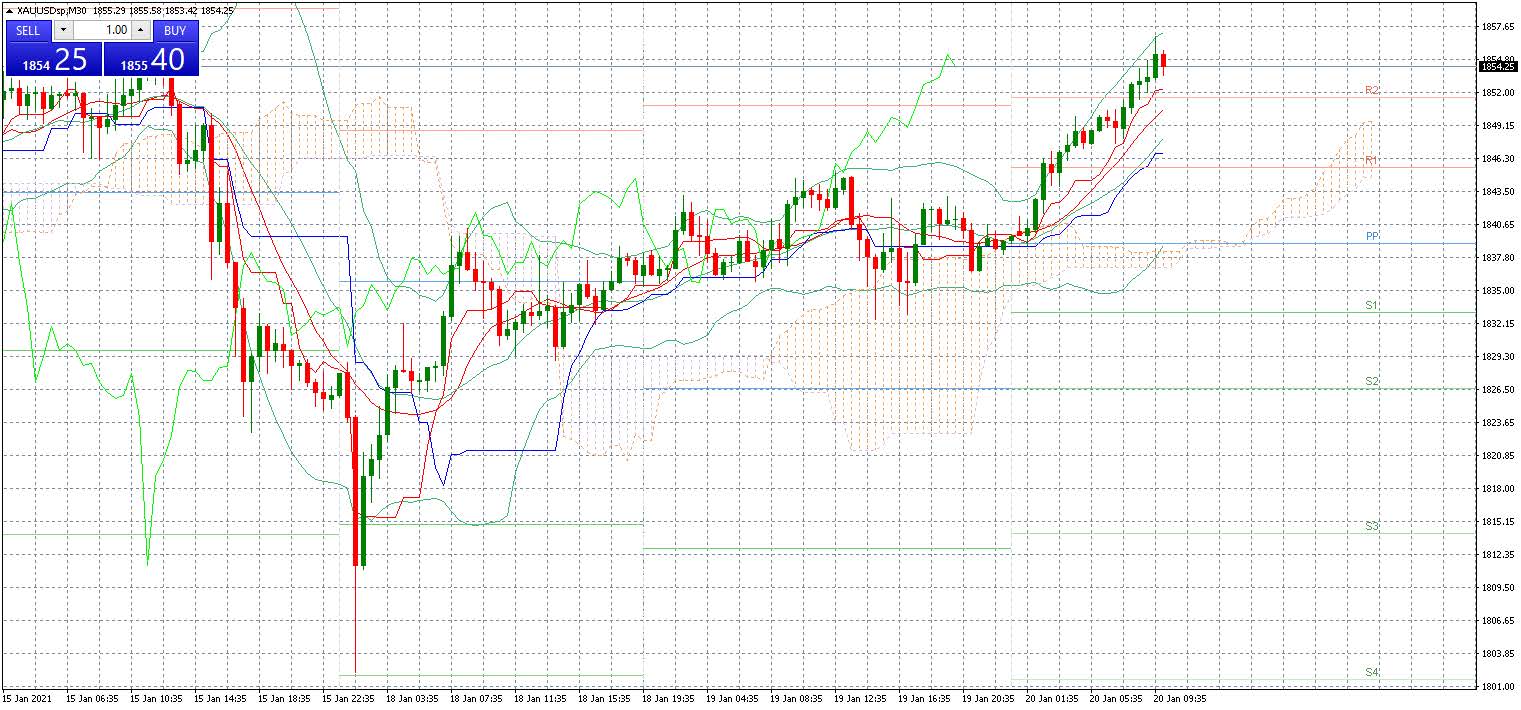 Support 1: 1.832,99
Support 2: 1.826,64
Support 3: 1.814,19
Resistance 1: 1.845,52
Resistance 2: 1.851,62
Resistance 3: 1.863,69
Pivot Point: 1.839,08
Expected trading range between 1,814.19 and 1,863.69, with pivot point for trend change at 1,839.08. Price is fighting the resistance of 1.857,65. If the Bulls manage to break it, the next level is 1.864.
---
Sources
Reuters
Market watch
Bloomberg
Capitalix Market Research
Risk Disclaimer
Any information/articles/materials/content provided by Capitalix or displayed on its website is intended to be used for educational purposes only and does not constitute investment advice or a consultation on how the client should trade.
Although Capitalix has ensured that the content of such information is accurate, it is not responsible for any omission/error/miscalculation and cannot guarantee the accuracy of any material or any information contained herein.
Therefore, any reliance you place on such material is strictly at your own risk. Please note that the responsibility for using or relying on such material rests with the client and Capitalix accepts no liability for any loss or damage, including without limitation, any loss of profit which may arise directly or indirectly from the use of or reliance on such information.
Risk Warning: Forex/CFDs trading involves significant risk to your invested capital. Please read and make sure that you fully understand our Risk Disclosure Policy.
You should ensure that, depending on your country of residence, you are allowed to trade Capitalix.com products. Please ensure that you are familiar with the company's risk disclosure.
Want to read more?
Login and enjoy all Daily Analysis articles