Daily Review for January 19, 2021
January 19, 2021, 11:53
The Bank of England has not made a decision on interest rates and continues to evaluate scenarios. The mortgage stimulus package has not had the expected effect
EURUSD is looking to bounce back out of its two weeks downward trend. Traders are evaluating the ECB's QE program
Europe's market is rising on the optimism of the new US administration
Bullish WTI and Brent. China's growth data under traders loop
---
GBPUSD +0.17%
Covid-19 cases in the UK continue to rise. Sterling against the USD is trading at 1.3607, close to the 1.3575 support. The UK confirmed 38,000 new cases of coronavirus yesterday. The probability that the UK economy enters into recession is high.
Traders are opening positions in the currency today in anticipation of the UK CPI data that will be released tomorrow. Bank of England continues to evaluate scenarios before moving the interest rate into negative territory.
Support 1: 1,3582
Support 2: 1,3573
Support 3: 1,3561
Resistance 1: 1,3603
Resistance 2: 1,3615
Resistance 3: 1,3625
Pivot Point: 1,3594
At the moment the currency is rising by 0.71% and is standing at 1.3605 in the Ichimoku cloud. Price has crossed the 15 and 25 day moving average. Next bullish level is 1.3630. Bears are pointing to 1.3570. Pivot point for a change in trend is 1.3594.
---
EURUSD +0.25%
EURUSD is currently trading at 1.2115 and is rising 0.25% from yesterday close. Traders are taking positions in the currency ahead of the European Central Bank meeting that will be held this week. Meanwhile the number of covid-19 cases in Europe continues to rise, opening the possibility of further restrictions on the population.
The market is also aware of the presidential inauguration of Biden, an administration that wants higher public spending on infrastructure and greater economic stimulus.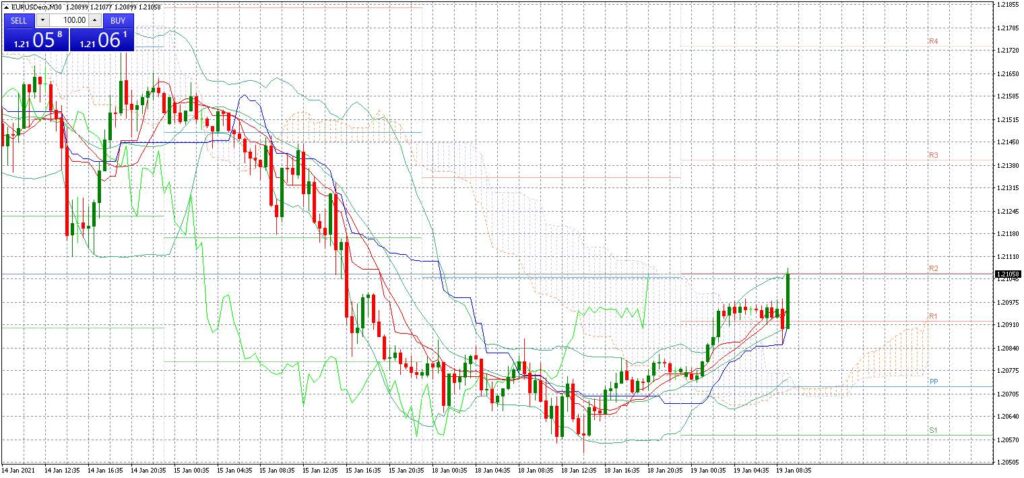 Support 1: 1.2090
Support 2: 1.2078
Support 3: 1.2069
Resistance 1: 1.2111
Resistance 2: 1.2120
Resistance 3: 1.2132
Pivot Point: 1.2099
The currency is still in a downward trend. The price has moved below the 15 and 25 day moving average. Price can move below the Ichimoku cloud in 1.2077. Expected trading range between 1.2111 and 1.2132. Pivot point at 1.2099.
---
DAX 30 +0.18%
The European market is rising, driven by optimism about the new political administration in the White House. The German DAX is up 0.18% and is currently trading at 13,894. Today Janet Yellen will justify to the US Financial Committee the USD$1.9 trillion stimulus package to address the Covid-19 crisis.
On the other hand, the number of infections in Europe is increasing. German Vice Chancellor Olaf Scholz is proposing an extension of the lockdown in Germany.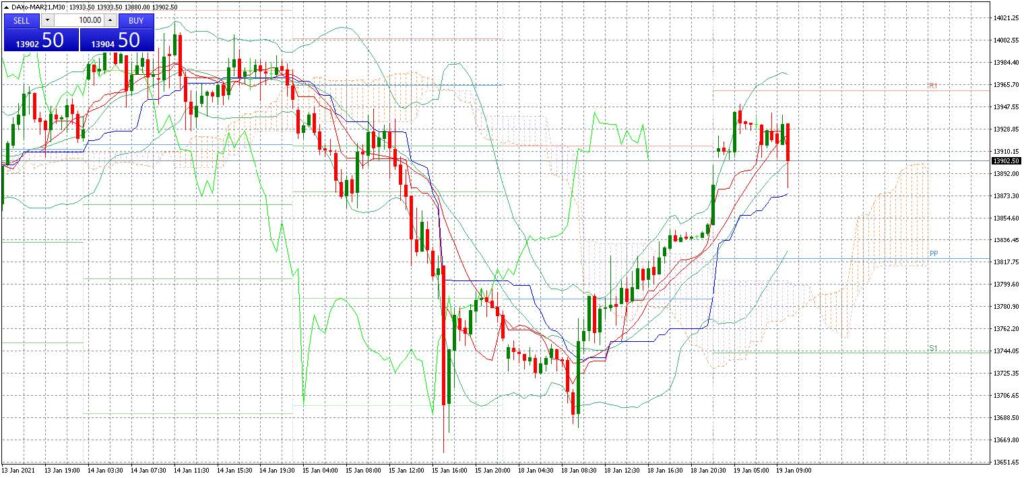 Support 1: 13919,6
Support 2: 13907,3
Support 3: 13896,6
Resistance 1: 13942,6
Resistance 2: 13953,3
Resistance 3: 13965,6
Pivot Point: 13930,3
Expected trading range between 13,896 and 13,965 with pivot point for change in trend at 13,930. The Ichimoku cloud projects the price to 13,817. Bulls continue with the target of 13,900. Pivot point for change in trend at 13,930.
---
CRUDE OIL +0.31%
Oil traders are evaluating their supply and demand balance sheets, and are reviewing growth in China, which is the world's largest oil importer. The price is now up 0.31% from yesterday's close. The price has managed to stay above USD$50 per barrel.
In the short term, the US economic stimulus package and vaccines are generating an upward trend. However, if the US initiates a full lockdown, it could mean a major blow to oil demand, putting pressure on the price.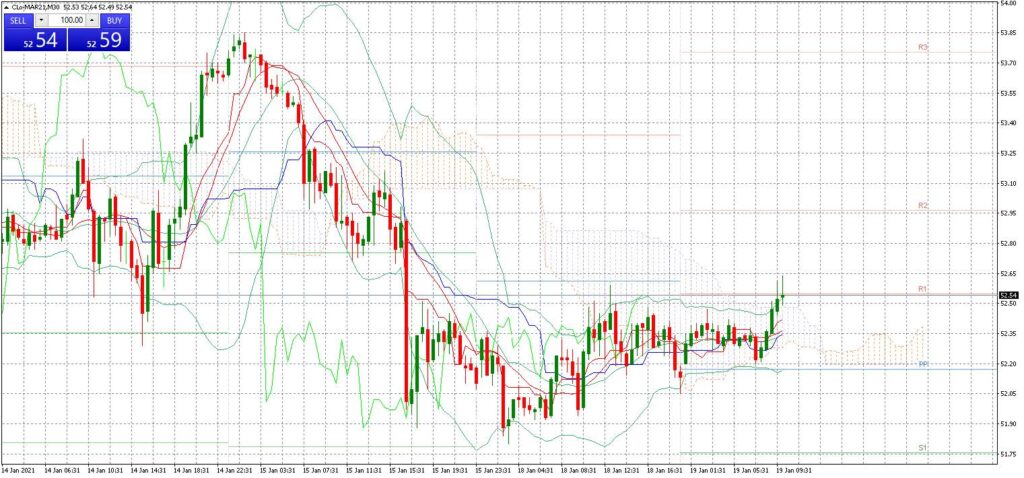 Support 1: 52.44
Support 2: 52.36
Support 3: 52.27
Resistance 1: 52.61
Resistance 2: 52.70
Resistance 3: 52.78
Pivot Point: 52.53
Expected trading range between 52.27 and 52.78. Pivot point at 52.53. Price is entering a lateral phase, as traders take positions. Everything depends on the possible lockdown in the USA.
---
Sources
Reuters
Market watch
Bloomberg
Capitalix Market Research
Risk Disclaimer
Any information/articles/materials/content provided by Capitalix or displayed on its website is intended to be used for educational purposes only and does not constitute investment advice or a consultation on how the client should trade.
Although Capitalix has ensured that the content of such information is accurate, it is not responsible for any omission/error/miscalculation and cannot guarantee the accuracy of any material or any information contained herein.
Therefore, any reliance you place on such material is strictly at your own risk. Please note that the responsibility for using or relying on such material rests with the client and Capitalix accepts no liability for any loss or damage, including without limitation, any loss of profit which may arise directly or indirectly from the use of or reliance on such information.
Risk Warning: Forex/CFDs trading involves significant risk to your invested capital. Please read and make sure that you fully understand our Risk Disclosure Policy.
You should ensure that, depending on your country of residence, you are allowed to trade Capitalix.com products. Please ensure that you are familiar with the company's risk disclosure.
Want to read more?
Login and enjoy all Daily Analysis articles