Daily Review for January 18, 2021
January 18, 2021, 12:37
American index futures Bearish as a result of increased regulation and taxes planned for the companies that compose the Nasdaq 100
EURUSD consolidates massive sell-offs since last week and its trading is focused now at the European Central Bank's interest rate decision
DAX 30 falling as a consequence of a possible extension of the lockdown in Germany
GBPUSD bearish and awaiting Bank of England Governor's decision to move interest rates into negative territory
---
NASDAQ 100 -0.29%
US stock market index futures are currently in red, while the country celebrates Martin Luther King Day. Meanwhile investors are focused on the financial results of companies listed in the US.
The fear and greed index is at 60 out of 100. Traders are also evaluating scenarios for the new US political administration, which will take office on January 20th.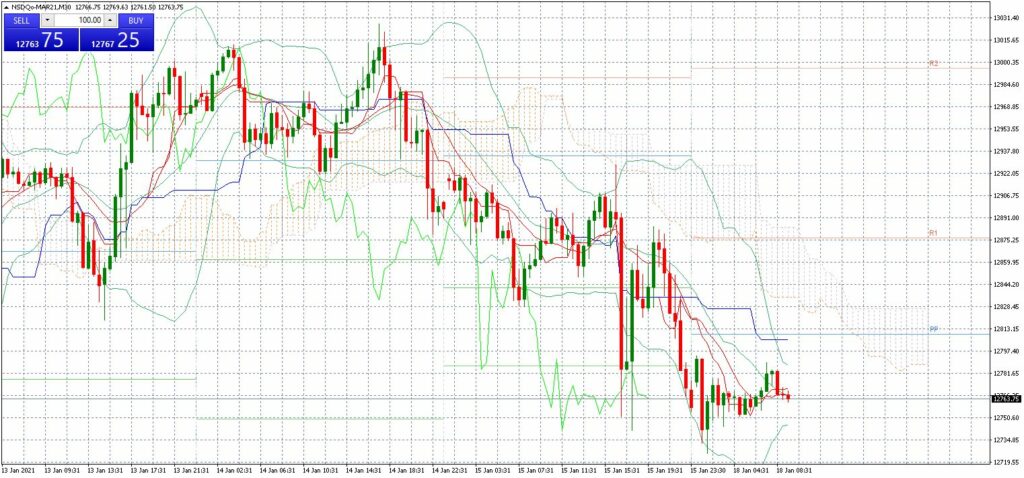 Support 1: 12766.09
Support 2: 12761.42
Support 3: 12757.59
Resistance 1: 12774.59
Resistance 2: 12778.42
Resistance 3: 12783.09
Pivot Point: 12769.92
Nasdaq companies main fear is a greater regulation and taxation by the Biden administration. The index broke the 13,000 support and is now trading at 12,770. The price however is above the 50 and 25 day moving average. Bullish outlook. Investors estimate strong financial results of the companies at the index.
---
EURUSD -0.02%
Massive sale of the currency in the market continues and at this moment it is being trading at 1.2074. This week is extremely important for the currency as the European Central Bank will be announcing interest rate decisions.
The EURUSD bearish performance is also due to the strengthening of the USD following Biden's inauguration. Market analysts believe that the ECB will leave interest rate unchanged and maintain the quantitative easing actual level.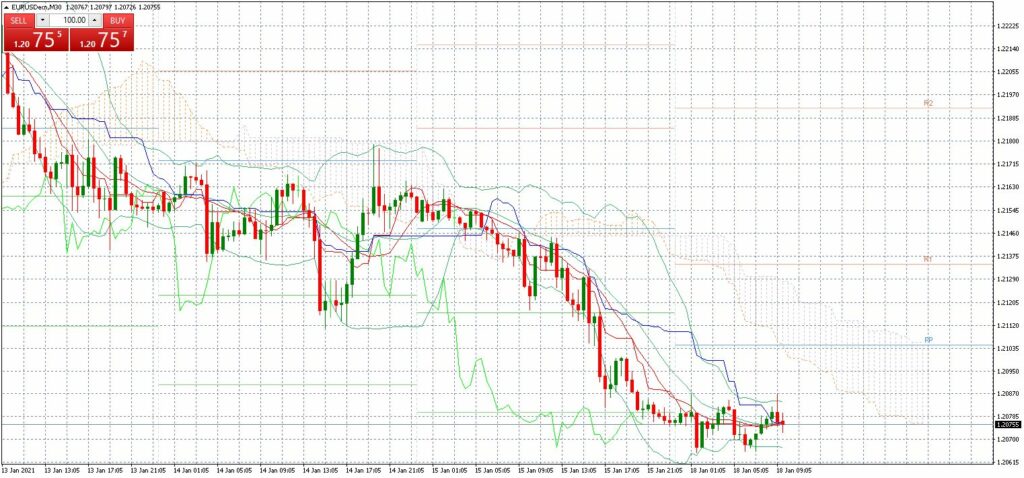 Support 1: 1.2074
Support 2: 1.2069
Support 3: 1.2063
Resistance 1: 1.2085
Resistance 2: 1.2091
Resistance 3: 1.2096
Pivot Point: 1.2080
Negative currency divergence. The price is below the 25 and 15 day moving average and has moved below the trend line. The currency is now approaching the 23.6% Fibonacci retracement level of 1.1935. Pivot point for a change in trend in 1.2080.
---
DAX 30 -0.43%
In Europe the encouraging data on the approval of Pfizer and Moderna vaccines brought optimism in recent weeks. However, the German index is assuming that there is still a long way to go to defeat covid-19 and therefore started in negative territory this week.
In Germany the current lockdown will go until January 30th. But it seems that the government is thinking of extending it until Easter.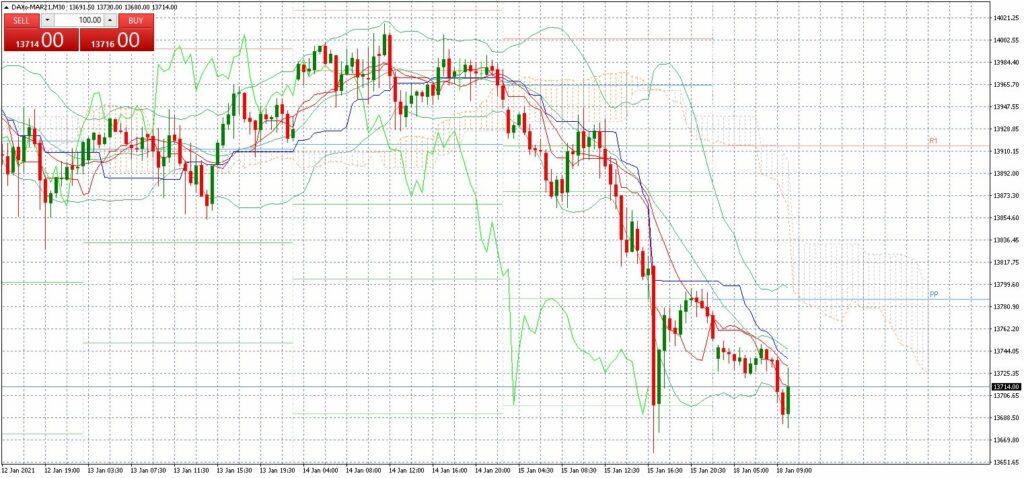 Support 1: 13778.98
Support 2: 13770.24
Support 3: 13762.48
Resistance 1: 13795.48
Resistance 2: 13803.24
Resistance 3: 13811.98
Pivot Point: 13786.74
The German index is currently falling by 0.43% and is trading at 13,740. Key levels at this point are resistance at 13,830 and support at 13,594. Bears are targeting 13,600, including 13,400.Pivot point is 13.786. If the trend changes, Bulls aim for 13,900 and then break the 14,000 resistance and take the index to historical highs.
---
GBPUSD -0.28%
The Sterling Pound against the USD is currently trading at 1.3542 and the market is awaiting the Bank of England Governor's speech. The key point is whether the BOE will move the interest rate into negative territory.
Last week, the Governor announced that negative interest rates may become a problem for the UK due to the size of its financial sector.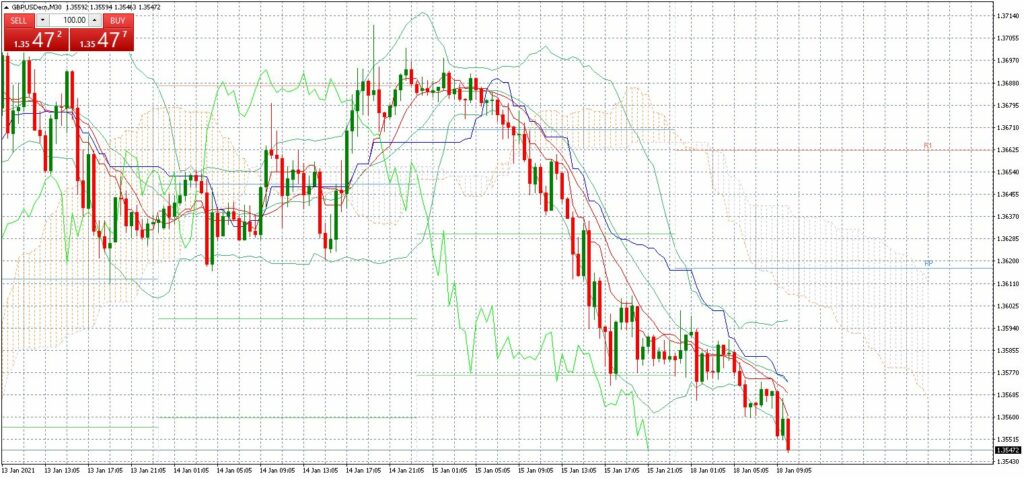 Support 1: 1.3548
Support 2: 1.3543
Support 3: 1.3533
Resistance 1: 1.3564
Resistance 2: 1.3573
Resistance 3: 1.3579
Pivot Point: 1.3558
At the end of last week the currency formed a double roof, before it started to fall. However, it is forming an upward triangle and is above the moving average. It all depends on interest rates in the UK. Expected trading range between 1.3533 and 1.3579. Pivot point for change in trend at 1.3558.
---
Sources
Reuters
Market watch
Bloomberg
Capitalix Market Research
Risk Disclaimer
Any information/articles/materials/content provided by Capitalix or displayed on its website is intended to be used for educational purposes only and does not constitute investment advice or a consultation on how the client should trade.
Although Capitalix has ensured that the content of such information is accurate, it is not responsible for any omission/error/miscalculation and cannot guarantee the accuracy of any material or any information contained herein.
Therefore, any reliance you place on such material is strictly at your own risk. Please note that the responsibility for using or relying on such material rests with the client and Capitalix accepts no liability for any loss or damage, including without limitation, any loss of profit which may arise directly or indirectly from the use of or reliance on such information.
Risk Warning: Forex/CFDs trading involves significant risk to your invested capital. Please read and make sure that you fully understand our Risk Disclosure Policy.
You should ensure that, depending on your country of residence, you are allowed to trade Capitalix.com products. Please ensure that you are familiar with the company's risk disclosure.
Want to read more?
Login and enjoy all Daily Analysis articles