Daily Review for February 24, 2021
February 24, 2021, 12:14
S&P500 is looking to recover part of yesterday's correction, which was generated by Bitcoin and Tesla's declines.
Investors and the market are looking ahead to Jerome Powell's testimony as Fed Chairman to the Congress.
Nasdaq 100 is the index with the largest correction as a result of portfolios Allocation.
Crude oil inventories increased by 1 million barrels yesterday. The market is expecting a drawdown of 5.2 million barrels. EIA report is due today.
German economy beats the GDP growth expectations. DAX 30 rallies and boosts the European market.
---
S&P500 -0.33%
At the moment the index is down 0.33% and is trading at 3,865.16. Market has been correcting for two consecutive days due to the uncertainty generated by the fundamentals. Yesterday, Fed Chairman Jerome Powell began his testimony in preparation for today's presentation to the US Congress. He concluded yesterday that the inflation target is still a long way off. He also stressed that the Fed is continuing its bond-buying strategy to keep fixed income yields positive.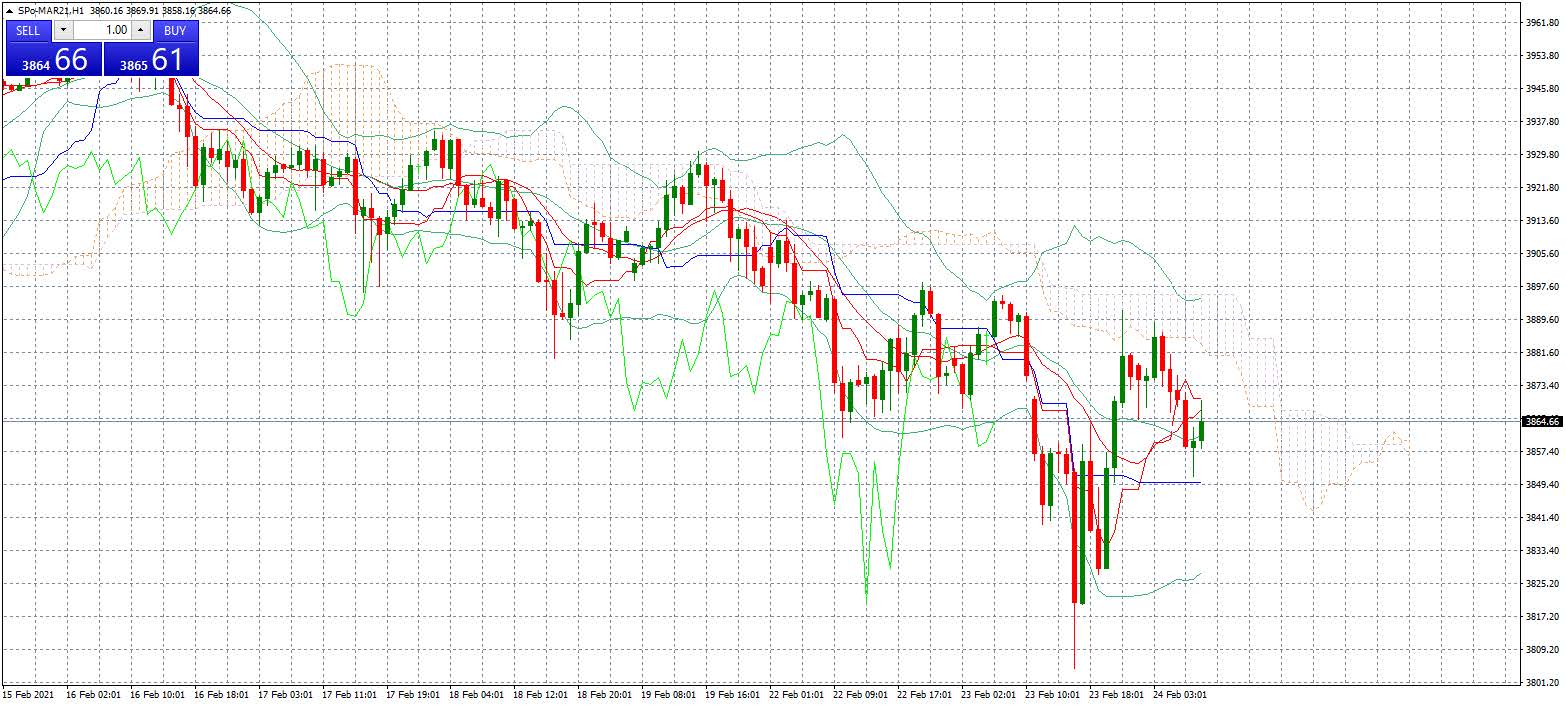 Support 1: 3,852.64
Support 2: 3,846.39
Support 3: 3,840.90
Resistance 1: 3,864.38
Resistance 2: 3,869.87
Resistance 3: 3,876.12
Pivot Point: 3,858.13
Index is forming a shoulder head shoulder pattern. The shoulder is at support 1. If the selling continues, we could see the index reach the 3,800 support. If Powell convinces the market today, we could see a rally to resistance 3 and even to levels near 4,000.
---
NASDAQ 100 -0.33%
Of Wall Street indexes, Nasdaq 100 has suffered the hardest hit by the correction. Investors have their sights set on a post-pandemic market, so portfolio allocation has begun to change. During the pandemic, technology stocks performed very well. As a result, traders have started to sell technology stocks. Investors are evaluating industrial, financial, airline, and retail stocks. On the other hand, the correlation between Tesla and Bitcoin is approaching 1, so Bitcoin's market movements directly affect the company's performance. Yesterday, with Bitcoin correction, Tesla shares fell 12%.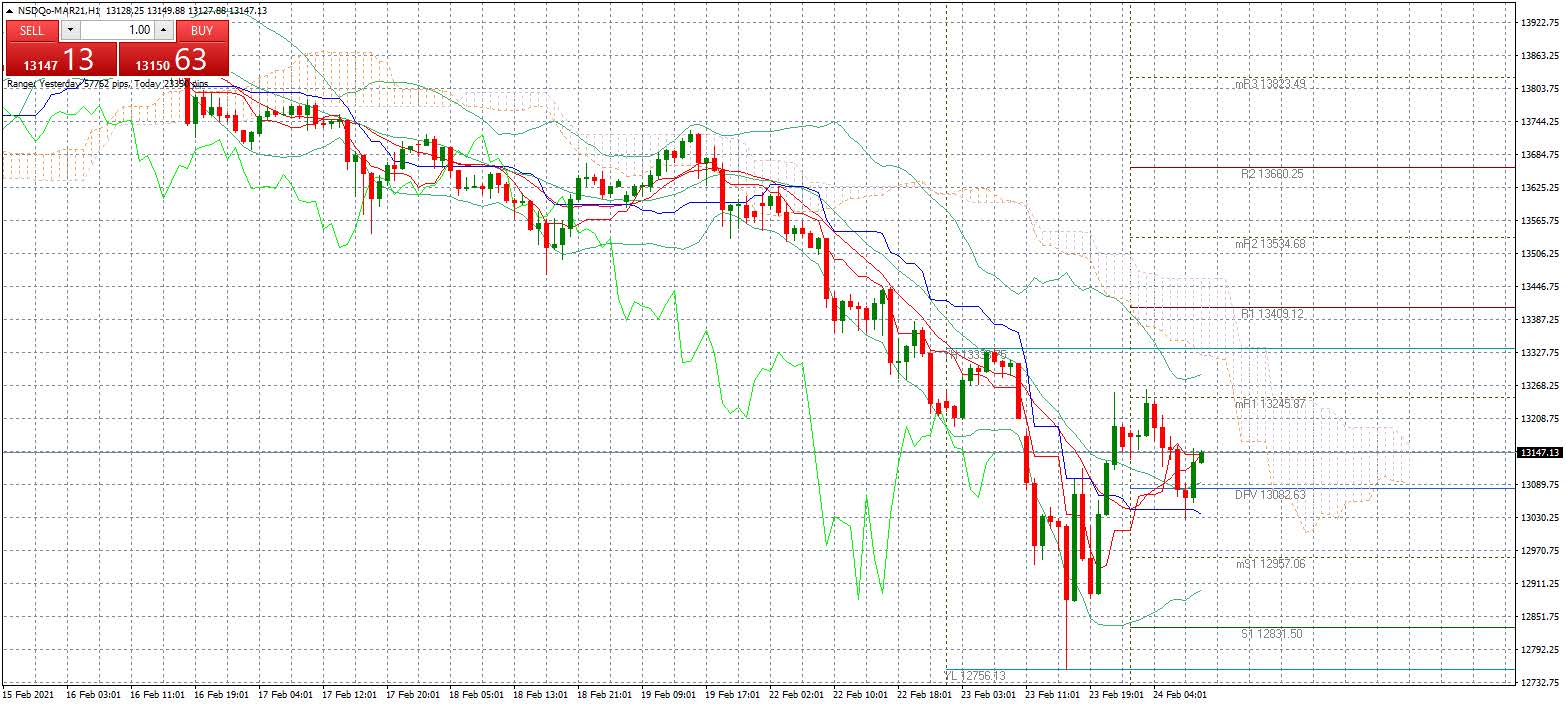 Support 1: 12,979.70
Support 2: 13,018.41
Support 3: 13,077.33
Resistance 1: 13,174.96
Resistance 2: 13,213.67
Resistance 3: 13,272.59
Pivot Point: 13,116.04
Price is below resistance 1 and the Ichimoku cloud. Descending channel with support at 12,831. Pivot point at 13,116. The Bears are looking for the area of support 1, and then take the index towards 12,700.
---
CRUDE OIL -0.23%
Crude oil is currently down 0.23% as a result of the increase in crude oil inventories in the USA. The commodity is currently trading at USD$61.47 per barrel. According to the API report, inventories increased by 1 million barrels. The market was expecting a drawdown of 5.2 million barrels. Today, we will have the inventories report from the EIA. Economists are maintaining the estimate of a 5.2 million drawdown.
Support 1: 61.28
Support 2: 61.17
Support 3: 61.06
Resistance 1: 61.50
Resistance 2: 61.61
Resistance 3: 61.72
Pivot Point: 61.39
Expected trading range between 61.06 and 61.72. Pivot point at 61.39. Price is at the Ichimoku cloud, so we could see sideways movements while the trend of the commodity is marked at the time of the inventory report.
---
DAX 30 +0.68%
European market opens positive and seeks to recover part of yesterday's correction. DAX 30 is currently up 0.68% and is trading at 13,920. Investors in Europe are attentive to Jerome Powell's testimony in front of the US Congress. It is worth remembering that the FED is trying to maintain an inflation target of 2%, but its main target is to seek economic growth. Powell's thesis is that economic recovery depends on vaccines. When asked yesterday about the USD$1.9T stimulus package, he mentioned that this is not the Fed's job.
Support 1: 13,818.6
Support 2: 13,779.3
Support 3: 13,759.1
Resistance 1: 13,878.1
Resistance 2: 13,898.3
Resistance 3: 13,937.6
Pivot Point: 13,838.8
The rebound in the price of the DAX 30 is due to Germany's GDP result, which rose 0.3% in 4Q 2020. The market estimated a growth rate of 0.1%. German economy outperformed the expectations.
---
Sources
Reuters
Market watch
Bloomberg
Capitalix Market Research
Risk Disclaimer
Any information/articles/materials/content provided by Capitalix or displayed on its website is intended to be used for educational purposes only and does not constitute investment advice or a consultation on how the client should trade.
Although Capitalix has ensured that the content of such information is accurate, it is not responsible for any omission/error/miscalculation and cannot guarantee the accuracy of any material or any information contained herein.
Therefore, any reliance you place on such material is strictly at your own risk. Please note that the responsibility for using or relying on such material rests with the client and Capitalix accepts no liability for any loss or damage, including without limitation, any loss of profit which may arise directly or indirectly from the use of or reliance on such information.
Risk Warning: Forex/CFDs trading involves significant risk to your invested capital. Please read and make sure that you fully understand our Risk Disclosure Policy.
You should ensure that, depending on your country of residence, you are allowed to trade Capitalix.com products. Please ensure that you are familiar with the company's risk disclosure.
Want to read more?
Login and enjoy all Daily Analysis articles