Daily Review for February 23, 2021
February 23, 2021, 12:26
Stock markets start mixed today. Asia remains in green, as do US futures. Europe opens mixed and is gradually gaining momentum.
The S&P500 starts to recover part of yesterday's fall. Traders are looking for a trend setter depending on Jerome Powell's speech as Chairman of the FED.
Silver remains in positive territory but real trading volume will be seen during Powell's testimony.
Treasury Secretary Janet Yellen pushes Bitcoin down. Cryptocurrency tries to hold above the 48,000 support.
In Europe, traders are also keeping an eye on Powell. DAX 30 has failed to regain 14,000 points. Bears see an opportunity up to 13,600.
---
S&P500 +0.45%
Yesterday, the market evidenced the migration from stocks to commodities, which had a trading day of important buying volume. At this moment, the S&P500 is recovering part of yesterday's fall, rising 0.45% and trading at 3,889. Today Jerome Powell as Chairman of the Fed, will announce its testimony to the Congress. He is expected to present his outlook on the US economic recovery and inflation.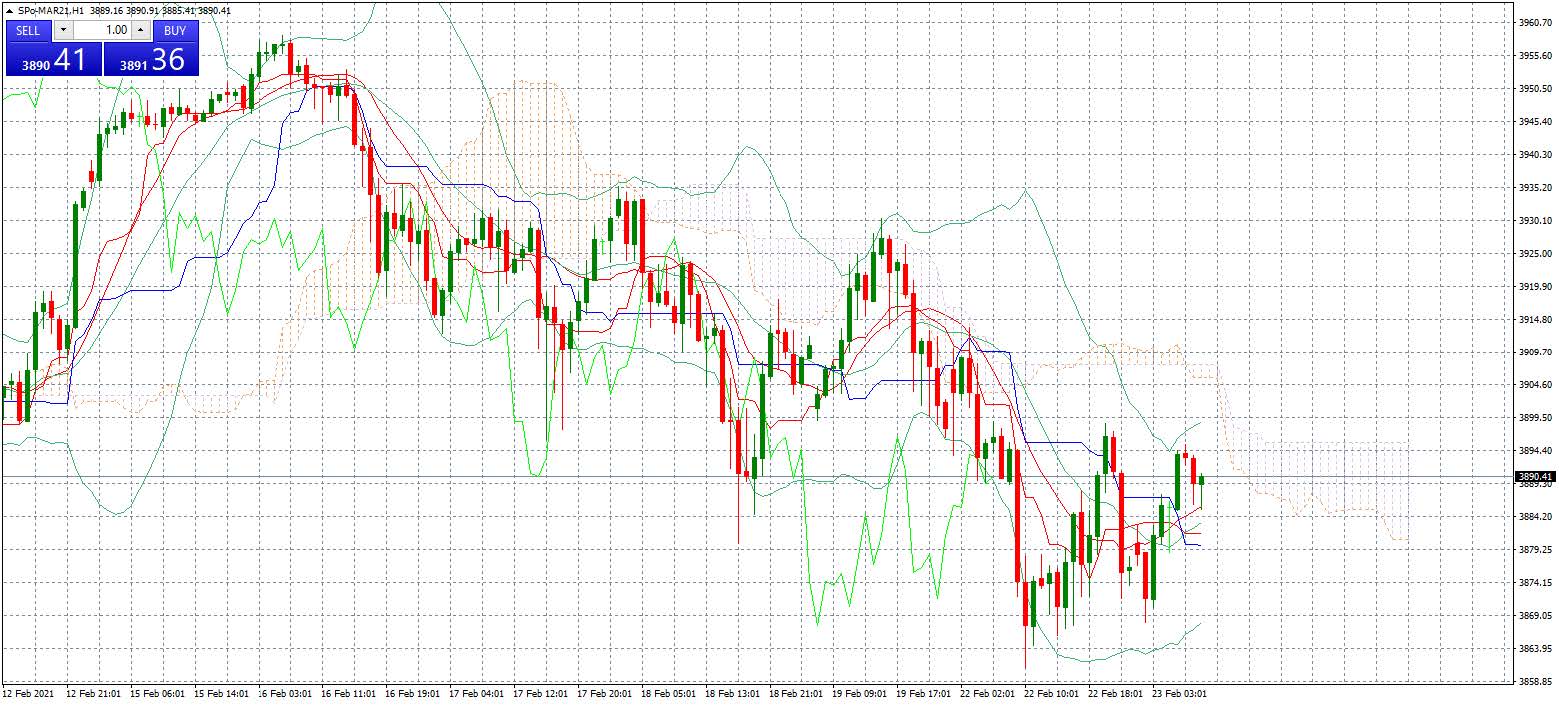 Support 1: 3,886.20
Support 2: 3,882.78
Support 3: 3,878.94
Resistance 1: 3,893.46
Resistance 2: 3,897.30
Resistance 3: 3,900.72
Pivot Point: 3,890.04
Bulls are generating bullish momentum towards resistance 1. Meanwhile, the index is trying to break out from the downward channel it is currently in due to yesterday's sell-off. Price is below the Ichimoku cloud and the RSI is neutral.
---
SILVER +0.11%
Silver continues in positive territory. It is rising 0.11% and is trading at 28.01. The 10-year and 30-year US government bonds are currently down 0.52% and 0.20%, respectively. Market is looking forward to Powell's testimony. Analysts expect the FED to continue its purchases of fixed income instruments to keep bond yields positive. We could also see interest rate announcements in the US, which could generate volatility in equities today.
Support 1: 28.10
Support 2: 28.05
Support 3: 27.99
Resistance 1: 28.21
Resistance 2: 28.26
Resistance 3: 28.31
Pivot Point: 28.15
Expected trading range between 27.99 and 28.31. Price is looking to consolidate at resistance 1 in 28.20. RSI is coming out from the overbought level, so we may see sideways price movements. Interesting volatility to witness during Powell's testimony.
---
BITCOIN -14.10%
After reaching all-time highs, Bitcoin is witnessing a major correction. It is currently down 14.10% and is trading at 48,048. Treasury Secretary Janet Yellen criticized the cryptocurrency, considering it a very difficult instrument for transactions. She also mentioned that Bitcoin is a bubble. After those comments, the price of Bitcoin plummeted to the current level, below the support of 48,831.
Support 1: 49,461
Support 2: 49,341
Support 3: 49,281
Resistance 1: 49,641
Resistance 2: 49,701
Resistance 3: 49,821
Pivot Point: 49,521
If the selling pressure continues, we could see a drop to as low as 40,000. If the bears break that one, the next support to watch is 30,000. In the meantime, the pivot point for trend change is 49,521.
---
DAX 30 -0.26%
In Europe, the market opens mixed. DAX 30 opens in negative territory, and is currently down 0.26%. Price is at 13,879. Traders are waiting for the market reaction during Powell's speech at the US Congress. In Europe, we will have the EuroZone CPI, which is an interesting data to evaluate current inflation level. In economic policy, the ECB is more focused on maintaining low inflation, while in the US the FED is more focused on economic growth.
Support 1: 13,960.9
Support 2: 13,936.7
Support 3: 13,924.4
Resistance 1: 13,997.4
Resistance 2: 14,009.7
Resistance 3: 14,033.9
Pivot Point: 13,973.2
Index has failed to regain 14,000 points. The price broke the 13,900 support, so the Bears are targeting 13,800. Pessimists see the index heading towards 13,600. If it manages to change the trend, we could see a climb towards 14,000, then 14,050 and then 14,100.
---
Source
Reuters
Market watch
Bloomberg
Capitalix Market Research
Risk Disclaimer
Any information/articles/materials/content provided by Capitalix or displayed on its website is intended to be used for educational purposes only and does not constitute investment advice or a consultation on how the client should trade.
Although Capitalix has ensured that the content of such information is accurate, it is not responsible for any omission/error/miscalculation and cannot guarantee the accuracy of any material or any information contained herein.
Therefore, any reliance you place on such material is strictly at your own risk. Please note that the responsibility for using or relying on such material rests with the client and Capitalix accepts no liability for any loss or damage, including without limitation, any loss of profit which may arise directly or indirectly from the use of or reliance on such information.
Risk Warning: Forex/CFDs trading involves significant risk to your invested capital. Please read and make sure that you fully understand our Risk Disclosure Policy.
You should ensure that, depending on your country of residence, you are allowed to trade Capitalix.com products. Please ensure that you are familiar with the company's risk disclosure.
Want to read more?
Login and enjoy all Daily Analysis articles