Daily Review for February 22, 2021
February 22, 2021, 12:26
Global market opens in red as a result of uncertainty about its short-term trend.
Commodities are in a bullish zone, mainly metals and energy. Traders start buying gold and silver.
In Sunday Bitcoin raised to record highs and Bulls are trying to push the price towards 60,000.
European market opens in red, with main declines in Germany, France and Italy. Today's statement by the ECB could reassure the market.
US index futures follow the indexes in Europe. The Nasdaq 100 in heavy fall and the S&P 500 already exceeds 1% negative.
---
GOLD +0.86%
Stock market week begins and Treasury yields continue to advance. Price of gold is up 0.85% and is trading above resistance 1 in 1,794. Over the weekend, cryptocurrencies made a significant advance; Bitcoin reached a new all-time high at 56,380. This has put pressure since last week on metals, which are looking to re-correlate with the market. Meanwhile, investors are attentive to the US economic stimulus plan, which could generate upward movements in gold, as it continues to be a hedging instrument against inflation.
Support 1: 1,788.71
Support 2: 1,784.23
Support 3: 1,781.81
Resistance 1: 1,795.61
Resistance 2: 1,798.03
Resistance 3: 1,802.51
Pivot Point: 1,791.13
Price has crossed the 50-day moving average. Expected trading range between 1,781 and 1,802. Pivot point at 1,791. If Bulls' momentum continues, we could see price near resistance 2 at 1.805.
---
BITCOIN +0.38%
On Sunday, the Bitcoin reached record highs reaching a trading price of USD$58,354. During the Asian session, the price retreated to 55,714. It is currently trading at 56,244 and is up 0.38%. On Friday last week, a historic event was marked, as the Bitcoin market cap reached more than one billion USD. Market analysts are aware for a more significant correction in the price. They are evaluating more optimistic scenarios between support 1 and support 2.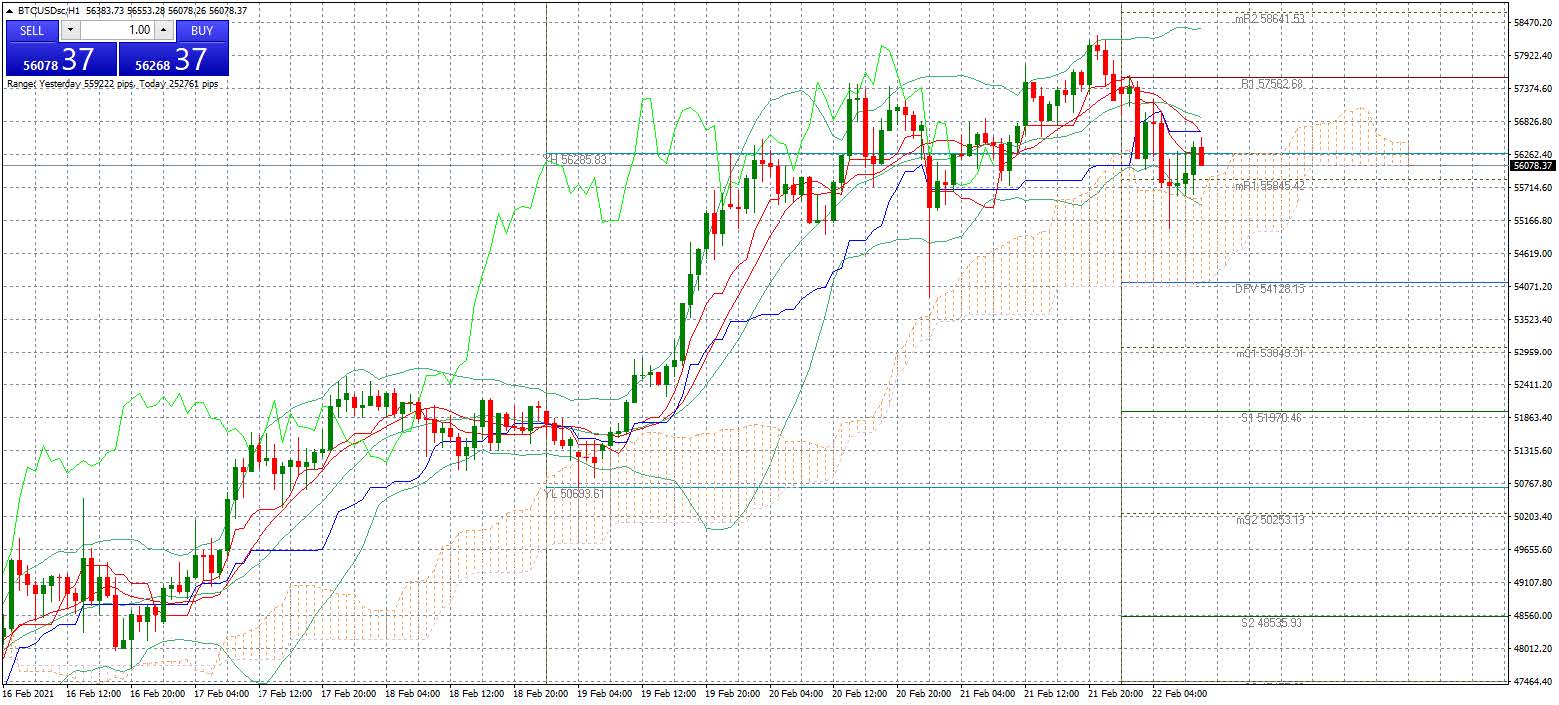 Support 1: 56,162
Support 2: 55,860
Support 3: 55,709
Resistance 1: 56,615
Resistance 2: 56,766
Resistance 3: 57,068
Pivot Point: 56,313
Expected trading range between 55,709 and 57,068. Pivot point at 56,313. As long as the economic stimulus package is not implemented, we could see some additional upside points. In the meantime, the price is entering the Ichimoku cloud zone and is below the moving average.
---
DAX 30 -1.39%
Stock exchanges started the trading week down. In Europe, the DAX 30 is currently down 1.39% and is trading at 13,817. The market is hesitant about the stock market trend. Investors have been positively awaiting the economic stimulus package in the US, however, the delay of the package and the implications on inflation have made the market doubtful and have generated a rise in fixed income instruments. On the other hand, economists see the market tired and expect further corrections. Today we will have the German IFO and statements from ECB President Christine Lagarde.
Support 1: 13,874.6
Support 2: 13,851.3
Support 3: 13,816.1
Resistance 1: 13,933.1
Resistance 2: 13,968.3
Resistance 3: 13,991.6
Pivot Point: 13,909.8
Price broke the support 1 at 13,880 and the Bears are looking for support 2 below 13,800. If the selling strength continues, we could see a decline towards support 3 at 13,747.
---
S&P500 -0.89%
Wall Street futures begin the week in negative territory as a result of the high level of uncertainty in the market. This has increased the investors appetite for fixed income. Analysts are expecting global interest rate hikes as a measure to tighten the money supply and control inflation. However, that affects stocks in the short term. Meanwhile, the S&P500, as an indicator of the US economy, is currently down 0.89% and is trading at 3,862.
Support 1: 3,867.80
Support 2: 3,858.71
Support 3: 3,844.92
Resistance 1: 3,890.68
Resistance 2: 3,904.47
Resistance 3: 3,913.56
Pivot Point: 3,881.59
Price is below the moving average. Trading range between 3,844 and 3,913. Pivot point for trend change at 3,881. If the Bears continue the selloff, we may see a drop towards 3,800 points.
---
Sources
Reuters
Market watch
Bloomberg
Capitalix Market Research
Risk Disclaimer
Any information/articles/materials/content provided by Capitalix or displayed on its website is intended to be used for educational purposes only and does not constitute investment advice or a consultation on how the client should trade.
Although Capitalix has ensured that the content of such information is accurate, it is not responsible for any omission/error/miscalculation and cannot guarantee the accuracy of any material or any information contained herein.
Therefore, any reliance you place on such material is strictly at your own risk. Please note that the responsibility for using or relying on such material rests with the client and Capitalix accepts no liability for any loss or damage, including without limitation, any loss of profit which may arise directly or indirectly from the use of or reliance on such information.
Risk Warning: Forex/CFDs trading involves significant risk to your invested capital. Please read and make sure that you fully understand our Risk Disclosure Policy.
You should ensure that, depending on your country of residence, you are allowed to trade Capitalix.com products. Please ensure that you are familiar with the company's risk disclosure.
Want to read more?
Login and enjoy all Daily Analysis articles