Daily Review for February 18, 2021
February 18, 2021, 12:16
Equities remain in red and commodities are starting the super cycle
In the US, the market is still waiting for the economic stimulus package, which may be approved in March 2021
Investors are losing interest in technology companies and are now starting to buy industrial and O&G companies. Opportunity for DAX and DJIA
Crude oil managed to stay above the resistance of USD$60 per barrel, but Saudi Arabia's announcement cause concern
Bitcoin hits record highs at 52,000. JP Morgan warns about the recent source of cryptocurrency buying volume. Gold falls to 1,780 and looks to regain ground today
---
S&P500 -0.28%
Yesterday, the global market witnessed a significant correction, caused by the increase in US treasury bond yields. Gold and silver prices fell sharply as a result of investors' interest in fixed income. On the other hand, traders remain optimistic about the U.S. economic stimulus package. The S&P500 index is currently down 0.28% and is trading at 3,914. Fear and Greed indicator is at 66 out of 100. Economic stimulus is good for equities and even more in times of economic recovery.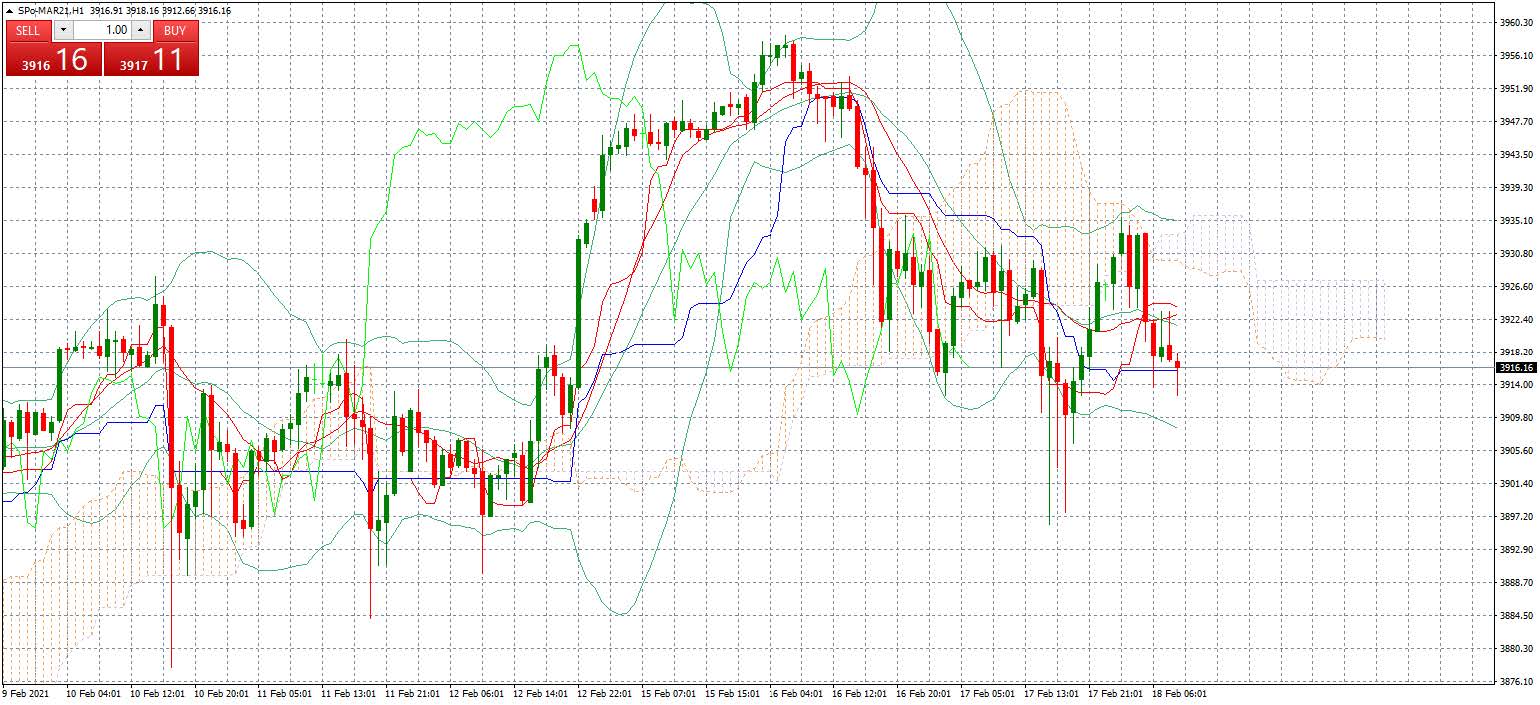 Support 1: 3,917.04
Support 2: 3,915.20
Support 3: 3,911.78
Resistance 1: 3,922.30
Resistance 2: 3,925.72
Resistance 3: 3,927.56
Pivot Point: 3,920.46
Price reached all-time highs and came back to the actual level. The price is currently at the 25 and 15 day moving average and is above support 1. If the market rebounds and recovers yesterday's fall, the index could reach 4,000 points. Pivot point at 3,920.
DAX 30 -0.10%
During the Asian session, index futures continued to decline. Industrial indexes, such as the Dow Jones and the DAX, managed to recover part of the decline. However, Nasdaq index closed negative. With the number of contagion cases worldwide decreasing, investors have started to sell positions in technology companies and have started to buy companies in the industrial and energy sector. As a result, there may be a significant opportunity for the DAX and the Dow Jones. Yesterday Warren Buffet announced that Berkshire Hathaway sold part of its Apple shares. At the end of the day, the Fed minutes warned about the significant level of inflation. Today we will have the minutes of the ECB's monetary policy meeting.
Support 1: 13,879.6
Support 2: 13,863.3
Support 3: 13,847.1
Resistance 1: 13,912.1
Resistance 2: 13,928.3
Resistance 3: 13,944.6
Pivot Point: 13,895.8
Expected trading range between 13,847 and 13,944. Bulls are still trying to consolidate the index above 14,000 points. For now the RSI is coming out of the oversold level. If the index breaks above the current support, it may head towards 14,037 points.
CRUDE OIL +0.92%
Finally, oil prices managed to consolidate above USD$60 per barrel. It is currently up 0.92% and is trading at USD$61.74. Price rise is explained by three factors. The first one is the production cut of the UAE of 1 million barrels per day; the second is the recovery of demand from China; and finally, the strong winter in the USA and Northern Europe. The challenge at this moment for crude oil is to keep the actual price, considering that Saudi Arabia announced yesterday that it will increase its production level to take advantage of the actual spot and futures prices.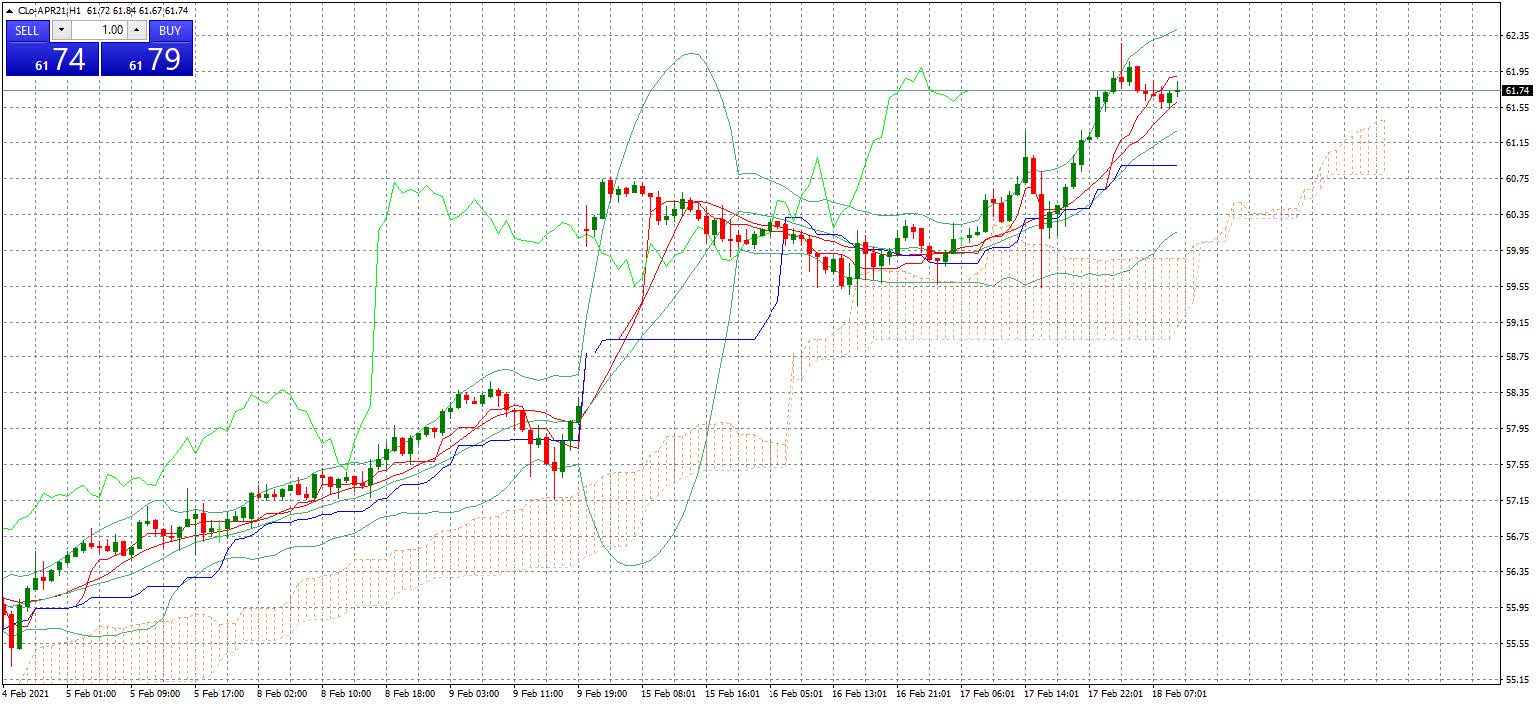 Support 1: 60.27
Support 2: 58.81
Support 3: 56.62
Resistance 1: 62.46
Resistance 2: 63.2
Resistance 3: 65.39
Pivot Point: 61.01
Bears plan to sell at this level with the target in 59. Bulls keep actual long positions, but would buy back at 59. Trading range between 56.62 and 65.39, with pivot point at 61.01.
BITCOIN +1.66%
Bitcoin is currently continuing yesterday's uptrend and is trading at 51,578. During the Asian session, the Bitcoin reached new all-time highs at 52,000. The market buzz is whether Bitcoin has replaced gold as a hedge against high volatility. However, according to data from JP Morgan, in the recent volume of cryptocurrency purchases, investment funds have not participated, so it could be an important pull of retail investors.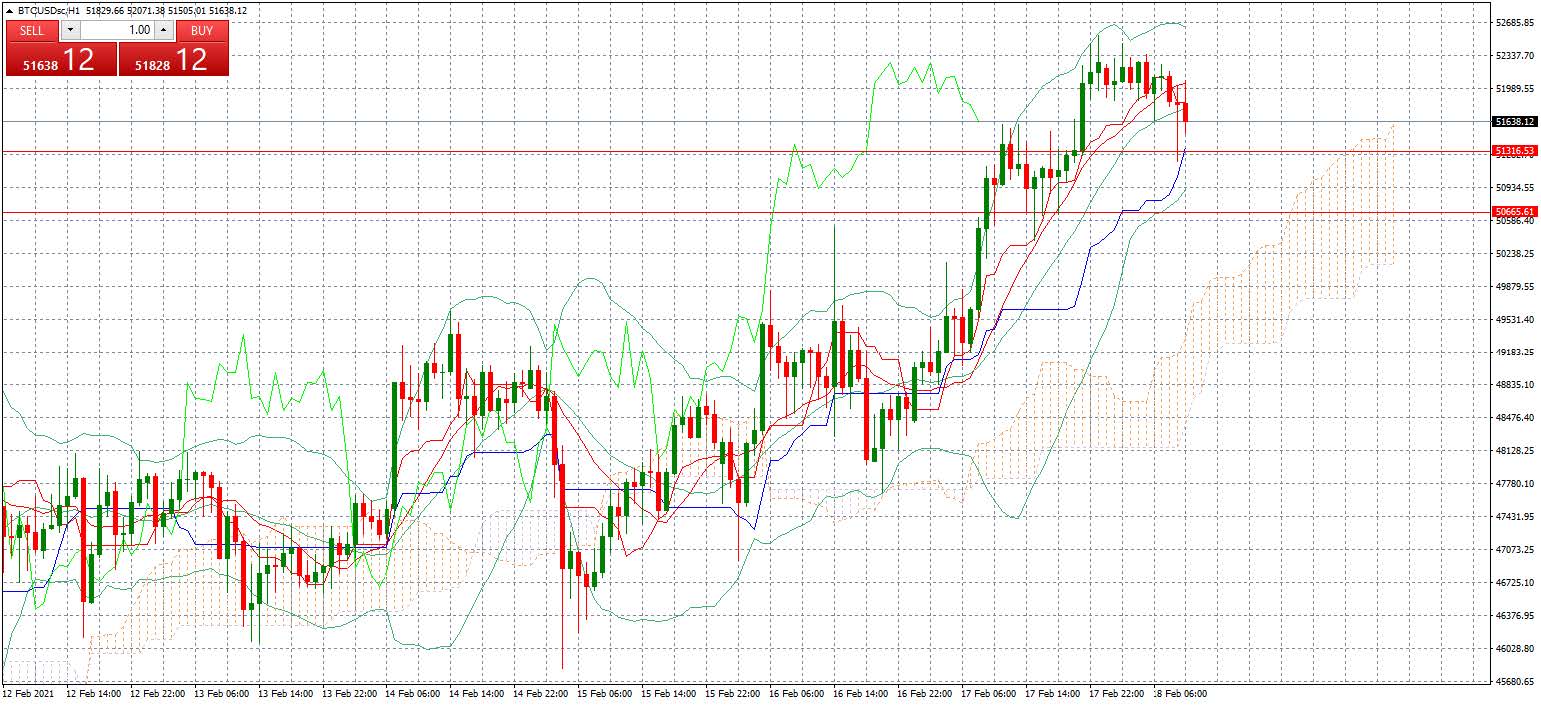 Support 1: 50,154.33
Support 2: 48,040.47
Support 3: 44,684.37
Resistance 1: 53,510.43
Resistance 2: 54,752.67
Resistance 3: 58,108.77
Pivot Point: 51,396.57
If the Bulls manage to resist the buying volume, price could head towards resistance 1, which is at the 61.8% Fibonacci extension. On the other hand, if profit-taking starts, price could have a downward pullback towards support 1. Pivot point at 51.396.
Sources
Reuters
Market watch
Bloomberg
Capitalix Market Research
Risk Disclaimer
Any information/articles/materials/content provided by Capitalix or displayed on its website is intended to be used for educational purposes only and does not constitute investment advice or a consultation on how the client should trade.
Although Capitalix has ensured that the content of such information is accurate, it is not responsible for any omission/error/miscalculation and cannot guarantee the accuracy of any material or any information contained herein.
Therefore, any reliance you place on such material is strictly at your own risk. Please note that the responsibility for using or relying on such material rests with the client and Capitalix accepts no liability for any loss or damage, including without limitation, any loss of profit which may arise directly or indirectly from the use of or reliance on such information.
Risk Warning: Forex/CFDs trading involves significant risk to your invested capital. Please read and make sure that you fully understand our Risk Disclosure Policy.
You should ensure that, depending on your country of residence, you are allowed to trade Capitalix.com products. Please ensure that you are familiar with the company's risk disclosure.
Want to read more?
Login and enjoy all Daily Analysis articles