Daily Review for February 16, 2021
February 16, 2021, 10:58
Bitcoin rebounds and seeks the 50,000 zone
Strong winter helps the price of crude oil to reach 60 and traders are looking to maintain this level
The DAX awaits Wall Street and in the meantime is watching the Euro Zone and German investor confidence data
Gold price is in a cross trend and traders are watching the VIX to mark a trend in the metal
Silver prices are rising strongly as traders are buying the metal from the Asian session
---
BITCOIN +4.20%
Bitcoin recovered much of its weekend decline and is now just below the 50,000 resistance level. The cryptocurrency is currently rising 4.20% and is trading at 49,115. That momentum continues today as entrepreneurs and companies, such as Elon Musk, Jack Dorsey, Ricardo Salinas, BNY Mellon, Mastercard, among others include Bitcoin in their portfolios. One of the most important aspects of Bitcoin's appreciation is the limit of its mining. While the USD has no limits, due to QE and economic stimulus there is plenty of money supply in the market at the moment. While Bitcoin's supply generation has a time limit.
Support 1: 48,969.4
Support 2: 48,911.7
Support 3: 48,796.4
Resistance 1: 49,142.4
Resistance 2: 49,257.7
Resistance 3: 49,315.4
Pivot Point: 49,084.7
Price has to pass through several symbolic resistances before reaching 50,000. Among them are 49,142, 49,257 and 49,315. If it manages to overcome the above and reach 50,000, the next level is 53,000.
---
CRUDE OIL +0.96%
Due to the current money supply, inflationary pressure is on the rise. In developed markets, the inflation target is 2% maximum. In the US, Europe, UK and Japan, the inflation rate is exceeding this ceiling. On the other hand, the strong winter in Canada, USA and Northern Europe, has caused a spike in the demand for oil and natural gas.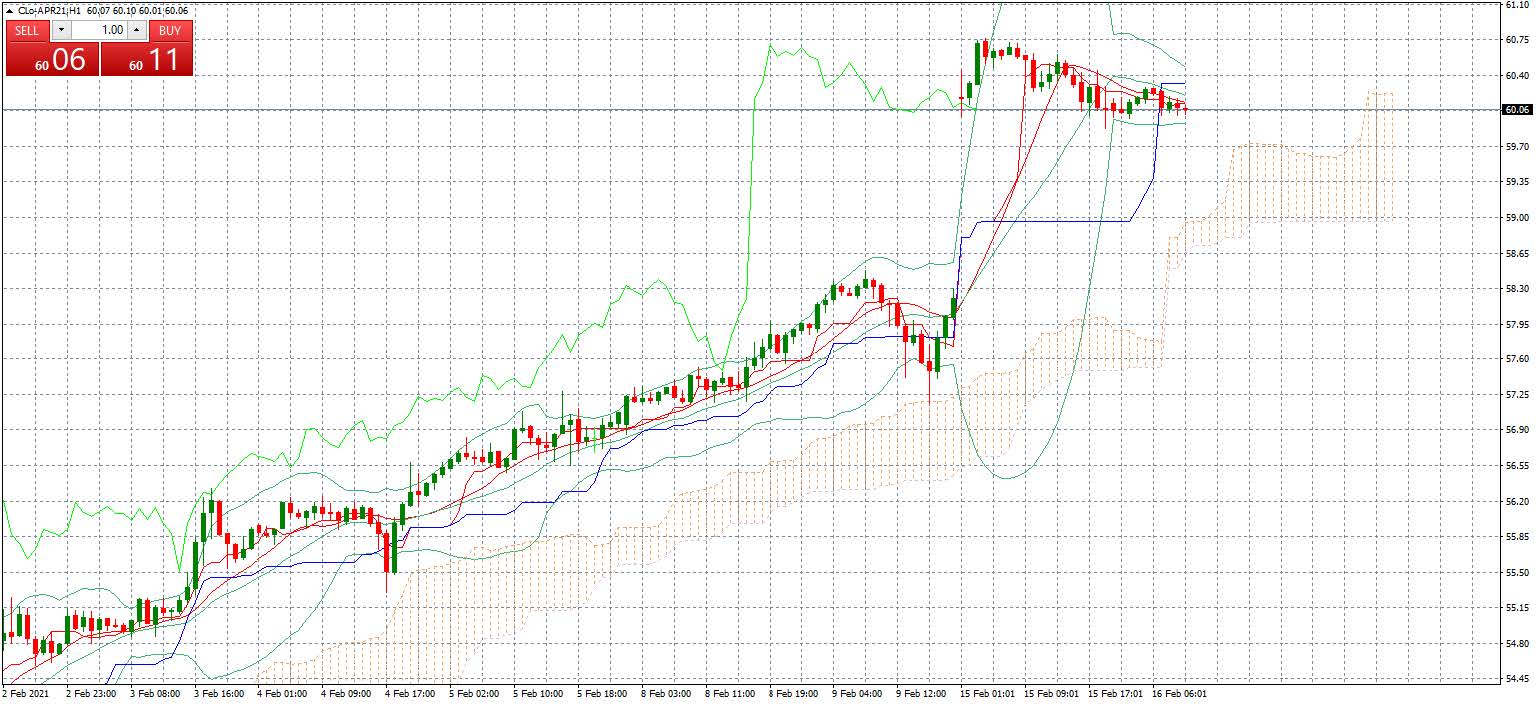 Support 1: 60.02
Support 2: 59.94
Support 3: 59.84
Resistance 1: 60.20
Resistance 2: 60.30
Resistance 3: 60.38
Pivot Point: 60.12
Crude oil managed to break the resistance of USD $ 60 per barrel. However, it needs more strength from buyers to move towards resistance 2 and 3. Meanwhile, bears are watching the support 2 and 3. Expected trading range between 59.84 and 60.38. Pivot point at 60.12.
---
DAX 30 -0.12%
German index opened lower and is down 0.12% from yesterday's close. It is currently trading at 14,098 points. Today we will have the quarterly and annual consolidated GDP data for the Euro Zone. We will also have a reading on the ZEW which measures investor confidence in the EuroZone and Germany. This macroeconomic data will have a direct impact on the DAX 30. On Friday, the FED raised the interest rate. Yesterday Wall Street was closed. But today we could see some turbulence in equities.
Support 1: 14,097.6
Support 2: 14,084.3
Support 3: 14,066.6
Resistance 1: 14,128.6
Resistance 2: 14,146.3
Resistance 3: 14,159.6
Pivot Point: 14,115.3
Expected trading range between 14,066 and 14,159, with pivot point for trend change at 14,115. Price remains above 14,000 and is above the Ichimoku cloud, which means that the price can continue to move up to resistance 1. From there all depend on long holders to consolidate the index.
---
GOLD +0.05%
Today we could see interesting and bullish movements in gold towards the level of resistance 2 and 3, as a result of the increase in interest rates in the US as a strategy of the FED to control inflationary pressure. Gold is currently trading at USD$1,822 per Troy ounce. Silver is currently up 1.82%. Both metals have been used to hedge against inflation.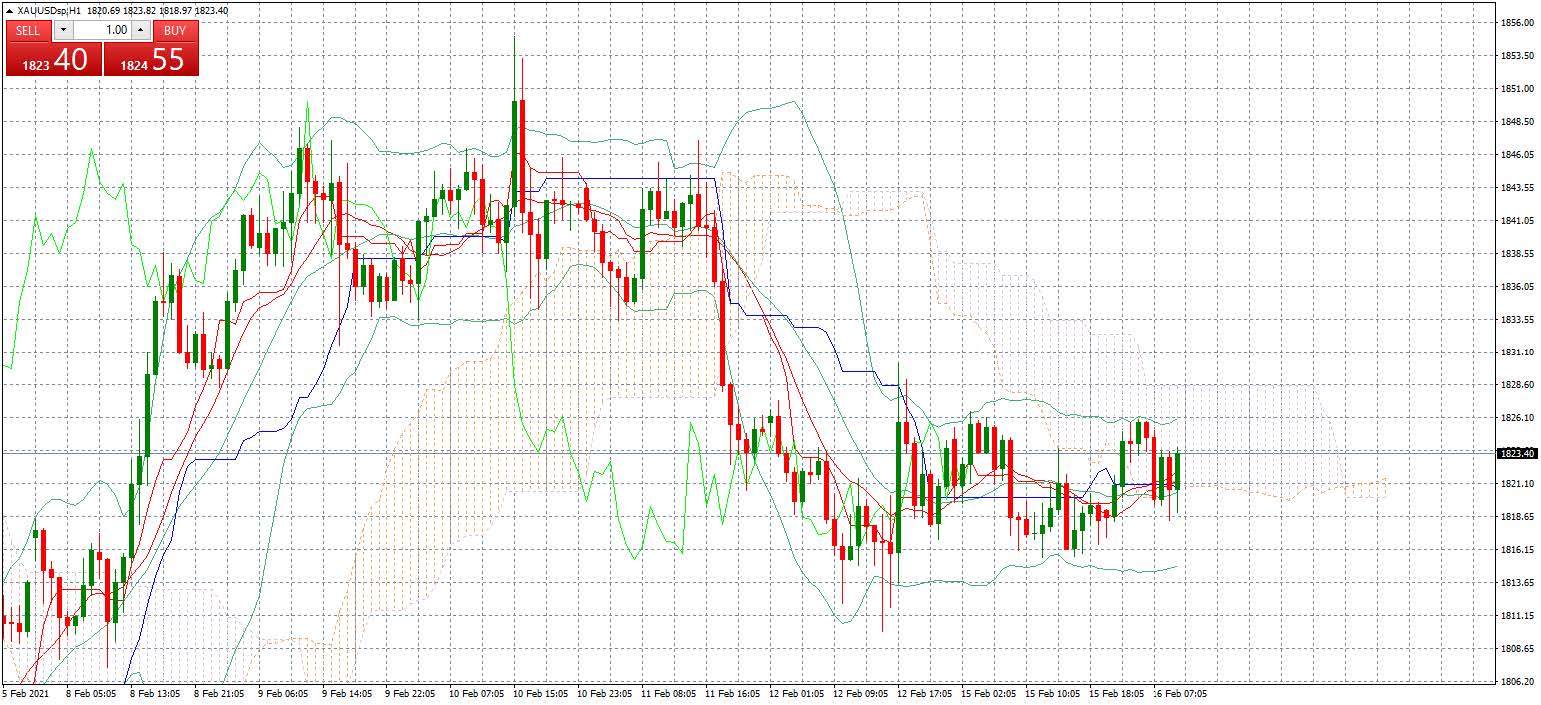 Support 1: 1,818.21
Support 2: 1,816.03
Support 3: 1,813.31
Resistance 1: 1,823.11
Resistance 2: 1,825.83
Resistance 3: 1,828.01
Pivot Point: 1,820.93
Pivot point for change in trend at 1,820. Price is in a sideway trend, while waiting for more volatility in the market. The VIX index is at +0.66%. Neutral trend, until we see a sell-off in equities.
---
SILVER +1.89%
Since the Asian session, investors started to buy silver and as a result it is currently up 1.89%. It is currently trading at 27.76. If we witness equities sales in the global markets, due to the rise in interest rates, we could see silver prices rise towards resistance 3. On the other hand, the economic recovery after the pandemic, could generate a new super cycle in commodities, boosting prices.
Support 1: 27.594
Support 2: 27.518
Support 3: 27.414
Resistance 1: 27.774
Resistance 2: 27.878
Resistance 3: 27.954
Pivot Point: 27.698
Expected trading range between 27.41 and 27.95. Upward momentum for now. Everything depends on the Wall Street Pivot point at 27.69.
---
Sources
Reuters
Market watch
Bloomberg
Capitalix Market Research
Risk Disclaimer
Any information/articles/materials/content provided by Capitalix or displayed on its website is intended to be used for educational purposes only and does not constitute investment advice or a consultation on how the client should trade.
Although Capitalix has ensured that the content of such information is accurate, it is not responsible for any omission/error/miscalculation and cannot guarantee the accuracy of any material or any information contained herein.
Therefore, any reliance you place on such material is strictly at your own risk. Please note that the responsibility for using or relying on such material rests with the client and Capitalix accepts no liability for any loss or damage, including without limitation, any loss of profit which may arise directly or indirectly from the use of or reliance on such information.
Risk Warning: Forex/CFDs trading involves significant risk to your invested capital. Please read and make sure that you fully understand our Risk Disclosure Policy.
You should ensure that, depending on your country of residence, you are allowed to trade Capitalix.com products. Please ensure that you are familiar with the company's risk disclosure.
Want to read more?
Login and enjoy all Daily Analysis articles