Daily Review for February 15, 2021
February 15, 2021, 10:36
Wall Street closed today due to the Presidents' Day holiday
Asian markets continue to rise, mainly on the back of Japanese GDP results
Europe opens positive, driven by Asia
Investors analyze a correction in equities caused by the rise in US interest rates
Major cryptocurrencies sell-off over the weekend. Market Cap is now set at USD$200 Billion
---
IBEX 35 +0.77%
The index is currently trading at 8,103 and is up 0.77%. European markets opens higher, continuing the momentum of the Asian market, where the Nikkei overcame the resistance of 30,000 points. For the time being, the Ibex 35 continues to rise, awaiting the European Central Bank's economic stimulus package for Spain.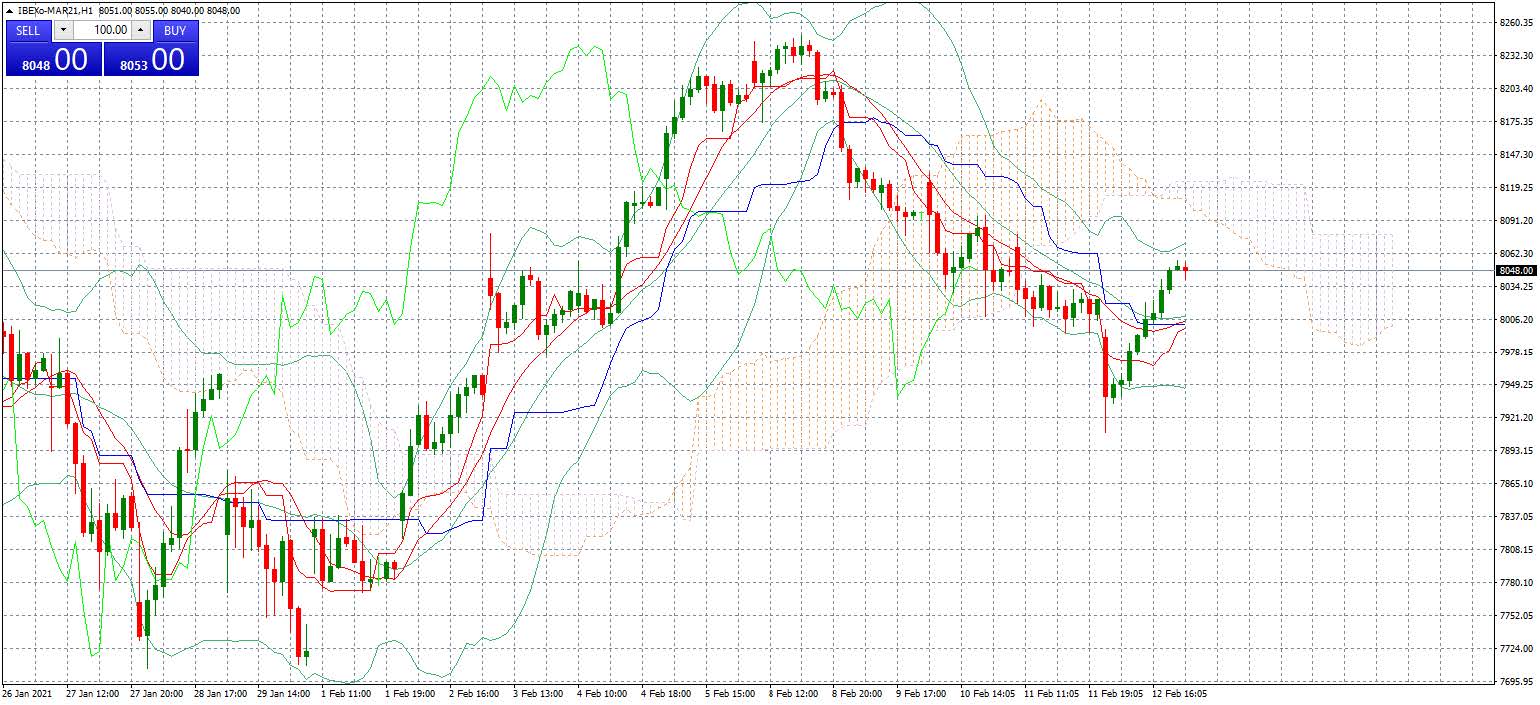 Support 1: 8,098.6
Support 2: 8,086.8
Support 3: 8,079.1
Resistance 1: 8,118.1
Resistance 2: 8,125.8
Resistance 3: 8,137.6
Pivot Point: 8,106.3
Bulls are attacking the 8,100 area. However, there are several resistances to hold this level. Among them 8,118 and the main one at 8,137. If the uptrend continues, the short term target is 8,200. Pivot point at 8,106.
NIKKEI 225 +1.48%
Japan index is at its highest level since August 1990. It is currently trading at 30,072 and is up 1.48%. The Japanese market is rising sharply on the back of Japan's strong GDP performance. According to data from the country's Finance Minister, in 4Q 2020 Japan grew 3%. On an annual basis, this means an annual growth of 12.7%. The above data demonstrates a significant recovery of the Japanese economy.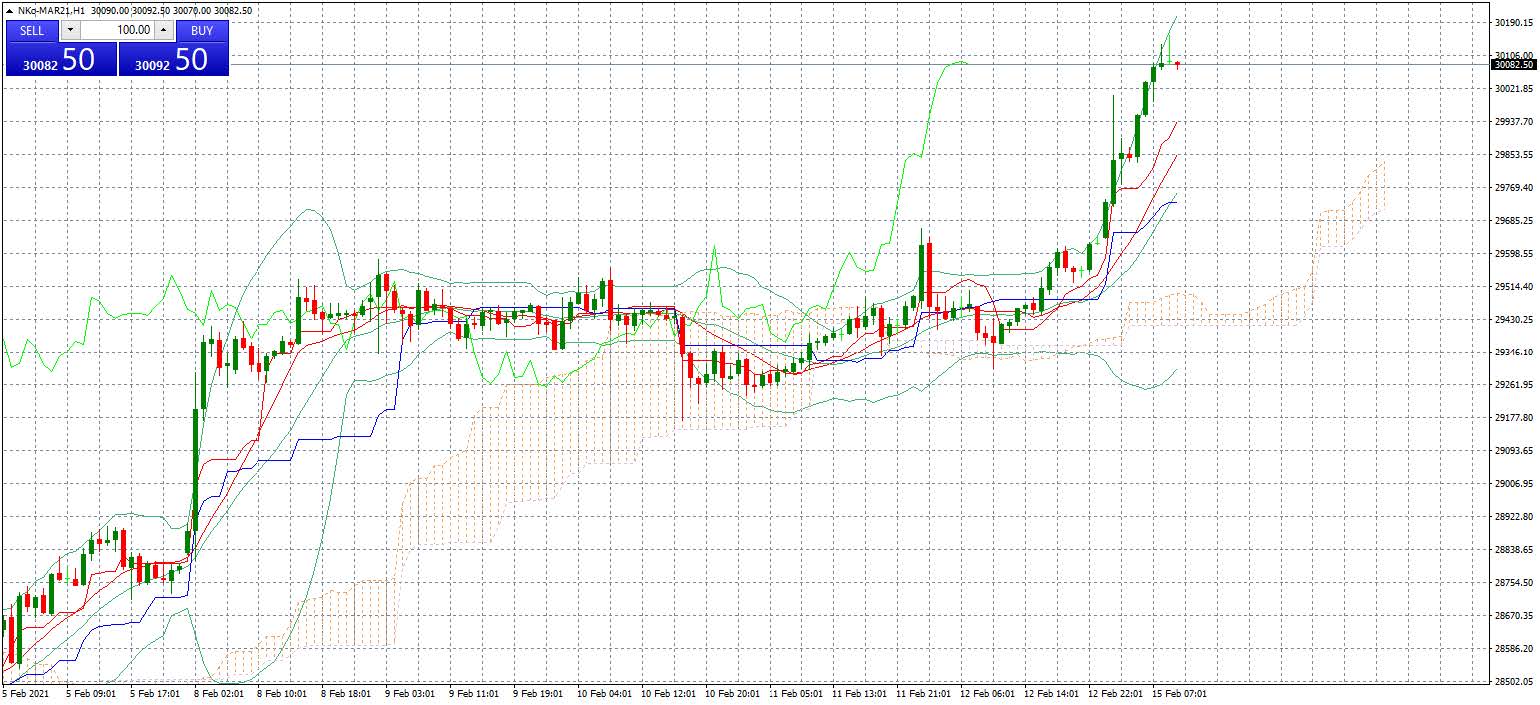 Support 1: 30.062,6
Support 2: 30.032,8
Support 3: 29.987,6
Resistance 1: 30.137,6
Resistance 2: 30.182,8
Resistance 3: 30.212,6
Pivot Point: 30.107,8
Bullish trend. The price is above the 25 and 50-day moving averages. RSI is entering the overbought zone. Bulls are trying to consolidate the index above the 30,000 level. Expected trading range between 29,987 and 30,212. Pivot point at 30,107.
DAX 30 +0.33%
DAX 30 starts the week in positive territory, rising 0.33% and trading at 14,087 points at the moment. The index opens the week above 14,000 points. The upward momentum is being driven by the strong performance of the Japanese stock market. Wall Street is closed today due to Presidents' Day holiday. Analysts expect a possible market correction in the U.S. and globally, caused by the increase in U.S. interest rates. This will have a short term impact on equities. The hike was made to control inflation.
Support 1: 14,119,9
Support 2: 14,108,2
Support 3: 14,096,4
Resistance 1: 14,143,4
Resistance 2: 14,155,2
Resistance 3: 14,166,9
Pivot Point: 14,131,7
Expected trading range between 14,096 and 14,166. Pivot point for change in trend at 14,131. Bulls look to defend the current price level and push the price towards 14,143. Bears start to sell on the impact of rising US interest rates.
ETHEREUM -3.56%
Ethereum suffered a 10% drop over the weekend, caused by a massive sell-off in the cryptocurrency market. Ethereum is currently down 3.56% and is trading at 1,758. After the crypto market crash, the market capitalization is currently at USD$200 Billion. Technically it could be explained as profit taking by the long holders of the market. Also the tweet of Elon Musk to sell Dogecoin, impulse the sales.
Support 1: 1,741.05
Support 2: 1,733.02
Support 3: 1,729.01
Resistance 1: 1,753.09
Resistance 2: 1,757.10
Resistance 3: 1,765.13
Pivot Point: 1,745.06
Bulls maintain the target at 2,000. After the weekend drop, buying volume was generated at 1,661. Expected trading range between 1,729 and 1,765. Pivot point at 1,745.
Sources
Reuters
Market watch
Bloomberg
Capitalix Market Research
Risk Disclaimer
Any information/articles/materials/content provided by Capitalix or displayed on its website is intended to be used for educational purposes only and does not constitute investment advice or a consultation on how the client should trade.
Although Capitalix has ensured that the content of such information is accurate, it is not responsible for any omission/error/miscalculation and cannot guarantee the accuracy of any material or any information contained herein.
Therefore, any reliance you place on such material is strictly at your own risk. Please note that the responsibility for using or relying on such material rests with the client and Capitalix accepts no liability for any loss or damage, including without limitation, any loss of profit which may arise directly or indirectly from the use of or reliance on such information.
Risk Warning: Forex/CFDs trading involves significant risk to your invested capital. Please read and make sure that you fully understand our Risk Disclosure Policy.
You should ensure that, depending on your country of residence, you are allowed to trade Capitalix.com products. Please ensure that you are familiar with the company's risk disclosure.
Want to read more?
Login and enjoy all Daily Analysis articles