Daily Review for February 12, 2021
February 12, 2021, 11:33
European and Wall Street index futures are in the red. The VIX as a measure of volatility is at 3.26%
DAX 30 is marking a downward channel. The market awaits industrial production data in the Eurozone
Bitcoin is in an uptrend, driven by the interest of large companies in the cryptocurrency
Gold in negative trend, hit by cryptocurrencies. Headed to 1,800 support
Crude oil corrects due to an increase in supply
---
DAX 30 -0.33%
European market opens negative, following the trend in Asia, where the Nikkei lost the level of historical highs. Today we will have the UK GDP and Spanish CPI data. Meanwhile, the DAX 30 is down 0.33% and is trading at 13,952. The index remains close to 14,000 points, a very strong resistance which traders holding long positions have not been able to consolidate. Another interesting data to review today, is the industrial production in the Eurozone.
Support 1: 13,980.4
Support 2: 13,972.2
Support 3: 13,957.9
Resistance 1: 14,002.9
Resistance 2: 14,017.2
Resistance 3: 14,025.4
Pivot Point: 13,994.7
Pivot point at 13,994. At the moment the index has not set a trend, but it is forming a downward channel. If the fall continues, we may see it reach the support 3 level. If on the other hand the upward momentum is generated, the index may reach resistance 3.
---
BITCOIN +4.99%
Bitcoin is currently rising 4.99% and is trading at 47,380. Despite yesterday's criticism of Bitcoin by economist Nouriel Roubini, the cryptocurrency continues to rise. Even yesterday, BNY Mellon announced that it has set up a division at the bank to help customers buy and transfer digital assets. Yesterday the Chicago Mercantile Exchange also announced the admission of Ethereum in futures market. Cryptocurrencies are gaining ground in the standardized market.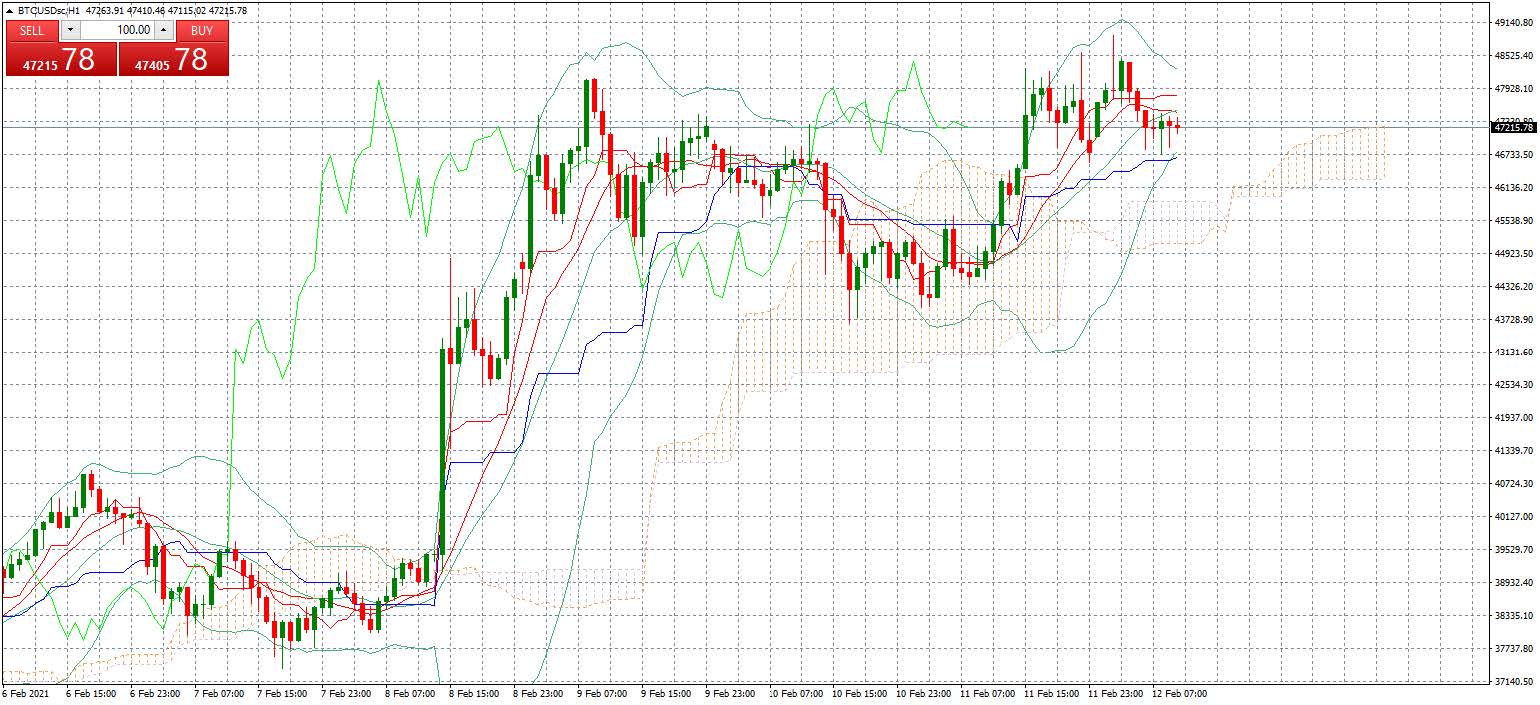 Support 1: 44,690.87
Support 2: 42,468.13
Support 3: 38,254.03
Resistance 1: 48,904.97
Resistance 2: 50,896.33
Resistance 3: 55,110.43
Pivot Point: 46,682.23
Bulls maintain their target at 50,000. Expected trading range between 42,468 and 50,000. Pivot point at 46,682. Price is above the Ichimoku cloud. The RSI has not yet entered overbought territory, so the price could climb higher to resistance 1 and then to resistance 2.
---
GOLD -0.74%
Yesterday gold was trying to make a shoulder head shoulder pattern, for then to push higher, but it failed to hold. It is currently down 0.74% and is trading at 1,813. Despite the fact that the European market and Wall Street Futures are in the red, gold has not changed its trend and is falling too. It seems that the biggest player against the metal is the Bitcoin and the interest of large companies and institutions on it such as Tesla.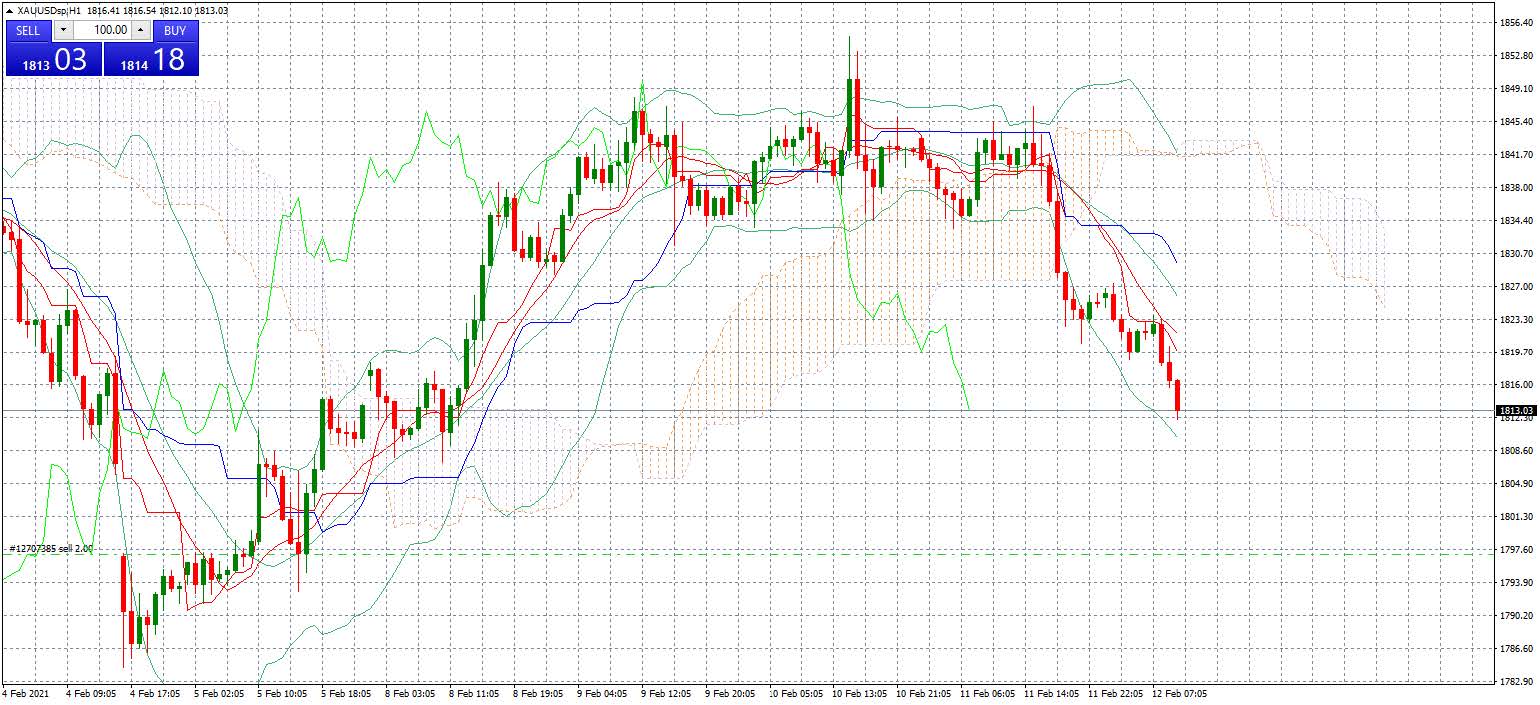 Support 1: 1,815.35
Support 2: 1,805.06
Support 3: 1,778.63
Resistance 1: 1,841.78
Resistance 2: 1,857.92
Resistance 3: 1,884.35
Pivot Point: 1,831.49
Negative outlook until change in trend. Price is below the Ichimoku cloud. Expected trading range between 1,778 and 1,884. Pivot point at 1,831.
---
CRUDE OIL -1.18%
Crude oil prices are undergoing a major correction due to the disagreement between some OPEC+ members. Also, it seems that Biden is creating a new agreement with Iran, which could lead to the return of Iran's crude oil exports to the market. At this moment the price is falling 1.18% and is trading at USD$57.54. On the other hand, tensions between the European Union and Russia continue. These could cause oil prices to rise.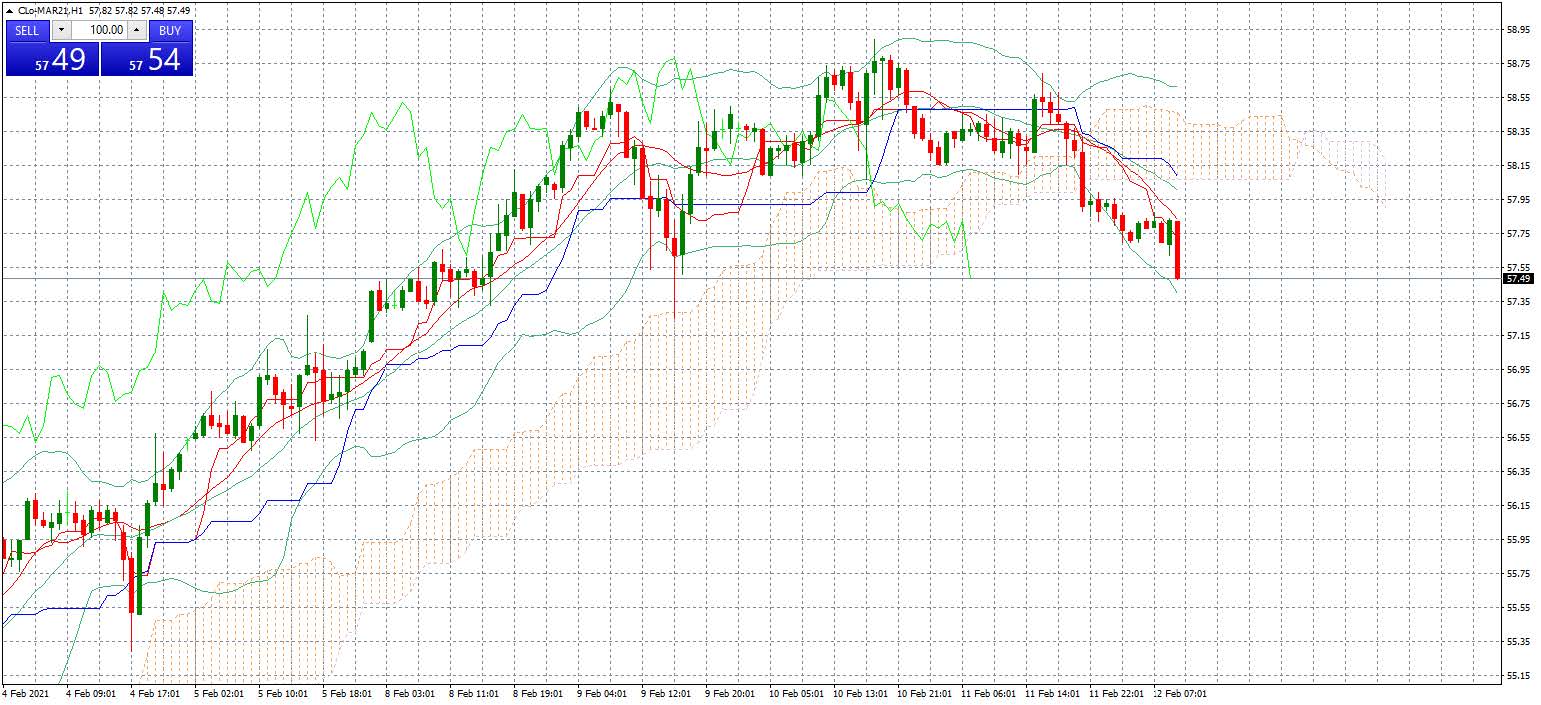 Support 1: 57.54
Support 2: 57.24
Support 3: 56.41
Resistance 1: 58.37
Resistance 2: 58.9
Resistance 3: 59.73
Pivot Point: 58.07
Expected trading range between 56.41 and 59.73, with pivot point for trend change at 58.07. RSI is into an oversold zone, which could make price recover to resistance 1 or 2. The Bulls maintain the target at 60.
---
Sources
Reuters
Market watch
Bloomberg
Capitalix Market Research
Risk Disclaimer
Any information/articles/materials/content provided by Capitalix or displayed on its website is intended to be used for educational purposes only and does not constitute investment advice or a consultation on how the client should trade.
Although Capitalix has ensured that the content of such information is accurate, it is not responsible for any omission/error/miscalculation and cannot guarantee the accuracy of any material or any information contained herein.
Therefore, any reliance you place on such material is strictly at your own risk. Please note that the responsibility for using or relying on such material rests with the client and Capitalix accepts no liability for any loss or damage, including without limitation, any loss of profit which may arise directly or indirectly from the use of or reliance on such information.
Risk Warning: Forex/CFDs trading involves significant risk to your invested capital. Please read and make sure that you fully understand our Risk Disclosure Policy.
You should ensure that, depending on your country of residence, you are allowed to trade Capitalix.com products. Please ensure that you are familiar with the company's risk disclosure.
Want to read more?
Login and enjoy all Daily Analysis articles