Daily Review for December 30, 2020
December 30, 2020, 11:52
Nasdaq futures rally as McConnell introduces competing Stimulus-Check Bill
Bitcoin price inches closer to $30,000 with new all-time highs
Crude oil futures rise on bullish API data
As December comes to a close, the DAX Index is traversing record high territory
---
NASDAQ +4.63
U.S. stock index futures were slightly higher in early morning trading on Wednesday as the market tried to reclaim record highs.
Nasdaq 100 futures traded in mildly positive territory.
The move came after the major averages closed lower on Tuesday, giving up early gains that pushed stocks to record highs at the opening bell. The Nasdaq Composite, meanwhile, slid 0.38%.
With just two trading days left in the year, the major averages are on track to end 2020 higher. The Dow is up 6.3% for the year, while the S&P 500 has gained 15.36%.
But the clear year-to-date winner remains the Nasdaq Composite, which has gained 43%.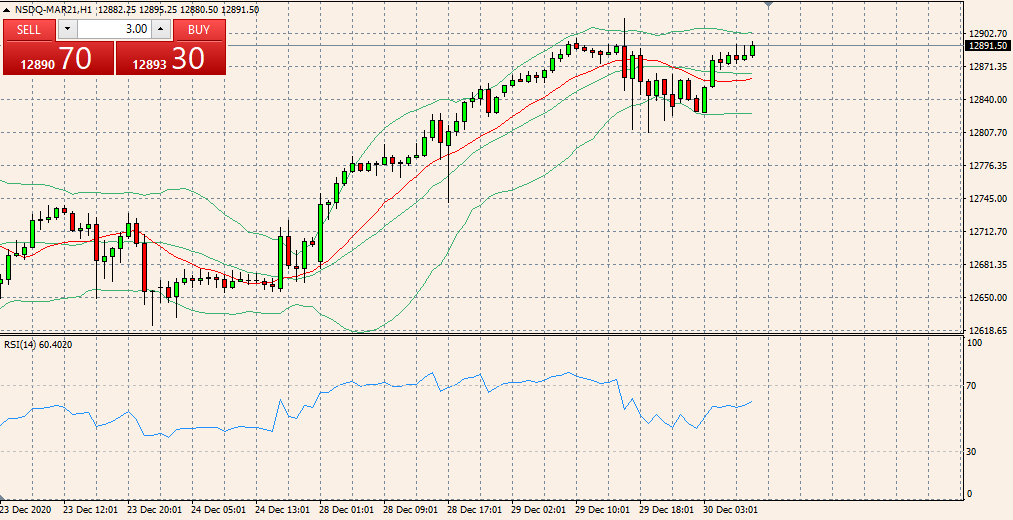 Support 1: 12,808
Support 2: 12,756
Support 3: 12,647
Resistance 1: 12,918
Resistance 2: 12,976
Resistance 3: 13,086
Pivot Point: 12,866
---
BTCUSD +3.55%
Bitcoin returned to hitting records on Dec. 30 after a fresh rebound took it above its $28,400 for the first time in history.
In a strong resurgence overnight, Bitcoin confirmed that it had no time for bears after briefly dipping as low as $25,830 over the past 24 hours.
As Bitcoin enjoyed another holiday rally, daily gains were at 7.5% at press time as $28,560 became reality.
The largest cryptocurrency by market cap has extended its rally in the year-to-date to roughly 280%. While substantial, recent gains were established under unique holiday trading conditions that may leave them vulnerable in the days ahead.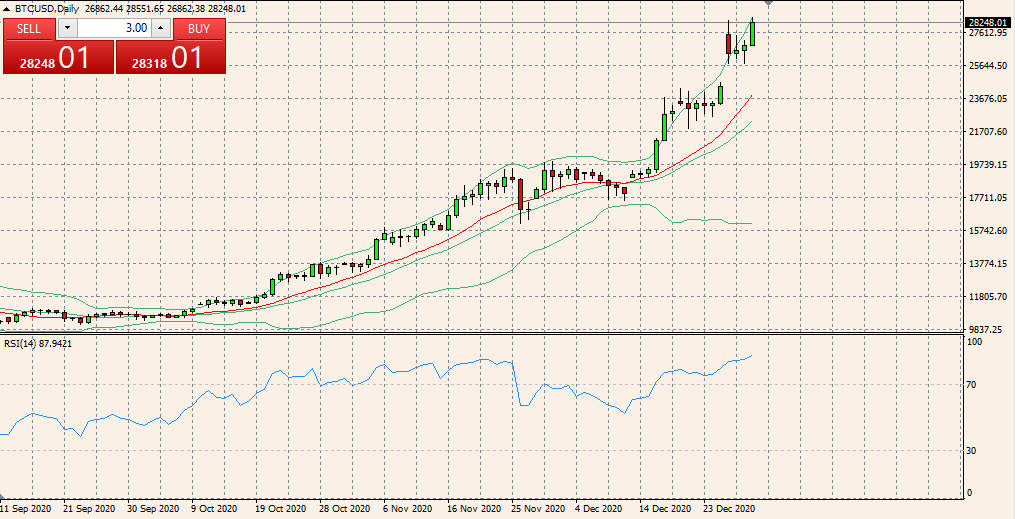 Support 1: 27,700
Support 2: 26,135
Support 3: 19,500
Resistance 1: 29,000
Resistance 2: 29,312
Resistance 3: 30,000
Pivot Point: 27,500
The move brings Bitcoin ever closer to sealing $30,000 as a new psychological level before the end of the year, something which seemed all but impossible just one week ago.
However, analysts still believe that a reversal could take the largest cryptocurrency down to existing support at $19,500.
On Tuesday, Cointelegraph Markets analyst Michaël van de Poppe nonetheless highlighted $27,500 as the critical area to break in order to pave the ways for new all-time highs.
---
CL-FEB21 +0.62%
Crude oil futures ticked up during morning trade on Dec. 30 as bullish data from the American Petroleum Institute boosted market sentiment, even as new cases of the mutant coronavirus strain surfaced around the world.
The API data showed a 4.785 million-barrel draw in US crude inventories for the week ended Dec. 25. This was larger than the 3.8 million-barrel draw predicted by analysts surveyed by S&P Global Platts.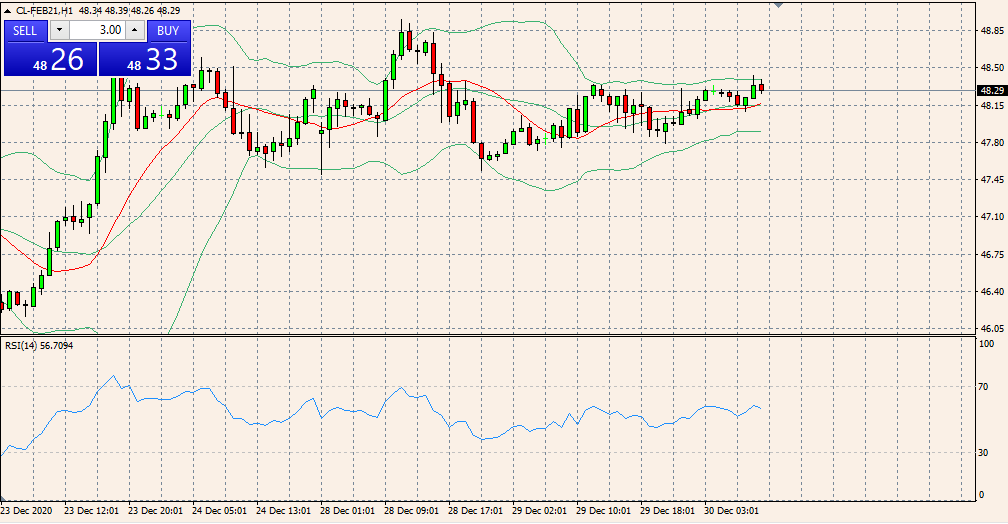 Support 1: 47.60
Support 2: 46.90
Support 3: 46.26
Resistance 1: 48.66
Resistance 2: 49.31
Resistance 3: 54.66
Pivot Point: 48.12
Crude oil prices backed off key resistance mid-month, but have recently found support at the highs seen in November – a good omen heading into 2021.The crude oil price rally was stunted by the 48.66/49.31 area, while the near-term outlook may be bullish thanks to fundamental tailwinds, and the technical point to strengthening bullish momentum, traders may want to curb their enthusiasm regarding a significant run higher – at least beyond the February 2020 high at 54.66.
---
DAX +3.07
The German DAX continued its historic streak by rising 0.6%, after global markets soared in hopes that the long-awaited US pandemic aid package will be expanded.
European stocks continued their year-end bullish streak on Wednesday with the Brexit trade deal, hopes of an expanded stimulus package in the United States and the massive COVID-19 vaccination campaign in the euro zone improving global growth prospects in 2021.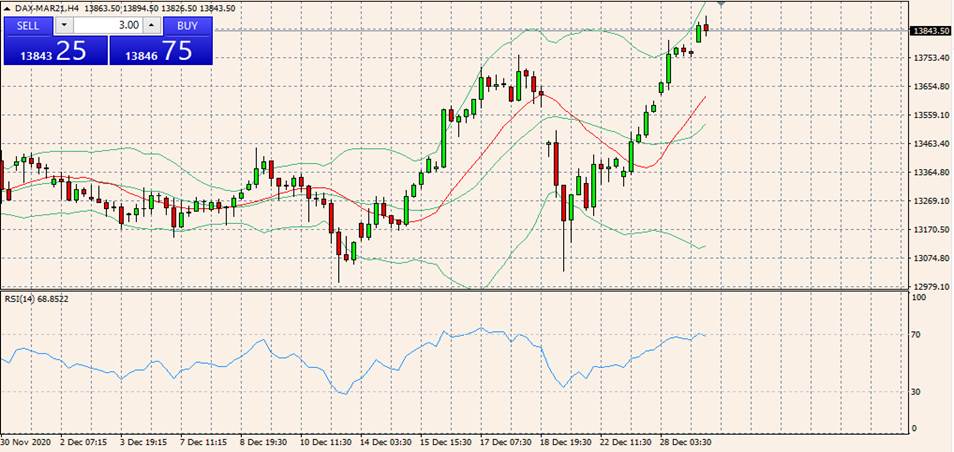 Support 1: 13,643
Support 2: 13,450
Support 3: 13,200
Resistance 1: 13,816
Resistance 2: 13,900
Resistance 3: 14,000
Pivot Point: 13,774
Speculative price range for DAX Index 13,200.00 to is 14,600.00. Support at 13450.00 could prove to be significant and if broken lower the DAX Index could see a test of lows near the 13200.00 mark if trading conditions worsen.
Resistance levels at 13900.00 may prove tough, but if punctured higher and the key psychological 14000.00 mark is brushed aside, speculative momentum could test values between 14400.00 and 14600.00 abruptly.
---
Sources
DailyForex.com
DailyFX.com
Investors.com
CNBC.com
Investing.com
Capitalix Market Research
Risk Disclaimer
Any information/articles/materials/content provided by Capitalix or displayed on its website is intended to be used for educational purposes only and does not constitute investment advice or a consultation on how the client should trade.
Although Capitalix has ensured that the content of such information is accurate, it is not responsible for any omission/error/miscalculation and cannot guarantee the accuracy of any material or any information contained herein.
Therefore, any reliance you place on such material is strictly at your own risk. Please note that the responsibility for using or relying on such material rests with the client and Capitalix accepts no liability for any loss or damage, including without limitation, any loss of profit which may arise directly or indirectly from the use of or reliance on such information.
Risk Warning: Forex/CFDs trading involves significant risk to your invested capital. Please read and make sure that you fully understand our Risk Disclosure Policy.
You should ensure that, depending on your country of residence, you are allowed to trade Capitalix.com products. Please ensure that you are familiar with the company's risk disclosure.
Want to read more?
Login and enjoy all Daily Analysis articles