Daily Review for December 28, 2020
December 28, 2020, 16:08
NASDAQ index benefits from the "stay-at-home trade" thanks to FAANG stocks.
XAUUSD eyes monthly top near $1,907 as Trump signs covid aid package.
GBPUSD – Prints rising wedge on hourly chart despite Brexit optimism.
Germany's DAX Hits Record High After Brexit Deal, U.S. Stimulus.
---
NASDAQ +0.26%
Without a doubt, the NASDAQ 100 is one of the better performing indices coming out the US. The market recently broke out of a significant consolidation area, so it looks as if it is trying to set up for a move higher. NASDAQ 100 is heavily influenced by a handful of stocks, most of which have benefited from the "stay-at-home trade." So far this year, FAANG stocks (Facebook, Amazon, Apple, Netflix and Google) have gained 50% on average, outperforming the benchmark NASDAQ index. Unfortunately, we will probably see that trade continue in the meantime, due to the fact that coronavirus figures are starting to climb again, due to new mutations and as a result the increase in lockdowns. The market is likely to continue to see a lot of choppy behavior to the upside, but short-term pullbacks should continue to offer plenty of opportunities to go long because technology continues to expand in this type of scenario. The index has soared 45% year to date, more than triple the S&P 500's 14% gains.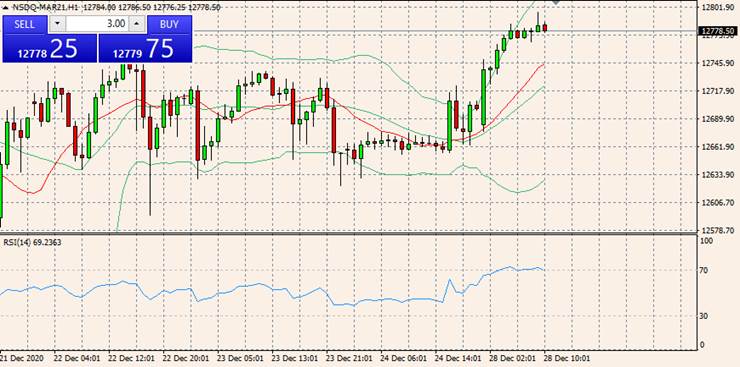 Support 1: 12,500
Support 2: 12,430
Support 3: 12,100
Resistance 1: 12,838
Resistance 2: 12,950
Resistance 3: 13,000
Pivot Point: 12,700
RSI above 70 shows that the index has strong positive momentum in the short term. Investors have steadily paid more to buy the index, which indicates increasing optimism and that the price will continue to rise. However, particularly for big stocks, high RSI may be a sign that the stock is overbought and that there is a chance of a reaction downwards. The index is overall assessed as technically positive for the medium long term.
---
XAUUSD +0.80%
Gold prices stay positive near a one-week high, currently up 0.80% while easing from the intraday high of $1,900.35 to $1,895, during early Monday. In doing so, the yellow metal extends the last Wednesday's recovery moves from $1,859 toward the monthly top as the market's sentiment improve on US President Donald Trump's signing of the coronavirus (COVID-19) aid package ($600 paycheck and an additional $300 weekly unemployment supplement).
Also supporting the market sentiment could be the extension of Brexit optimism and a lack of data/events amid the year-end holiday season.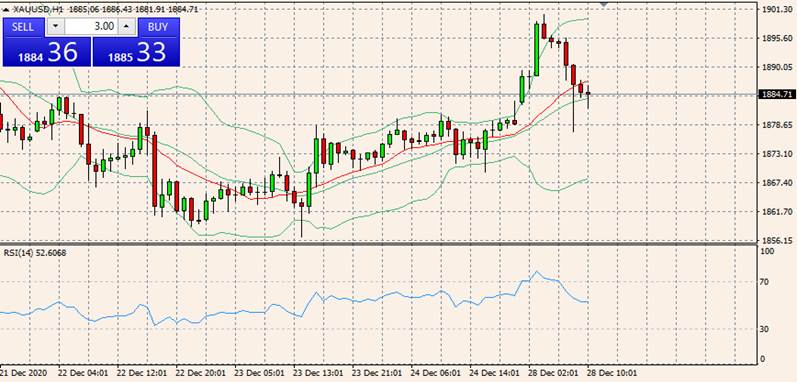 Support 1: 1,880
Support 2: 1,868
Support 3: 1,855
Resistance 1: 1,900
Resistance 2: 1,907
Resistance 3: 1,965
Pivot Point: 1,883
Technically, the yellow metal's ability to stay around $1,889, propels the bulls to eye to $1,898 offers as an immediate target ahead of the $1,900 round-figure. However, the monthly peak surrounding $1,907 lures the gold buyers for now while November's top near $1,965 can lure the bullion buyers afterward.
---
GBPUSD +0.17%
GBPUSD stays heavy around 1.3566, during Monday morning session. In doing so, the pair portrays a bearish chart pattern on the hourly (1H) formation.
While the multiple pullbacks from 1.3619/24 area join normal RSI conditions to suggest further weakness in GBPUSD prices, sellers will wait for the confirmation of the rising wedge before taking entries.
As a result, a clear downside break of 1.3525, also piercing off the 200-HMA level of 1.3460 becomes necessary for the GBPUSD bears to cheer.
Following that, the previous week's low near 1.3190 can offer an intermediate halt before dragging the quote to the monthly bottom surrounding 1.3135.
Alternatively, an upside clearance of 1.3624 needs to cross the upper line of the stated rising wedge, currently around 1.3630, to target the March 2018 low near 1.3710.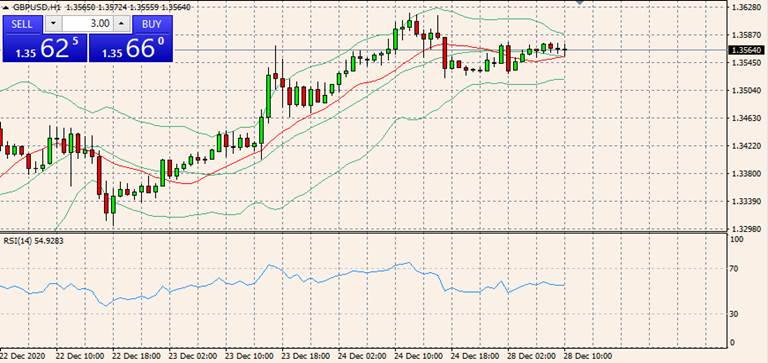 Support 1: 1.3525
Support 2: 1.3460
Support 3: 1.3190
Resistance 1: 1.3580
Resistance 2: 1.3630
Resistance 3: 1.3720
Pivot Point: 1.3710
---
DAX +1.69%
Germany's DAX Index climbed to a record high ten months after the pandemic-fueled equity rout, amid investor relief following a Brexit deal and as U.S. President Donald Trump signed a coronavirus stimulus package. The index gained 1.5% on Monday, surpassing its February intraday high. In its fastest-ever rebound from a major selloff to a fresh peak, the German gauge has surged 67% since a six-year low in March, helped by the likes of chip company Infineon Technologies AG and carmaker Daimer AG.
The rally in the exporter-heavy benchmark comes after the U.K. and the European Union finally agreed on a Brexit trade deal and as investors look past the country's rising coronavirus cases toward an anticipated global recovery next year spurred by vaccines.
Still, many investors and analysts are optimistic about prospects for cyclical shares — which have a heavy weighting in the DAX — in 2021. Strategists expect the benchmark's rally to continue into next year, with the average forecast calling for an almost 4% advance from the current level.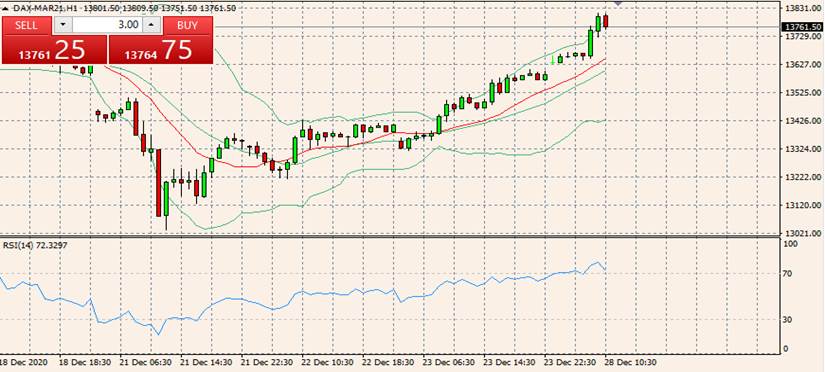 Support 1: 13,625
Support 2: 13,475
Support 3: 13,220
Resistance 1: 13,820
Resistance 2: 13,880
Resistance 3: 14,000
Pivot Point: 13,793
---
Sources
Dailyforex.com
Forexfactory.com
Bloomberg
Capitalix Market Research
Risk Disclaimer
Any information/articles/materials/content provided by Capitalix or displayed on its website is intended to be used for educational purposes only and does not constitute investment advice or a consultation on how the client should trade.
Although Capitalix has ensured that the content of such information is accurate, it is not responsible for any omission/error/miscalculation and cannot guarantee the accuracy of any material or any information contained herein.
Therefore, any reliance you place on such material is strictly at your own risk. Please note that the responsibility for using or relying on such material rests with the client and Capitalix accepts no liability for any loss or damage, including without limitation, any loss of profit which may arise directly or indirectly from the use of or reliance on such information.
Risk Warning: Forex/CFDs trading involves significant risk to your invested capital. Please read and make sure that you fully understand our Risk Disclosure Policy.
You should ensure that, depending on your country of residence, you are allowed to trade Capitalix.com products. Please ensure that you are familiar with the company's risk disclosure.
Want to read more?
Login and enjoy all Daily Analysis articles