Daily Review for August 31, 2021
August 31, 2021, 7:39
Stock indexes close near all-time highs. The Nasdaq 100 approaches 16,000 points, boosted by Apple's market capitalization.
Bitcoin trades sideways between USD$46,000 and USD$49,000. Traders are keeping an eye on the SEC, and the possible approval of a Bitcoin ETF.
Macroeconomic data day in the European Union. Favorable results are expected driven by economic recovery. Eurostoxx 50 looks to dynamize the market.
Crude oil remains near USD$70 per barrel. The market expects a reduction in inventories of at least 2.8 million barrels. The EU closed air borders with the US, which affects market demand in the short term.
The US completed the evacuation in Afghanistan.
---
NASDAQ 100 +0.37%
August closes with record highs in the stock market indexes. For its part, Apple boosted the Nasdaq 100 index, by reaching a market capitalization of USD$2.5 trillion. The company has begun to promote the iPhone 13. Likewise, index futures in Europe and the United States continue in positive territory. The Nasdaq 100 is up 0.37% and is trading at 15,665. On the other hand, the US government has stated that it has completed its evacuation from Afghanistan. The opening of Wall Street will show the reaction of US investors.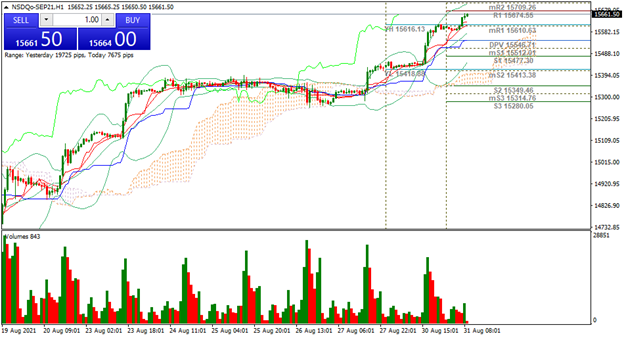 Support 1: 15,645.7
Support 2: 15,632.4
Support 3: 15,621.2
Resistance 1: 15,670.2
Resistance 2: 15,681.4
Resistance 3: 15,694.7
Pivot Point: 15,656.9
The index is overcoming resistance 1 and heading towards resistance 2. Expected trading range between 15,621 and 15,694. RSI in overbought zone, however, market momentum may give continuity to the index rally.
---
BITCOIN -1.89%
Over the past few days, the Bitcoin price has been trading between a range of USD$46,402 and USD$49,503. The Bulls have managed to defend the supports, and continue their search for USD$50,000. At the moment, traders are keeping an eye on the approval of a Bitcoin-based ETF, which could take place in the coming months. If the SEC approves the ETF, the range of buyers of the cryptocurrency would increase, since there are investment funds that by internal policies can only buy ETFs. This would bring more dynamism to the industry, but also more volatility.
Support 1: 47,043.3
Support 2: 46,936.1
Support 3: 46,858.5
Resistance 1: 47,228.1
Resistance 2: 47,305.7
Resistance 3: 47,412.9
Pivot Point: 47,120.9
The price is below the 200-day moving average. Bitcoin is currently at support 2. If it manages to bounce from this zone, it could climb to USD$48,426. If, on the contrary, it manages to break this zone, the decrease level could be up to USD$45,929. Pivot point at USD$47,120.
---
EUROSTOXX 50 +0.23%
Today, France, Italy and the UE will present its inflation reports. German unemployment rate and GDP data for Italy and Portugal will also be released. Traders are aware of this data to assess the economic performance of the Euro Zone. At the moment, the Eurostoxx 50 is up 0.23% and is trading at 4,208. If the data beats market expectations, the index could join the rally and close August near 5,000 points.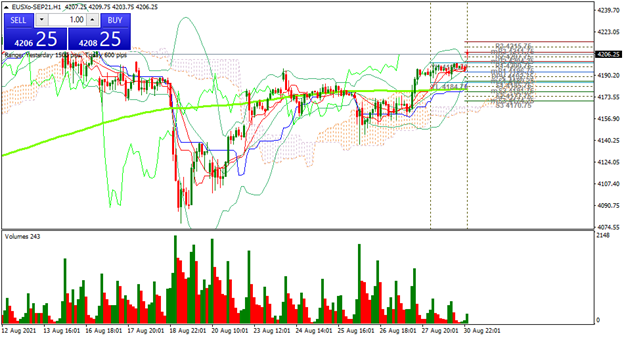 Support 1: 4,206
Support 2: 4,203
Support 3: 4,200
Resistance 1: 4,214
Resistance 2: 4,217
Resistance 3: 4,220
Pivot Point: 4,210
The price is above the 200-day moving average. The European market is expected to be bullish. If macro data is favorable, the index could push towards 4,300, and mark the bullish channel towards 4,500. Pivot point at 4,210. RSI in overbought zone.
---
CRUDE OIL -0.22%
Traders are awaiting API's weekly inventories report. The market is expecting a drawdown of 2.8 million barrels. Although inventories are declining globally, the OPEC+ meeting is going to be demand driven. The Delta variant continues to pressure commodities. Yesterday, the European Union announced travel restrictions to and from the United States. This impacts airlines and jetfuel, which is a derivative of crude oil, so the entire supply chain may be impacted.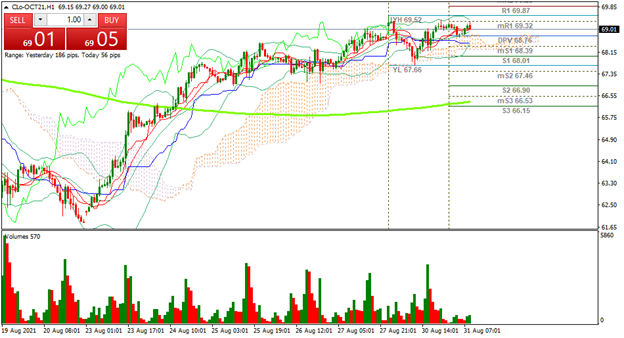 Support 1: 69.06
Support 2: 68.94
Support 3: 68.86
Resistance 1: 69.26
Resistance 2: 69.34
Resistance 3: 69.46
Pivot Point: 69.14
The price is above the 200-day moving average. Possible double top at resistance 1. Expected trading range between USD$68.86 and USD$69.46. Pivot point at USD$66.14. RSI neutral, so the market is waiting for the inventory report.
---
Sources
Reuters
Market watch
Bloomberg
Capitalix Market Research
Risk Disclaimer
Any information/articles/materials/content provided by Capitalix or displayed on its website is intended to be used for educational purposes only and does not constitute investment advice or a consultation on how the client should trade.
Although Capitalix has ensured that the content of such information is accurate, it is not responsible for any omission/error/miscalculation and cannot guarantee the accuracy of any material or any information contained herein.
Therefore, any reliance you place on such material is strictly at your own risk. Please note that the responsibility for using or relying on such material rests with the client and Capitalix accepts no liability for any loss or damage, including without limitation, any loss of profit which may arise directly or indirectly from the use of or reliance on such information.
Risk Warning: Forex/CFDs trading involves significant risk to your invested capital. Please read and make sure that you fully understand our Risk Disclosure Policy.
You should ensure that, depending on your country of residence, you are allowed to trade Capitalix.com products. Please ensure that you are familiar with the company's risk disclosure.
Want to read more?
Login and enjoy all Daily Analysis articles