Daily Review for August 27, 2021
August 27, 2021, 8:08
Gold begins to climb as traders and institutions buy the metal to reduce the portfolios risk exposure.
FED Chairman Jerome Powell will close Jackson Hole with a press conference, where he will announce the conclusions of the event.
Two bombings at Kabul Airport increase tensions in evacuations from Afghanistan. With geopolitical tension on the rise, the price of crude oil rises.
Bitcoin options expire today. Gradual correction expected as cryptos resume uptrend.
In Europe, stock indices are in positive territory, but trending sideways. Traders are waiting for the Jackson Hole results.
---
GOLD +0.56%
Jackson Hole continues to keep market players on their toes. Traders started to open long positions in gold, in order to reduce portfolio volatility. Jerome Powell will present the conclusions of the meeting today. Traders are waiting for tapering announcements. At the moment, the price of gold is up 0.56% and is trading at USD$1,801 per Troy ounce. At the moment, stock indices remain mixed, waiting for Jackson Hole.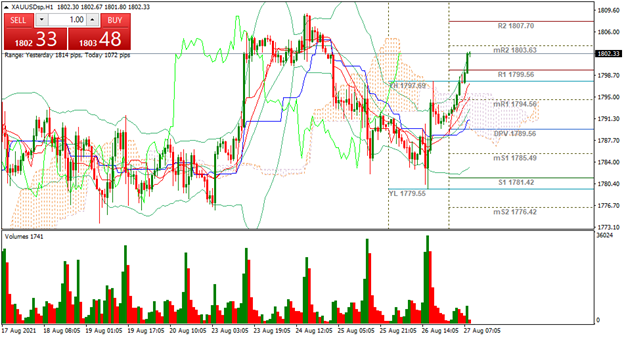 Support 1: 1,802.31
Support 2: 1,800.33
Support 3: 1,798.91
Resistance 1: 1,805.71
Resistance 2: 1,807.13
Resistance 3: 1,809.11
Pivot Point: 1,803.73
The price of gold continues to climb positions. It is currently at resistance 2. Possible continuation of the trend towards USD$1,809. Expected trading range between USD$1,798 and USD$1,809. RSI in overbought zone.
---
CRUDE OIL +1.65%
The price of crude oil is currently up 1.65% and is trading at USD$68.68 per barrel. Tensions in Afghanistan continue to rise. Last night, two bombings occurred at the Kabul airport. The deadline for evacuations remains August 31, 2021. Generally, when geopolitical tensions arise, the price of oil tends to rise. Due to the above and the reduction of inventories in the United States, we could see upward movements in crude oil prices in the coming days.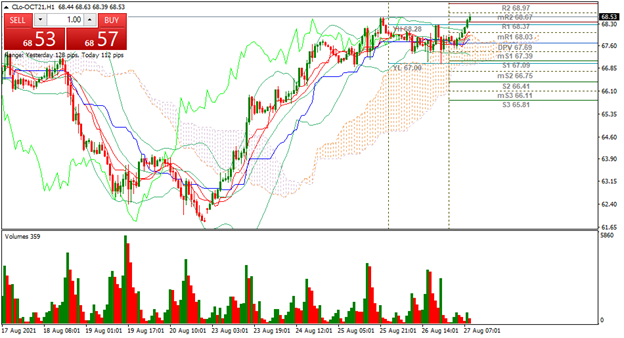 Support 1: 68.26
Support 2: 68.06
Support 3: 67.95
Resistance 1: 68.57
Resistance 2: 68.68
Resistance 3: 68.88
Pivot Point: 68.37
The price is between resistance 1 and 2. Expected trading range between USD$67.95 and USD$68.88. Pivot point for trend change at USD$68.37. RSI approaching the overbought zone. Bulls are looking for USD$70 per barrel. Goldman Sachs projects crude oil prices at USD$80 for the next few months.
---
BITCOIN +0.56%
The crypto market is approaching from two days of bearish sideways movements, due to the expiration of Bitcoin options. Today is the expiration day, so traders are expected to settle part of the obligations. This could generate some corrections; however, institutions and Bulls continue with purchases, so it is expected that during the weekend Bitcoin will reach USD$50,000 again. With the above, the crypto rally would be confirmed.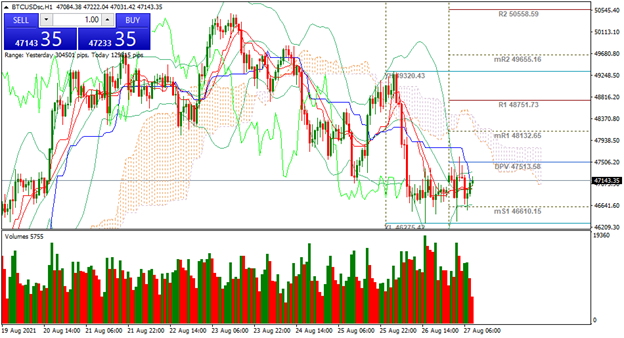 Support 1: 46,900.1
Support 2: 46,721.0
Support 3: 46,576.1
Resistance 1: 47,224.1
Resistance 2: 47,369.0
Resistance 3: 47,548.1
Pivot Point: 47,045.0
The price is between the pivot point and support 1. Bitcoin is bouncing off the support and is approaching the Pivot Point, where the trend change would be confirmed. If so, the first Bulls target is USD$49.655. If the trend is confirmed, the next target is USD$50.550.
---
DAX 30 +0.08%
Indices in Europe are in positive territory, although with slight upward movements as we await the Jackson Hole results. Traders continue to evaluate scenarios. On the one hand, the Fed could announce tapering, which would generate a correction in equities in the short term. It could also announce tapering for 2022, which would give portfolios some breathing space to reposition assets. Finally, it could do nothing, which would put pressure on commodities. Meanwhile, the DAX 30 is up 0.08% and is trading at 15,785.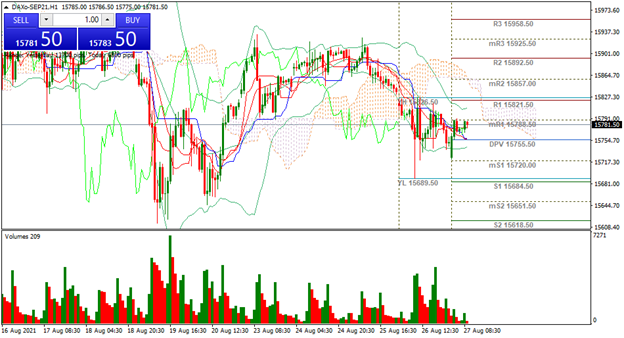 Support 1: 15,769.6
Support 2: 15,758.8
Support 3: 15,752.6
Resistance 1: 15,786.6
Resistance 2: 15,792.8
Resistance 3: 15,803.6
Pivot Point: 15,775.8
Sideways movement is expected before Jerome Powell's press conference. Trading range expected between 15,752 and 15,803. Pivot point for trend change at 15,775. RSI neutral.
---
Sources
Reuters
Market watch
Bloomberg
Capitalix Market Research
Risk Disclaimer
Any information/articles/materials/content provided by Capitalix or displayed on its website is intended to be used for educational purposes only and does not constitute investment advice or a consultation on how the client should trade.
Although Capitalix has ensured that the content of such information is accurate, it is not responsible for any omission/error/miscalculation and cannot guarantee the accuracy of any material or any information contained herein.
Therefore, any reliance you place on such material is strictly at your own risk. Please note that the responsibility for using or relying on such material rests with the client and Capitalix accepts no liability for any loss or damage, including without limitation, any loss of profit which may arise directly or indirectly from the use of or reliance on such information.
Risk Warning: Forex/CFDs trading involves significant risk to your invested capital. Please read and make sure that you fully understand our Risk Disclosure Policy.
You should ensure that, depending on your country of residence, you are allowed to trade Capitalix.com products. Please ensure that you are familiar with the company's risk disclosure.
Want to read more?
Login and enjoy all Daily Analysis articles