Daily Review for August 26, 2021
August 26, 2021, 9:05
Jackson Hole begins today. Central bankers will discuss their positions on whether or not to start tapering. Traders are waiting for volatility. Jerome Powell will announce his position tomorrow.
US GDP data for Q2 will be released today. A 6.7% increase is expected.
Traders are starting to keep the Nasdaq 100 on their radar due to its technology composition and gold to hedge portfolios.
Crude oil price slows down the rally and remain sideways as traders evaluate Jackson Hole scenarios.
---
NASDAQ 100 -0.20%
Jackson Hole begins, with Tapering as the main topic of discussion among central bankers. Positions remain mixed. Economic forecasts are still being evaluated. According to Goldman Sachs, tapering could start in November 2021. For the time being, traders are hedging portfolios in view of the volatility that may be generated today and tomorrow. The Nasdaq 100, being composed of technology companies, could be one of the assets of interest. At the moment the index is down 0.20% and is trading at 15,337.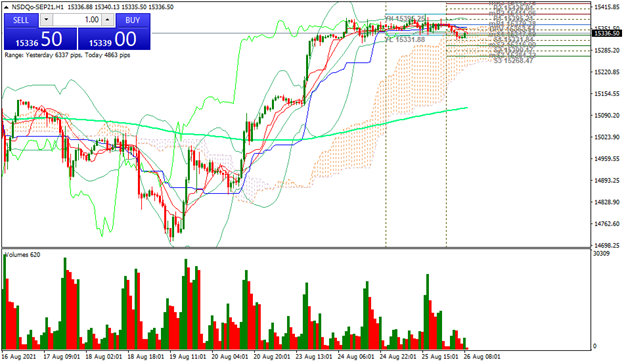 Support 1: 15,333.8
Support 2: 15,324.5
Support 3: 15,318.9
Resistance 1: 15,348.7
Resistance 2: 15,354.3
Resistance 3: 15,363.6
Pivot Point: 15,339.4
The index is moving sideways at the 15,331 zone. The price remains above the 200-day moving average. RSI neutral, which indicates that the sideways movement could continue. Pivot point at 15,339.
---
DAX 30 -0.35%
Stock indices in Europe are in negative territory. Traders are awaiting the minutes of the latest ECB meeting, which is expected to confirm the continuity of economic stimulus. The DAX 30 is currently down 0.35% and is trading at 15,780. Traders are also looking ahead to the start of Jackson Hole. Fed bankers hold mixed views on tapering. Jerome Powell will announce the conclusions of the meeting on Friday. In the US, the market is waiting the GDP data for Q2, where a 6.7% is expected.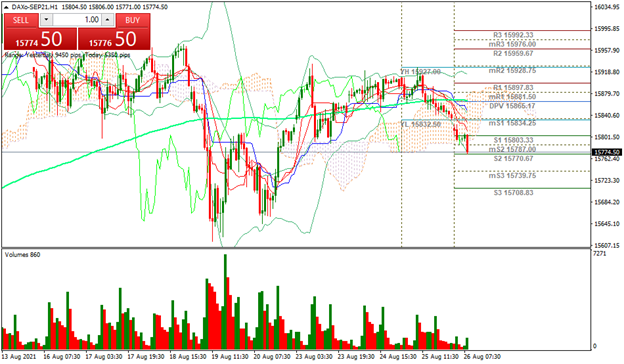 Support 1: 15,794.9
Support 2: 15,788.2
Support 3: 15,781.4
Resistance 1: 15,808.4
Resistance 2: 15,815.2
Resistance 3: 15,821.9
Pivot Point: 15,801.7
The index is below the 200-day moving average. If the downtrend continues, the price could reach the 15,708 zone. Trading range between 15,781 and 15,821. Pivot point at 15,801. RSI in oversold zone.
---
GOLD -0.25%
At the moment, gold remains in negative territory, just before the start of Jackson Hole. Metals could move higher, depending on whether the meeting convinces the market. Traders and investment funds have started to hedge portfolios. At the moment, the price of gold is down 0.25% and is trading at USD$1,786 per Troy ounce. Despite the decline, it remains close to the USD$1,800 mark. Possible buying level for investors.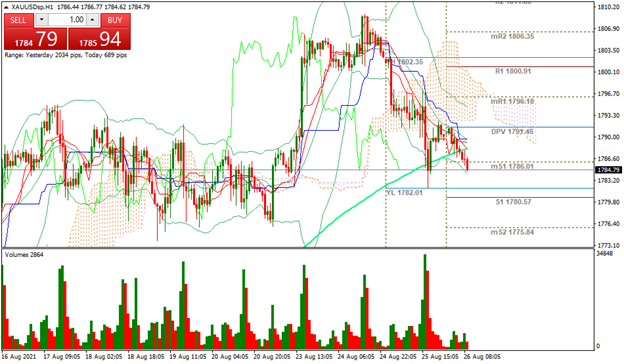 Support 1: 1,787.15
Support 2: 1,786.35
Support 3: 1,785.05
Resistance 1: 1,789.25
Resistance 2: 1,790.55
Resistance 3: 1,791.35
Pivot Point: 1,788.45
The price crossed the 200-day moving average. Expected trading range between USD$1,785 and USD$1,791. If the price bounces from the current level, it will meet the pivot point to confirm the trend change. RSI near the oversold zone.
---
CRUDE OIL -0.45%
Crude oil price is giving up 0.45% today, looking for a decline after this week's accumulated 10% rally. Crude oil is currently trading at USD$68.05 per barrel. Crude oil inventories in the United States decreased by 2.9 million barrels vs. 2.6 million expected, indicating that demand for gasoline and refined products is on the rise. Likewise, China reported a second consecutive day with no covid cases, which generates optimism in the physical commodities market. Commodity traders are keeping an eye on Jackson Hole, which can either give confidence or put pressure on the markets.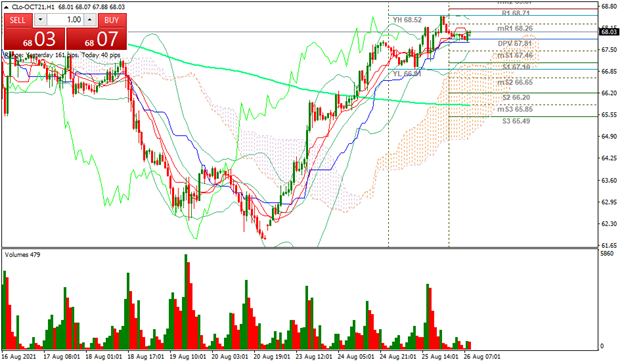 Support 1: 67.83
Support 2: 67.62
Support 3: 67.52
Resistance 1: 68.14
Resistance 2: 68.24
Resistance 3: 68.45
Pivot Point: 67.93
Sideways movement. The price remains above the 200-day moving average. Expected trading range between USD$67.52 and USD$68.45. Pivot point at USD$67.93. RSI neutral.
---
Sources
Reuters
Market watch
Bloomberg
Capitalix Market Research
Risk Disclaimer
Any information/articles/materials/content provided by Capitalix or displayed on its website is intended to be used for educational purposes only and does not constitute investment advice or a consultation on how the client should trade.
Although Capitalix has ensured that the content of such information is accurate, it is not responsible for any omission/error/miscalculation and cannot guarantee the accuracy of any material or any information contained herein.
Therefore, any reliance you place on such material is strictly at your own risk. Please note that the responsibility for using or relying on such material rests with the client and Capitalix accepts no liability for any loss or damage, including without limitation, any loss of profit which may arise directly or indirectly from the use of or reliance on such information.
Risk Warning: Forex/CFDs trading involves significant risk to your invested capital. Please read and make sure that you fully understand our Risk Disclosure Policy.
You should ensure that, depending on your country of residence, you are allowed to trade Capitalix.com products. Please ensure that you are familiar with the company's risk disclosure.
Want to read more?
Login and enjoy all Daily Analysis articles