Daily Review for August 25, 2021
August 25, 2021, 7:53
G7 members fail to consolidate an agreement to extend the deadline for evacuations from Afghanistan. This is creating mixed market movements, as well as the Jackson Hole expectations.
In Europe, indices are in positive territory, awaiting the ECB Vice President's announcement. The market is also expecting positive leading indicators data from the German economy.
The market expects a weekly U.S. crude inventories drawdown of 2.6 million barrels.
Cryptos correct. The market is revising Bitcoin options expiration. Despite the drop, the Bulls maintain the target to consolidate the price above USD$50,000.
---
DOW JONES -0.04%
The market starts the day with mixed movements following the failure of G7 members to agree on the deadline extension for the evacuation from Afghanistan. Date remains at August 31, 2021. For this reason, the equity market is starting to show downward pressure. The Dow Jones is currently down 0.04%, trading at 35,348. Traders are aware of the Durable Goods Orders report, in order to continue evaluating the performance of the U.S. economy.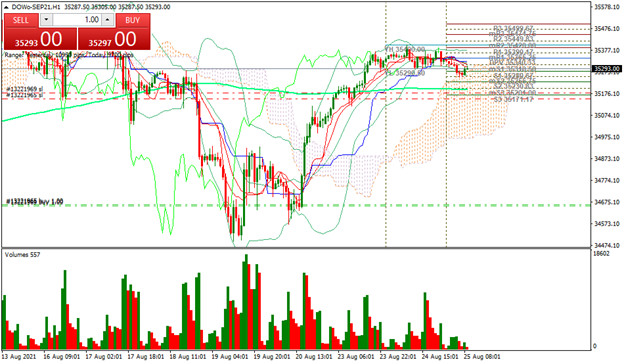 Support 1: 35,320.3
Support 2: 35,293.1
Support 3: 35,277.3
Resistance 1: 35,363.3
Resistance 2: 35,379.1
Resistance 3: 35,406.3
Pivot Point: 35,336.1
Price is at support 1. Expected trading range between 35,277 and 35,406. Pivot point for trend change at 35,336. RSI neutral. The price is under pressure, but remains above the 200-day moving average.
---
DAX 30 +0.04%
Traders in Europe are waiting for the announcements from ECB Vice President Luis de Guindos, who may mention the bank's strategy in light of Jackson Hole. On the other hand, in Germany, Business Expectations and LFO Business Confidence, both Leading indicators, will be reported. At the moment, the DAX 30 is up 0.04% and is trading at 15,897.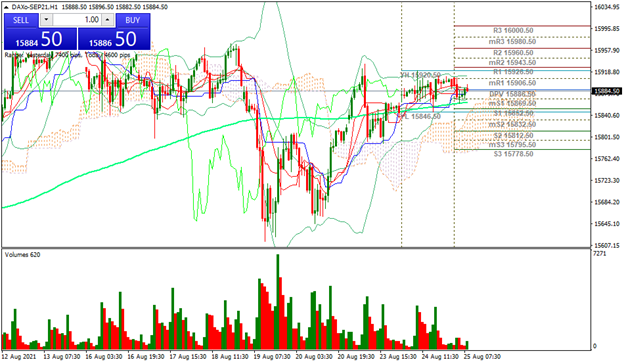 Support 1: 15,874.9
Support 2: 15,859.7
Support 3: 15,848.4
Resistance 1: 15,901.4
Resistance 2: 15,912.7
Resistance 3: 15,927.9
Pivot Point: 15,886.2
Price is above the 200-day moving average. Expected trading range between 15,848 and 15,927. Pivot point at 15,886. RSI neutral. The Bulls are looking to overcome resistance 1. If they succeed, the next target is 15,957.
---
CRUDE OIL -0.22%
Crude oil price is currently down 0.22% and is trading at USD$67.33 per barrel. Traders are aware to the IEA inventories report, where a 2.6 million barrels reduction is expected. The market is also attentive to the Cushing inventories, which is key to define the price trend because it is the most important distribution point of WTI in the United States. On the demand side, the good economic data from the countries show signs of increased consumption of oil and refined products.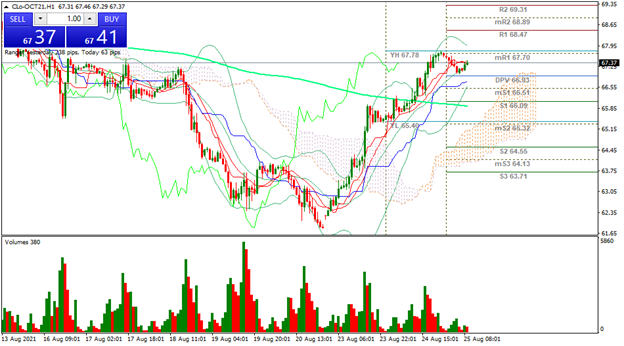 Support 1: 67.15
Support 2: 66.99
Support 3: 66.86
Resistance 1: 67.44
Resistance 2: 67.57
Resistance 3: 67.73
Pivot Point: 67.28
The price is between resistance 1 and the pivot point. The Ichimoku cloud projects a trading range between USD$65.15 and USD$67.33. Possible sideways movement before the inventory report. Pivot point at USD$67.28. RSI neutral.
---
BITCOIN -2.72%
Bitcoin is currently showing a drop of 2.72%, and its trading at USD$48,450. The fall in the crypto market comes after a rally of almost two weeks. However, the fall has not generated panic, so the Bulls are still aiming to consolidate the price above USD$50,000. On the other hand, the Exchange Kraken is in the process of obtaining its license to operate in Europe. On Friday, Bitcoin options expire. The current value of the options is USD$2 billion.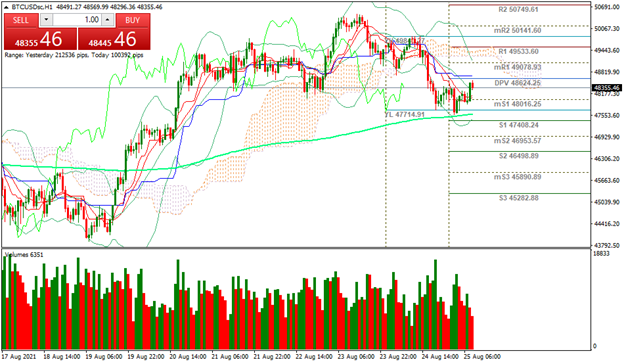 Support 1: 48,160.6
Support 2: 47,804.5
Support 3: 47,610.3
Resistance 1: 48,710.8
Resistance 2: 48,905.1
Resistance 3: 49,261.1
Pivot Point: 48,354.8
Despite the fall, the price remains above the 200-day moving average. Expected trading range between USD$47,610 and USD$49,261. Pivot point for trend change at USD$48,354. RSI neutral. If the trend changes, the price could reach USD$50,000 quickly.
---
Sources
Reuters
Market watch
Bloomberg
Capitalix Market Research
Risk Disclaimer
Any information/articles/materials/content provided by Capitalix or displayed on its website is intended to be used for educational purposes only and does not constitute investment advice or a consultation on how the client should trade.
Although Capitalix has ensured that the content of such information is accurate, it is not responsible for any omission/error/miscalculation and cannot guarantee the accuracy of any material or any information contained herein.
Therefore, any reliance you place on such material is strictly at your own risk. Please note that the responsibility for using or relying on such material rests with the client and Capitalix accepts no liability for any loss or damage, including without limitation, any loss of profit which may arise directly or indirectly from the use of or reliance on such information.
Risk Warning: Forex/CFDs trading involves significant risk to your invested capital. Please read and make sure that you fully understand our Risk Disclosure Policy.
You should ensure that, depending on your country of residence, you are allowed to trade Capitalix.com products. Please ensure that you are familiar with the company's risk disclosure.
Want to read more?
Login and enjoy all Daily Analysis articles