Daily Review for August 24, 2021
August 24, 2021, 7:52
Crude oil and overall commodities from agriculture, energy and industrials are in positive territory, following China's statement that there is better control over the pandemic and the FDA's full approval of Pfizer and Biontech's vaccines.
Manufacturing and services PMI data in Europe and the US failed to beat market expectations. As a result, traders decided to take long positions in the Nasdaq 100.
Germany's GDP exceeded market expectations. The economy grew by 9.8% in annual terms. DAX 30 is close to 16,000 points.
Gold price regained the USD$1,800 zone. Traders are aware of the outlook of Jackson Hole.
G7 starts today to discuss Afghanistan.
---
CRUDE OIL +0.43%
Since the Asian session, crude oil has been moving upwards, as a result of the apparent control over the Delta variant in China. The price also reacted to the full approval of the Pfizer and Biontech vaccines, which generates optimism and supports market demand. As fewer infections occur and trade increases, demand for crude oil will increase as well. For its part, the US Department of Energy announced that due to the drop in inventories, it could use its emergency reserves, which are the equivalent of 20 million barrels of crude oil if necessary.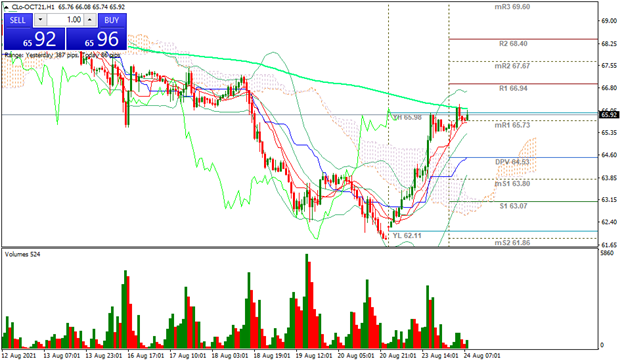 Support 1: 65.73
Support 2: 65.68
Support 3: 65.63
Resistance 1: 65.83
Resistance 2: 65.88
Resistance 3: 65.93
Pivot Point: 65.78
The price is at resistance 1. Crude oil reached the 200-day moving average. Scaled positions from the low of USD$62.11. Possible further escalation towards USD$66.94. Trading range between USD$65.63 and USD$65.93. RSI neutral.
---
NASDAQ 100 +0.20%
Poor PMI results in Europe and the United States benefited the Nasdaq 100 as it attracted investors' attention. At yesterday's close, the index raised 1.55%. At the moment, the index is up 0.20% and is trading at 15,339. Traders are paying close attention to Jackson Hole results. On Friday, Jerome Powell will communicate the conclusions. G7 stars today, with the main focus on Afghanistan. Talibans announced that the deadline for the withdrawal of troops and foreigners is August 31, 2021.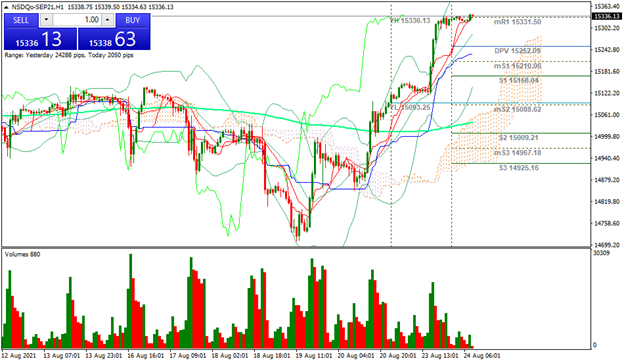 Support 1: 15,332.4
Support 2: 15,319.7
Support 3: 15,312.4
Resistance 1: 15,352.4
Resistance 2: 15,359.7
Resistance 3: 15,372.4
Pivot Point: 15,339.7
The price recovered the 15,000 zone and is now heading towards 15,500. Expected trading range between 15,312 and 15,382. Pivot point for trend change at 15,339. RSI in overbought zone. Bulls look to maintain the trend.
---
DAX 30 +0.13%
DAX 30 future is currently rising 0.13% on the back of good GDP data in Germany, which exceeded market expectations. In annual terms, GDP came in at 9.8% vs. 9.6% expected. For Q2 it came in at 1.6%. This is positive, as Germany is one of the main economic engines of the European Union. Today we will have the announcements of Isabel Schnabel, member of the ECB. ECB's strategy is aimed at maintaining economic stimulus, while the FED seeks to start tapering.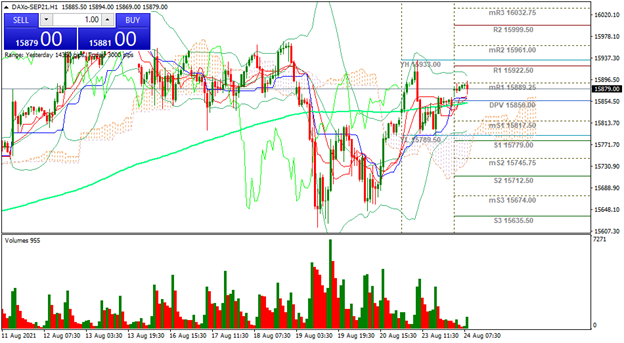 Support 1: 15.878,5
Support 2: 15.873,0
Support 3: 15.865,5
Resistance 1: 15.891,5
Resistance 2: 15.899,0
Resistance 3: 15.904,5
Pivot Point: 15.886,0
Price is at resistance 1, in the area of the 15,883 mark. Possible climb to the 15,937 zone in order to reach then 16,000 points. Trading range between 15,865 and 15,904. Pivot point at 15,886. RSI neutral.
---
GOLD +0.01%
Gold price regained the USD$1,800 zone. At the moment gold is up 0.01% and is trading at USD$1,806 per Troy ounce. Gold's consolidation and performance in this zone depends on the traders' outlook ahead of Jackson Hole. If the FED starts tapering, the price of gold could rise further, as a consequence of the short-term correction that would be generated in equities. However, gold is also reacting to fundamentals, and the possible start of physical purchases of the metal by China.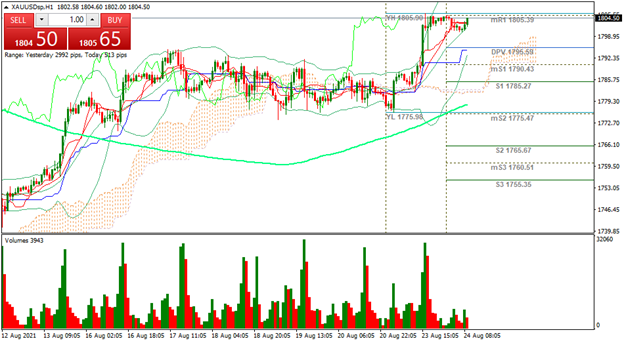 Support 1: 1,803.76
Support 2: 1,802.23
Support 3: 1,801.01
Resistance 1: 1,806.51
Resistance 2: 1,807.73
Resistance 3: 1,809.26
Pivot Point: 1,804.98
The price is above the 200-day moving average. Expected trading range between USD$1,801 and USD$1,809. Pivot point at USD$1,804. RSI approaching the overbought zone.
---
Sources
Reuters
Market watch
Bloomberg
Capitalix Market Research
Risk Disclaimer
Any information/articles/materials/content provided by Capitalix or displayed on its website is intended to be used for educational purposes only and does not constitute investment advice or a consultation on how the client should trade.
Although Capitalix has ensured that the content of such information is accurate, it is not responsible for any omission/error/miscalculation and cannot guarantee the accuracy of any material or any information contained herein.
Therefore, any reliance you place on such material is strictly at your own risk. Please note that the responsibility for using or relying on such material rests with the client and Capitalix accepts no liability for any loss or damage, including without limitation, any loss of profit which may arise directly or indirectly from the use of or reliance on such information.
Risk Warning: Forex/CFDs trading involves significant risk to your invested capital. Please read and make sure that you fully understand our Risk Disclosure Policy.
You should ensure that, depending on your country of residence, you are allowed to trade Capitalix.com products. Please ensure that you are familiar with the company's risk disclosure.
Want to read more?
Login and enjoy all Daily Analysis articles