Daily Review for August 23, 2021
August 23, 2021, 7:46
Week begins with optimism in the market. Global stock indexes show upward movements.
Institutions and companies return to invest in Bitcoin. The price reaches USD$50,000. Traders seek to consolidate this zone.
Gold remains in a sideways trend. Equities remain bullish. Traders are also waiting Jackson Hole, meeting from where the equities market could confirm or correct.
Analysts expect positive manufacturing and services PMI data in the U.S. and Europe.
G7 will meet tomorrow to discuss Afghanistan. The U.S. continues to evacuate its personnel.
---
BITCOIN +2.49%
Bitcoin starts the week reaching the USD$50,000 level. The cryptocurrency is currently up 2.49% and is trading at USD$50,330. Bulls remain optimistic that Bitcoin could reach record highs this year. This would mean that it would surpass the USD$65,000 resistance. At the moment, institutional money is starting to trade Bitcoin again, as well as other cryptos such as Ethereum.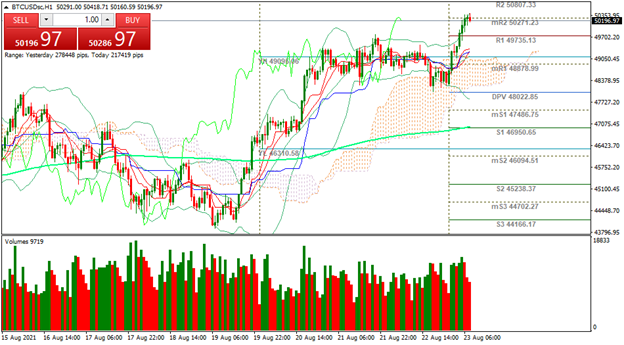 Support 1: 50,137.9
Support 2: 50,053.8
Support 3: 49,921.1
Resistance 1: 50,354.8
Resistance 2: 50,487.4
Resistance 3: 50,571.6
Pivot Point: 50,270.6
The price is above the 200-day moving average. At the moment it is at resistance 2. If it manages to overcome this, the next level is USD$52,500. Bullish trend. Trading range between USD$49,921 and USD$50,571. Pivot point at USD$50,270.
---
GOLD +0.18%
Gold price had a significant rise until August 17, when it took a sideways trend, while the market stabilized. At the moment the price is up 0.18% and is trading at USD$1,786 per Troy ounce. Traders are looking ahead to Jackson Hole, the central bankers' meeting that be held this week. The main topic of discussion is interest rates. With this, gold has a chance to consolidate above the USD$1,800 level. Meanwhile, the equity market starts the week in an uptrend, which may translate into sideways movement for metals.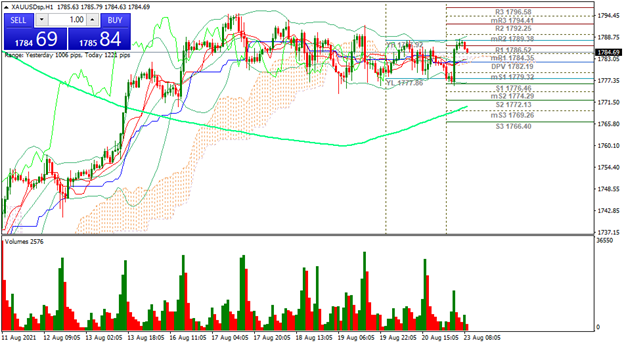 Support 1: 1,787.39
Support 2: 1,786.67
Support 3: 1,785.44
Resistance 1: 1,789.34
Resistance 2: 1,790.57
Resistance 3: 1,791.29
Pivot Point: 1,788.62
Sideways movement above USD$1,785. The price is above the 200-day moving average. Gold is at a triple top. If it fails to overcome this zone, possible correction towards USD$1,776. Pivot point at USD$1,788. RSI neutral.
---
DOW JONES +0.34%
Equities market starts the week with optimism, visualized in the stock indexes climbing positions. The Dow Jones is currently up 0.34% and is trading at 35,243. Traders are aware to the manufacturing and services PMI in the United States. The market is expecting 62.8 and 59.4 respectively, which is evidence of expansion. Also, Existing Home Sales data will be reported today. If the numbers beats expectations, the Dow Jones could generate an new equity rally.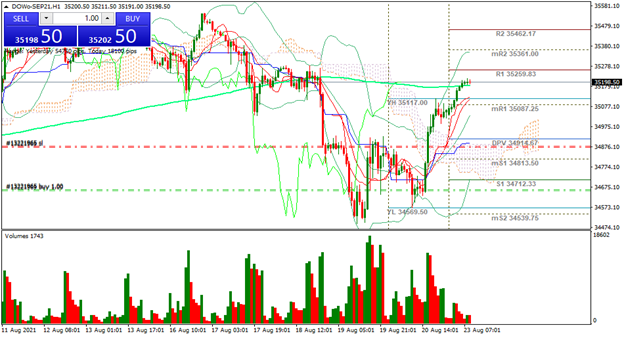 Support 1: 35,236.9
Support 2: 35,227.9
Support 3: 35,210.4
Resistance 1: 35,263.4
Resistance 2: 35,280.9
Resistance 3: 35,289.9
Pivot Point: 35,254.4
The price is right at the 200-day moving average, recovering from last week's fall. The index is reaching resistance 1, where if overcome, the next level would be 35,462. Pivot point at 35,254. RSI in overbought zone.
---
DAX 30 +0.69%
The European market starts the week with bullish movements. At the moment all European stock indices are rising. Today, we will have PMI manufacturing and services data from France, Germany, UK, and the Euro Zone. Favorable data is expected, in line with the economic recovery. Meanwhile, the DAX 30 is up 0.69% and is trading at 15,909. Traders maintain the target of 16,000.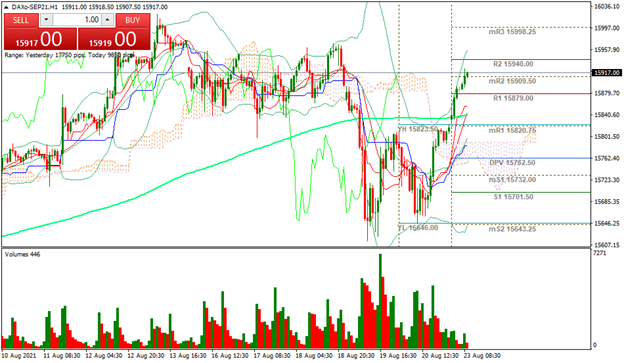 Support 1: 15,891.0
Support 2: 15,884.5
Support 3: 15,880.0
Resistance 1: 15,902.0
Resistance 2: 15,906.5
Resistance 3: 15,913.0
Pivot Point: 15,895.5
The price is showing an important upward movement from the level of 15,646. The index is above the 200-day moving average. At the moment it is at resistance 2. If it overcomes this zone, the next level could be 16,000 points. Pivot point at 15,895. RSI in overbought zone.
---
Sources
Reuters
Market watch
Bloomberg
Capitalix Market Research
Risk Disclaimer
Any information/articles/materials/content provided by Capitalix or displayed on its website is intended to be used for educational purposes only and does not constitute investment advice or a consultation on how the client should trade.
Although Capitalix has ensured that the content of such information is accurate, it is not responsible for any omission/error/miscalculation and cannot guarantee the accuracy of any material or any information contained herein.
Therefore, any reliance you place on such material is strictly at your own risk. Please note that the responsibility for using or relying on such material rests with the client and Capitalix accepts no liability for any loss or damage, including without limitation, any loss of profit which may arise directly or indirectly from the use of or reliance on such information.
Risk Warning: Forex/CFDs trading involves significant risk to your invested capital. Please read and make sure that you fully understand our Risk Disclosure Policy.
You should ensure that, depending on your country of residence, you are allowed to trade Capitalix.com products. Please ensure that you are familiar with the company's risk disclosure.
Want to read more?
Login and enjoy all Daily Analysis articles