Daily Review for August 19, 2021
August 19, 2021, 7:54
Markets in the red. Fed minutes cause confusion. Traders now focus on Jackson Hole.
Concerns increase about the Delta variant. A new wave is expected in September. Commodities remain under pressure.
Robinhood announced concerns about the company's earnings due to declining trading volume in Dogecoin. Cryptos correct.
Gold took a negative turn during the Asian session. However, traders are evaluating long positions, due to market correction.
EURUSD fell below 1.1700. The pressure on commodities is also transferred to the USD.
---
DOW JONES -0.45%
Mixed opinions among Fed delegates regarding the withdrawal of economic stimulus. The most optimistic are considering withdrawing them as early as 2021. Others 2022 and 2023. In the meantime, the markets are reacting with significant sell-offs in the stock indexes. At the moment, the Dow Jones is down 0.45% and is trading at 34,809. In the United States, the FDA approved the third dose of the vaccine for the most vulnerable population. The third dose would start to be administered from September 2021. Today, we will have the report of new unemployment claims in the United States.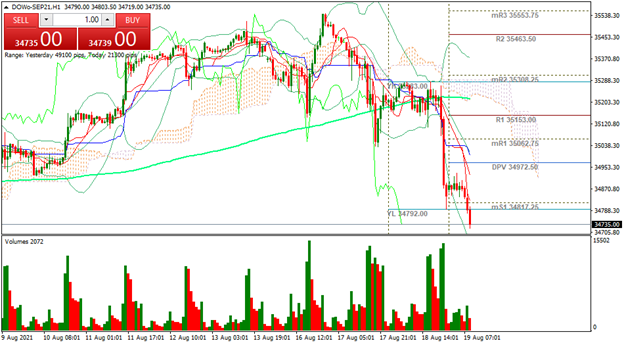 Support 1: 34,827.2
Support 2: 34,799.9
Support 3: 34,745.3
Resistance 1: 34,909.1
Resistance 2: 34,963.7
Resistance 3: 34,991.0
Pivot Point: 34,881.8
The index is overcoming support 1, and heading towards support 2. Expected trading range between 34,745 and 34,991. Pivot point for trend change at 34,881. RSI on oversold zone. Possible bounce towards the pivot point area.
---
BITCOIN -2.40%
Bitcoin price is at an important support at the level of USD$44,378. At the moment the price is falling 2.40%. With the current drop, the overall cryptos market cap is at USD$1.9 trillion. Bulls manifest a normal break in order, to resume the bullish rally, heading for USD$50,000. The creator of Ethereum, Vitálik Buterin, is going to be part of the development of Dogecoin. Facebook, for its part, is working on accepting cryptocurrency payments. The downward pressure on cryptos was generated by Robinhood, which announced that its revenues could decrease due to the reduction in the volume traded in Dogecoin.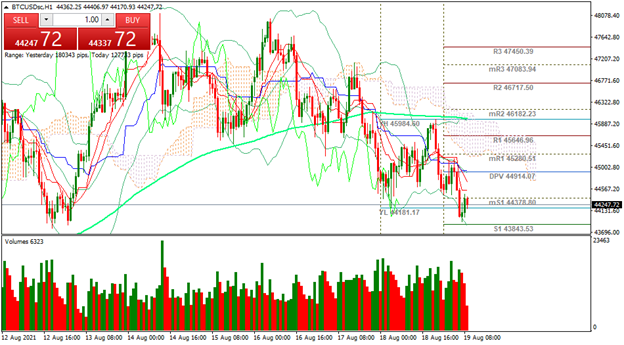 Support 1: 44,151.7
Support 2: 43,878.3
Support 3: 43,709.6
Resistance 1: 44,593.8
Resistance 2: 44,762.5
Resistance 3: 45,035.9
Pivot Point: 44,320.4
The price is slightly below the 200-day moving average. Possible rebound from the actual zone towards resistance 2. If not, the next bearish level is USD$43,110. Trading range between USD$43,709 and USD$45,035. Pivot point at USD$44,320.
---
GOLD -0.14%
After evaluating the Fed minutes, traders are analyzing the possible scenarios from Jackson Hole. After the minutes, gold prices started to turn bearish. Gold is currently down 0.14% and is trading at USD$1,779 per Troy ounce. Bond yields are in negative territory. This could attract the attention of traders to buy back the metal. For the time being, everything depends on Tapering. Global stock indices are in negative territory.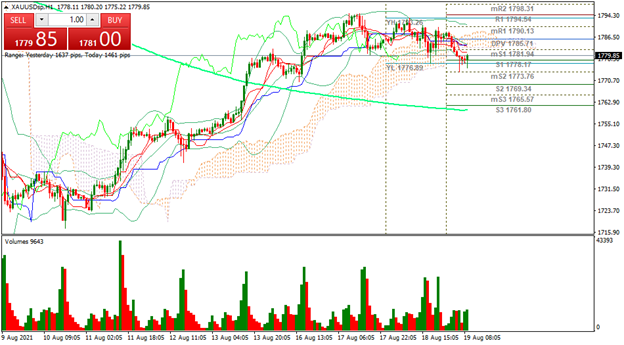 Support 1: 1,778.81
Support 2: 1,777.43
Support 3: 1,776.11
Resistance 1: 1,781.51
Resistance 2: 1,782.83
Resistance 3: 1,784.21
Pivot Point: 1,780.13
The price started to fall during the Asian session. However, it remains above the 200-day moving average. It is currently between the pivot point and support 1. If the market continues to fall, we could see a price recovery towards USD$1,794. Pivot point for trend change at USD$1,780.
---
EURUSD -0.26%
Speculation about tapering is increasing, so stock indices are in negative territory. Although Powell managed to calm the markets on Tuesday, the FED minutes generate confusion. As analysts forecast a strong increase of Delta cases in September, commodities remain under pressure as well as the EURUSD. The currency is currently down 0.26%.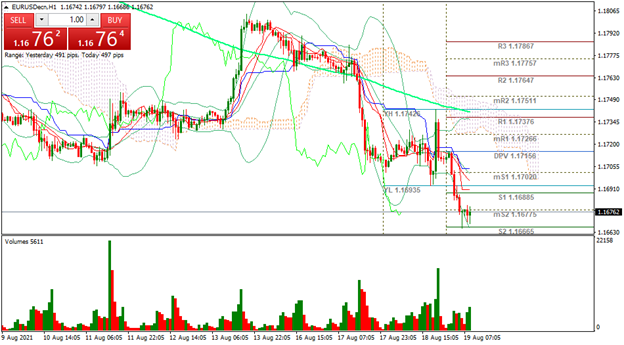 Support 1: 1.1669
Support 2: 1.1664
Support 3: 1.1658
Resistance 1: 1.1680
Resistance 2: 1.1686
Resistance 3: 1.1691
Pivot Point: 1.1675
The currency has fallen below the 1.1700 level, which is the lowest since November 2020. Expected trading range between 1.1658 and 1.1691. Pivot point at 1.1675. RSI on oversold area.
---
Sources
Reuters
Market watch
Bloomberg
Capitalix Market Research
Risk Disclaimer
Any information/articles/materials/content provided by Capitalix or displayed on its website is intended to be used for educational purposes only and does not constitute investment advice or a consultation on how the client should trade.
Although Capitalix has ensured that the content of such information is accurate, it is not responsible for any omission/error/miscalculation and cannot guarantee the accuracy of any material or any information contained herein.
Therefore, any reliance you place on such material is strictly at your own risk. Please note that the responsibility for using or relying on such material rests with the client and Capitalix accepts no liability for any loss or damage, including without limitation, any loss of profit which may arise directly or indirectly from the use of or reliance on such information.
Risk Warning: Forex/CFDs trading involves significant risk to your invested capital. Please read and make sure that you fully understand our Risk Disclosure Policy.
You should ensure that, depending on your country of residence, you are allowed to trade Capitalix.com products. Please ensure that you are familiar with the company's risk disclosure.
Want to read more?
Login and enjoy all Daily Analysis articles