Daily Review for April 29, 2021
April 29, 2021, 9:00
FED keeps interest rates unchanged. Powell sees stock markets with high prices. Stimulus packages will continue.
S&P500 at 4,200. Traders are focused on US GDP data.
Apple and Facebook surprise the market. Now it is Amazon's turn. The Nasdaq 100 seeks to consolidate above 14,000 points.
Gold manages to stay above USD$1,750 per Troy ounce. Physical demand for the metal is increasing in India and China.
In Europe, traders are aware to the unemployment data in Germany. The ECB maintains its monetary policy strategy unchanged.
---
S&P 500 +0.55%
The index is at all-time high near 4,200. Yesterday, the FED announced the interest rate decision. Interest rates remained unchanged at 0.25%. Jerome Powell announced that economic stimulus will remain in place for the time being. However, he commented that stock market prices are at very high levels, which caused the market to close in red. Today, we will have three important data releases. US GDP (6.1% est.), New Jobless Claims (549,000 est.) and US Home Sales (5% est.).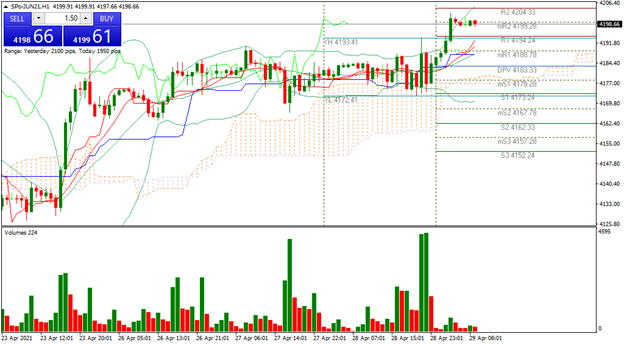 Support 1: 4,198.46
Support 2: 4,197.04
Support 3: 4,195.96
Resistance 1: 4,200.96
Resistance 2: 4,202.04
Resistance 3: 4,203.46
Pivot Point: 4,199.54
Bulls' target is 4,200. If this level is reached, the next targets are 4,030 and 4,050. The highest resistance is at the 200% Fibonacci extension in 4,300. Pivot point at 4,199.54.
---
NASDAQ 100 +0.83%
Yesterday Apple and Facebook presented their financial results and beat analysts' forecasts. Both companies had a very favorable quarter in terms of revenue generation. Today, we will have Amazon's results. The market expects EPS of 9.49 and revenues of USD$104.49 Billion. At the moment the Nasdaq 100 is up 0.83% and is trading at 14,008 points.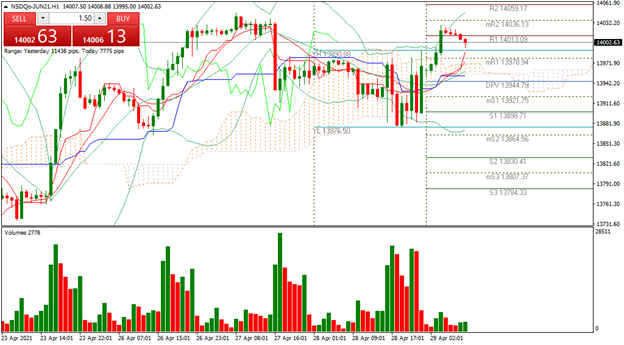 Support 1: 14,006.67
Support 2: 14,003.21
Support 3: 13,997.92
Resistance 1: 14,015.42
Resistance 2: 14,020.71
Resistance 3: 14,024.17
Pivot Point: 14,011.96
Bulls managed to regain the 14,000 zone. Now the target is to break the double top that is forming in that area, in order to advance towards 14,050 and 14,100. Expected trading range between 13,997 and 14,024. Pivot point at 14,011.
---
GOLD +0.23%
Decline of Treasury yields and the strengthening of the USD has favored the price of gold, which has moved from USD$1,600 in recent weeks to the actual level of USD$1,777 per Troy ounce. Physical demand for the metal is increasing, mainly in the Chinese and Indian markets, where local prices are with an additional premium to the international price.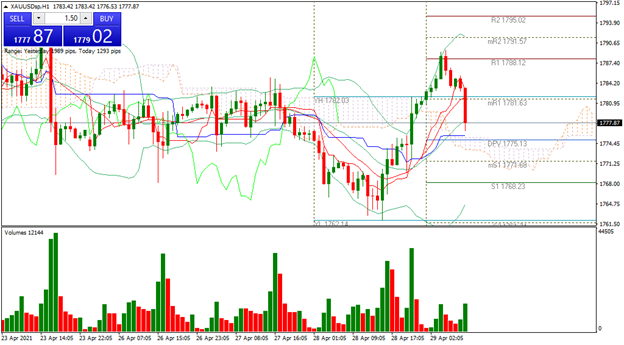 Support 1: 1,775.01
Support 2: 1,771.88
Support 3: 1,766.86
Resistance 1: 1,783.16
Resistance 2: 1,788.18
Resistance 3: 1,791.31
Pivot Point: 1,780.03
Price is between the range of support 1 and resistance 1. If it manages to bounce, the next level to watch is 1.788. RSI neutral. Trading range between 1.766 and 1.791. Pivot point at 1.780.
---
DAX 30 -0.29%
German index is currently down 0.29%. Traders are aware to the German unemployment data. The market is expecting an unemployment rate of 6%. Also, during the day, we will have the German inflation data, where forecasts point to 0.5% on a monthly basis. In the meantime, traders are waiting for corporate results in the US.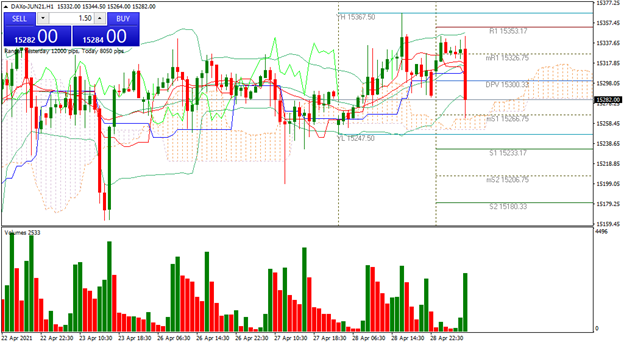 Support 1: 15,328.5
Support 2: 15,315.0
Support 3: 15,307.0
Resistance 1: 15,350.0
Resistance 2: 15,358.0
Resistance 3: 15,371.5
Pivot Point: 15,336.5
Sideway trend while a trend is being set. Pivot point at 15,336. Trading range between 15,307 and 15,371. RSI neutral. Price continues above 15,200. At the moment it is above support 1. If it breaks it, the Bears will look for the 15,180 area.
---
Sources
Reuters
Market watch
Bloomberg
Capitalix Market Research
Risk Disclaimer
Any information/articles/materials/content provided by Capitalix or displayed on its website is intended to be used for educational purposes only and does not constitute investment advice or a consultation on how the client should trade.
Although Capitalix has ensured that the content of such information is accurate, it is not responsible for any omission/error/miscalculation and cannot guarantee the accuracy of any material or any information contained herein.
Therefore, any reliance you place on such material is strictly at your own risk. Please note that the responsibility for using or relying on such material rests with the client and Capitalix accepts no liability for any loss or damage, including without limitation, any loss of profit which may arise directly or indirectly from the use of or reliance on such information.
Risk Warning: Forex/CFDs trading involves significant risk to your invested capital. Please read and make sure that you fully understand our Risk Disclosure Policy.
You should ensure that, depending on your country of residence, you are allowed to trade Capitalix.com products. Please ensure that you are familiar with the company's risk disclosure.
Want to read more?
Login and enjoy all Daily Analysis articles