Daily Review for April 28, 2021
April 28, 2021, 8:32
Crude oil seeks to recover and consolidate the USD$63 per barrel zone. OPEC+ decided to increase supply by 2 million barrels per day starting in the coming months.
Nasdaq 100 in sideway but close to new record highs. Apple and Facebook will present their financial results today.
EURUSD breaks 1.2100 support. Traders are waiting for ECB and the FED announcements.
Bulls mark the S&P500 at 4,200. Everything depends on the interest rate decision by the FED. 
---
CRUDE OIL +0.37%
Higher than expected inventories in the US. However, crude oil prices are reacting to market demand. Yesterday's API report showed that weekly crude oil stocks in the US increased by 4.3 million barrels vs. 0.37 million barrels expected by the market. OPEC+ decided to start increasing supply by 2 million barrels per day, starting in the coming months. Their strategy is focused on economic recovery, which may boost market demand.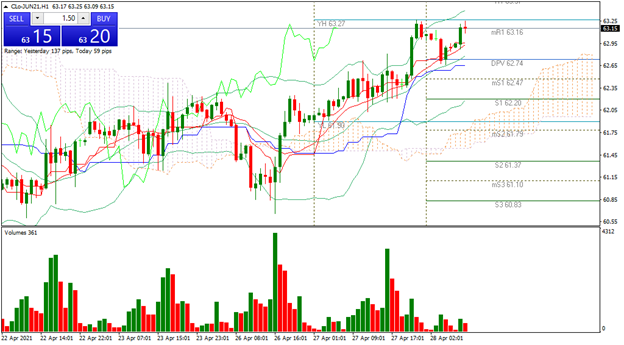 Support 1: 62.93
Support 2: 62.73
Support 3: 62.58
Resistance 1: 63.28
Resistance 2: 63.43
Resistance 3: 63.63
Pivot Point: 63.08
The price is in an uptrend and is trying to consolidate above 63. It is also above the 25- and 50-day moving average. Next target is 64 with support at 62. Pivot point at 63.08. Trading range between 62.58 and 63.63.
---
NASDAQ 100 +0.06%
Index continues to move based on corporate results. During yesterday's market close, Microsoft beat market expectations, with EPS of 1.95 vs. 1.78 and revenues of USD$41.71 Billion vs. USD$41.04 Billion. Today, after the market close, Apple and Facebook will present their results. Meanwhile, the Nasdaq 100 is at record highs.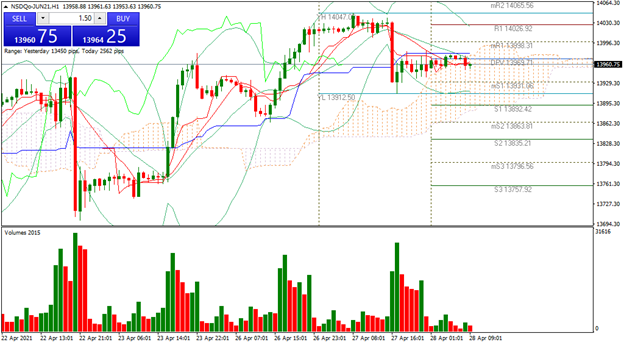 Support 1: 13,949.92
Support 2: 13,940.58
Support 3: 13,927.04
Resistance 1: 13,972.80
Resistance 2: 13,986.34
Resistance 3: 13,995.68
Pivot Point: 13,963.46
Uptrend. Sideways price movement until further momentum. Traders aware of the FED. The price is entering the Ichimoku cloud where a trading range between 13,927 and 13,995 is expected. Pivot point at 13.963. RSI neutral.
---
EURUSD -0.24%
The currency retreated from the 1.2100 level but is still above the 100-day moving average. Traders today are looking ahead to the ECB statement and to the FED interest rate decision. The economic recovery is going faster than expected and the market senses that central banks are going to start cutting stimulus. Meanwhile, the currency is down 0.24% and is trading at 1.2063.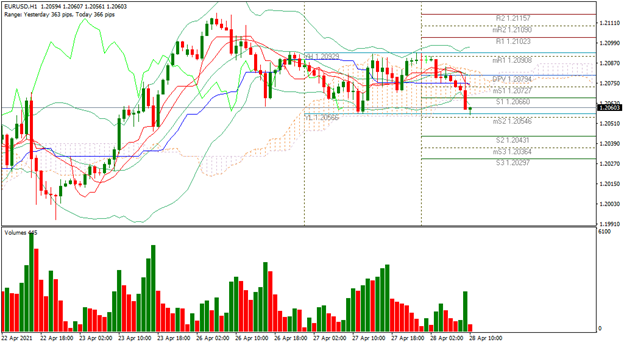 Support 1: 1.2053
Support 2: 1.2046
Support 3: 1.2033
Resistance 1: 1.2073
Resistance 2: 1.2086
Resistance 3: 1.2093
Pivot Point: 1.2066
Possible change in trend. Price remains above the 50, 100 and 200-day moving averages. RSI neutral. The first level to beat is 1.2090. If Bulls manage to reach it, the next level is 1.2120. Main support at 1.2033. Pivot point at 1.2066.
---
S&P 500 -0.03%
The market is waiting for the FED, its interest rate decision and the economic outlook, mainly from a inflation perspective. The index is currently down 0.03% and is trading at 4,178. The price could generate additional upward movements if interest rates remain unchanged. On the contrary, if interest rates rise, the market could present a correction.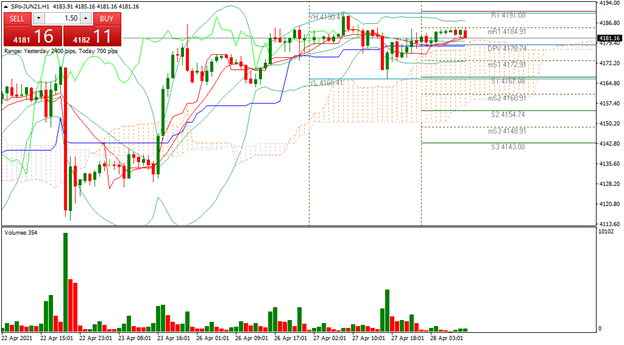 Support 1: 4,182.70
Support 2: 4,181.03
Support 3: 4,179.94
Resistance 1: 4,185.46
Resistance 2: 4,186.55
Resistance 3: 4,188.22
Pivot Point: 4,183.79
The short-term target is 4,200. If this is achieved, the next target is at the 200% Fibonacci extension in 4,300. Main support at 4,179. Pivot Point in 4,183.79. Trading range between 4,179 and 4,188.
---
Sources
Reuters
Market watch
Bloomberg
Capitalix Market Research
Risk Disclaimer
Any information/articles/materials/content provided by Capitalix or displayed on its website is intended to be used for educational purposes only and does not constitute investment advice or a consultation on how the client should trade.
Although Capitalix has ensured that the content of such information is accurate, it is not responsible for any omission/error/miscalculation and cannot guarantee the accuracy of any material or any information contained herein.
Therefore, any reliance you place on such material is strictly at your own risk. Please note that the responsibility for using or relying on such material rests with the client and Capitalix accepts no liability for any loss or damage, including without limitation, any loss of profit which may arise directly or indirectly from the use of or reliance on such information.
Risk Warning: Forex/CFDs trading involves significant risk to your invested capital. Please read and make sure that you fully understand our Risk Disclosure Policy.
You should ensure that, depending on your country of residence, you are allowed to trade Capitalix.com products. Please ensure that you are familiar with the company's risk disclosure.
Want to read more?
Login and enjoy all Daily Analysis articles