Daily Review for April 23, 2021
April 23, 2021, 8:06
Dynamic Market since Biden's announcement on higher taxes on capital gains.
Crypto market under pressure due to several factors. Among them, the expiration of the BTC futures contract at the CME. Increased regulation, taxes on capital gains and lower momentum since the Coinbase IPO.
As previously discussed, technology companies are impacted by the potential tax increase. It also affects equity investors, including crypto holders.
Bitcoin drops 10.70%. Bulls look to turn the tide over the weekend.
In Europe, traders are looking ahead to Christine Lagarde's (ECB) speech.
The DAX 30 and the S&P500 in sideway.
---
NASDAQ 100 -0.02%
Market starts today's session mixed. Yesterday, the market was in an uptrend until Biden's announcement to increase taxes on capital gains. As a result, Wall Street indices quickly reversed direction. At the moment, the Nasdaq 100 is down 0.02%, due to the strong global crypto selling. Higher taxes impact businesses and technology companies. Also, cryptocurrency holders. The crypto market is pressured by possible new regulation.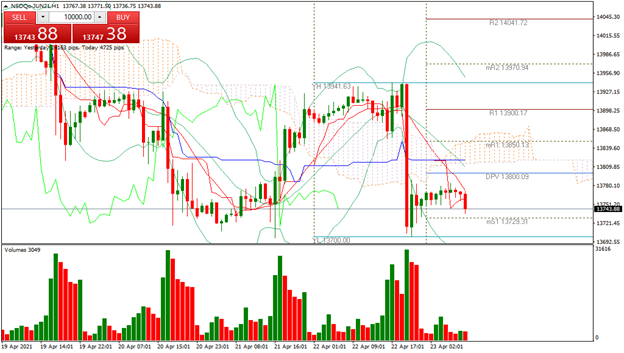 Support 1: 13,761.67
Support 2: 13,752.21
Support 3: 13,746.42
Resistance 1: 13,776.92
Resistance 2: 13,782.71
Resistance 3: 13,792.17
Pivot Point: 13,767.46
The index is below the Ichimoku cloud. Price is between support 1 and resistance 1. Important support at 13,729. If the Bears break it, the fall could head towards 13.658. RSI approaching the oversold zone.
---
BITCOIN -10.70%
Significant drop in the crypto market worldwide. Bitcoin as the cryptocurrency with the largest market capitalization, is currently falling 10.70% as the BTC futures contract on the CME expires. Similarly, taxes on capital gains announcement, affects crypto-holding investors as it directly impacts profits. Possible new regulation will also be issued in the market; finally, the momentum after the Coinbase IPO is passing.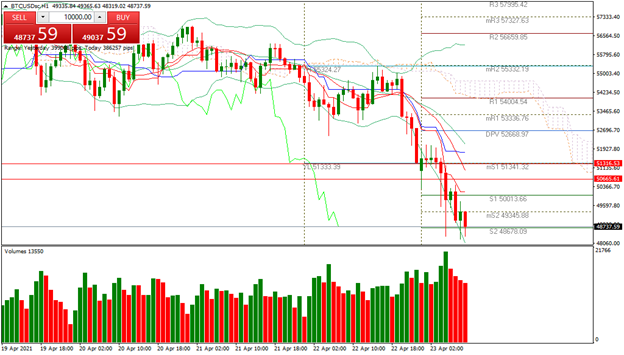 Support 1: 49,233.1
Support 2: 48,967.0
Support 3: 48,834.0
Resistance 1: 49,632.2
Resistance 2: 49,765.2
Resistance 3: 50,031.3
Pivot Point: 49,366.1
Bearish pressure. Price is above support 2. Next support is at 48,834 and the next support is at 47,350. Pivot point is at 49,366. RSI at oversold level. Possible rebound when the new futures contract starts to gain strength on the CME.
---
S&P 500 +0.11%
The Wall Street index, which best reflects the performance of the US economy by its degree of composition, is currently up 0.11%. Taxes on Capital gains announcement pushed the index down to 4,114 points. During the Asian session and the opening of Europe, the index has managed to recover part of the fall and is currently at 4,131.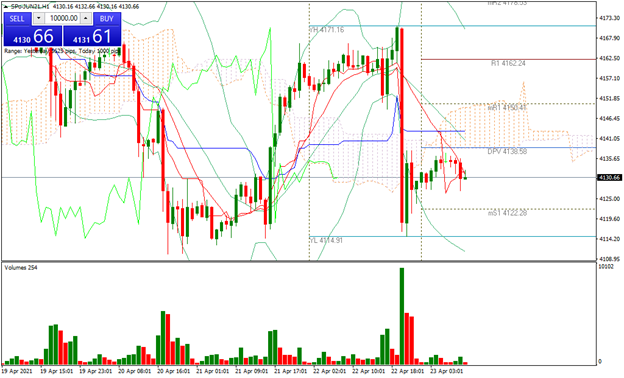 Support 1: 4,126.46
Support 2: 4,122.79
Support 3: 4,117.96
Resistance 1: 4,134.96
Resistance 2: 4,139.79
Resistance 3: 4,143.46
Pivot Point: 4,131.29
Sideways. Ichimoku cloud forecasts a trading range between 4.157 and 4.135. Pivot point at 4.131. RSI neutral. Possible trend setting ahead of Lagarde's speech.
---
DAX 30 +0.28%
Investors are aware to the manufacturing PMI data in Germany. The market expects 65.8. They are also aware of Christine Lagarde's (ECB) speech. They do not expect major changes in rhetoric, but the way the speech is delivered may send signals to the market. Monetary policy unchanged. Therefore, the market trend depends on private initiative.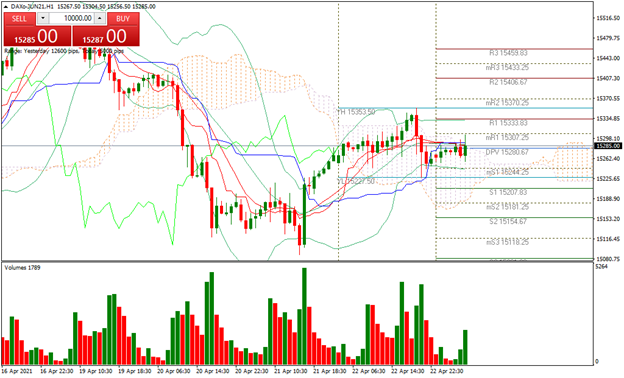 Support 1: 15,251.1
Support 2: 15,234.3
Support 3: 15,211.1
Resistance 1: 15,291.1
Resistance 2: 15,314.3
Resistance 3: 15,331.1
Pivot Point: 15,274.3
Sideways trend towards 15,324. If the ECB gives a positive signal, the index could reach the level of 15,433. Trading range between 15,211 and 15,331. Pivot point at 15,274.
---
Sources
Reuters
Market watch
Bloomberg
Capitalix Market Research
Risk Disclaimer
Any information/articles/materials/content provided by Capitalix or displayed on its website is intended to be used for educational purposes only and does not constitute investment advice or a consultation on how the client should trade.
Although Capitalix has ensured that the content of such information is accurate, it is not responsible for any omission/error/miscalculation and cannot guarantee the accuracy of any material or any information contained herein.
Therefore, any reliance you place on such material is strictly at your own risk. Please note that the responsibility for using or relying on such material rests with the client and Capitalix accepts no liability for any loss or damage, including without limitation, any loss of profit which may arise directly or indirectly from the use of or reliance on such information.
Risk Warning: Forex/CFDs trading involves significant risk to your invested capital. Please read and make sure that you fully understand our Risk Disclosure Policy.
You should ensure that, depending on your country of residence, you are allowed to trade Capitalix.com products. Please ensure that you are familiar with the company's risk disclosure.
Want to read more?
Login and enjoy all Daily Analysis articles