Daily Review for April 22, 2021
April 22, 2021, 8:08
European markets open higher as investors are attentive to the ECB announcements.
Analysts expect an unchanged monetary policy strategy from the Bank.
Wall Street index futures without sharp swings as traders create a new market trend.
EURUSD remains above the 1.2000 area. Analysts expect Eurozone interest rates to remain unchanged.
EU prepares legal action against AstraZeneca due to the failure of the vaccine's deliveries.
Bitcoin continues to trend lower, mainly due to the expiration of its futures contracts.
---
NASDAQ 100 +0.03%
Traders are aware on Intel financial results. In the meantime, the market is expecting the ECB's economic announcements. Nasdaq 100 is up 0.03% and is trading at 13,920 points. In the crypto market, Bitcoin futures contracts are about to expire, so there is downward pressure on cryptos prices.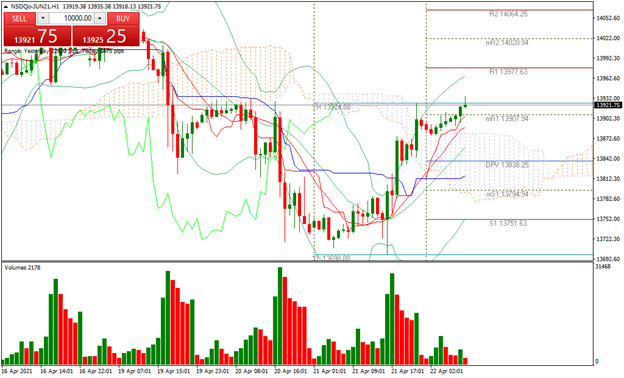 Support 1: 13,904.38
Support 2: 13,889.63
Support 3: 13,881.51
Resistance 1: 13,927.25
Resistance 2: 13,935.37
Resistance 3: 13,950.12
Pivot Point: 13,912.50
U-shaped recovery formation of the price. Consolidation at resistance 1. If long volume continues, the next level to watch is 14,020. Bulls maintain target at 14,100. Pivot point at 13,812.
---
EURUSD +0.06%
The market is watching the ECB's interest rate decision. The sentiment is that interest rates will remain unchanged. However, traders want to assess the economic signals after the announcement. The market will also be aware of the US jobless claims data and the ECB press conference. In the meantime, the EURUSD is rising 0.06%.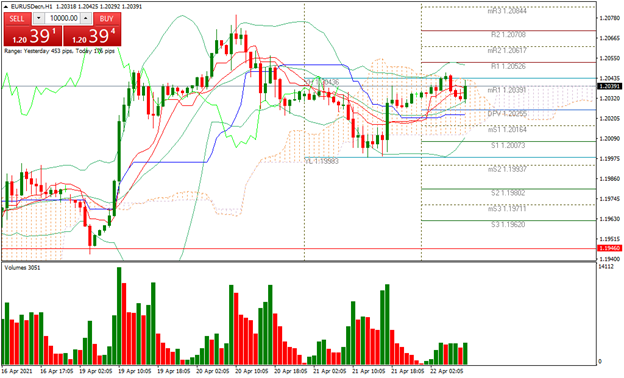 Support 1: 1.2029
Support 2: 1.2026
Support 3: 1.2021
Resistance 1: 1.2037
Resistance 2: 1.2042
Resistance 3: 1.2045
Pivot Point: 1.2034
The price is trading between support 1 and resistance 1. If the upward channel continues, the next level is at 1.2070. RSI neutral, approaching overbought zone. The price is above the 25 and 50-day moving average. Pivot point at 1.2034.
---
DAX 30 +0.13%
Analysts believe that the ECB will maintain the actual monetary policy strategy. That means, keeping purchasing fixed income instruments to maintain bond yields, and keeping interest rates unchanged. In Europe, the market looks favorably on this decision, so the market opens in positive territory. DAX 30 starts the day up 0.13%, trading at 15,259. The European Union is preparing legal action against AstraZeneca for non-compliance in the delivery of vaccines.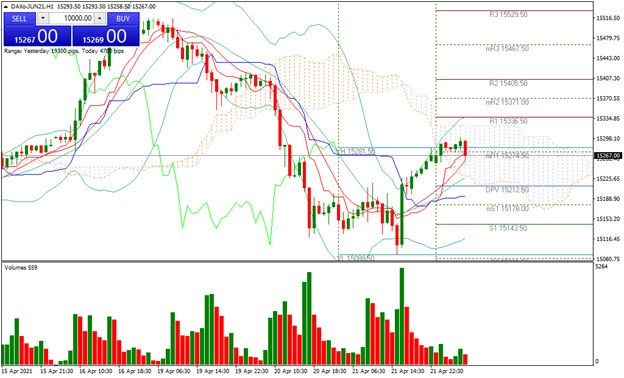 Support 1: 15,279.5
Support 2: 15,271.5
Support 3: 15,266.0
Resistance 1: 15,293.0
Resistance 2: 15,298.5
Resistance 3: 15,306.5
Pivot Point: 15,285.0
The price is at the Ichimoku cloud. If the Bulls break through resistance 1, the next level to watch is 15,405. If the momentum continues and the ECB convinces the market, the price could reach resistance 3.
---
BITCOIN -2.05%
Bitcoin continues to come under pressure as its futures contracts reach expiration. The price is currently down 2.05% and the trading price is slightly below support 1 at USD$54,204. The overall crypto market is in the red, and investors are looking to turn the trend around. The SEC continues to work on the Ripple case.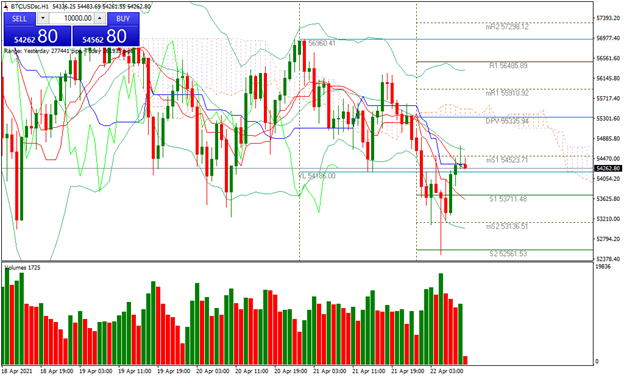 Support 1: 54,299.8
Support 2: 54,124.2
Support 3: 53,848.2
Resistance 1: 54,751.3
Resistance 2: 55,027.4
Resistance 3: 55,202.9
Pivot Point: 54,575.8
Bearish trend until future contracts expiration. Pivot point at 54.575. Trading range between 53.848 and 55.202. Possible sideway. RSI neutral. Bears hold target at 52,000. Bulls look to change trend after futures expiration.
---
Sources
Reuters
Market watch
Bloomberg
Capitalix Market Research
Risk Disclaimer
Any information/articles/materials/content provided by Capitalix or displayed on its website is intended to be used for educational purposes only and does not constitute investment advice or a consultation on how the client should trade.
Although Capitalix has ensured that the content of such information is accurate, it is not responsible for any omission/error/miscalculation and cannot guarantee the accuracy of any material or any information contained herein.
Therefore, any reliance you place on such material is strictly at your own risk. Please note that the responsibility for using or relying on such material rests with the client and Capitalix accepts no liability for any loss or damage, including without limitation, any loss of profit which may arise directly or indirectly from the use of or reliance on such information.
Risk Warning: Forex/CFDs trading involves significant risk to your invested capital. Please read and make sure that you fully understand our Risk Disclosure Policy.
You should ensure that, depending on your country of residence, you are allowed to trade Capitalix.com products. Please ensure that you are familiar with the company's risk disclosure.
Want to read more?
Login and enjoy all Daily Analysis articles