Daily Review for April 20, 2021
April 20, 2021, 7:53
Nasdaq 100 begins to recover some of yesterday's losses, as traders are aware of Netflix's financial results.
DAX 30 rises following its peers on Wall Street. Corporate conflict between Super League and UEFA. Investment Banks take their cards and positions.
The crypto market continues its correction. Bitcoin falls 3% waiting for a catalyst to change the trend.
Gold manages to stay above USD$1,760 per Troy ounce due to the depreciation of the USD and the decline in Treasury yields.
---
NASDAQ 100 +0.13%
Important day for the index, as we will have Netflix's corporate results. Market expects an increase in the number of subscribers due to lockdowns, and thus an EPS of 2.97. Operating revenues of USD$7.14 Billion are also expected and thus a Market Cap of USD$245.56 Billion. Meanwhile, the Nasdaq index is up 0.13%, recovering part of yesterday's fall.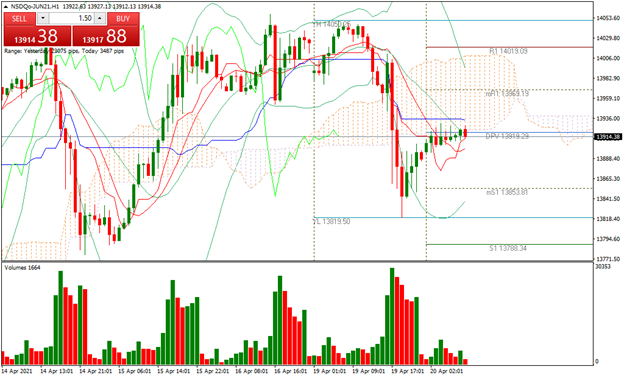 Support 1: 13,915.84
Support 2: 13,907.17
Support 3: 13,902.34
Resistance 1: 13,929.34
Resistance 2: 13,934.17
Resistance 3: 13,942.84
Pivot Point: 13,920.67
Price below the Ichimoku cloud and just above the short-term moving average. Expected trading range between 13,902 and 13,942. Pivot point at 13,920 points. Possible sideways. RSI neutral.
---
DAX 30 +0.06%
In Europe, a corporate war is taking place between UEFA vs. the major clubs in England, Italy and Spain. The catalyst, the creation of an alternative league (called Super League) to the Champions League. On one hand the Super League is financially backed by JP Morgan (Ticket USD$3 Billion approx.). On the other hand, UEFA is financially backed by Centricus Asset Management (Ticket USD$7 Billion approx.). Meanwhile, the DAX 30 is up 0.06%. Bayer München, as the main reference in German football, has expressed its support for UEFA.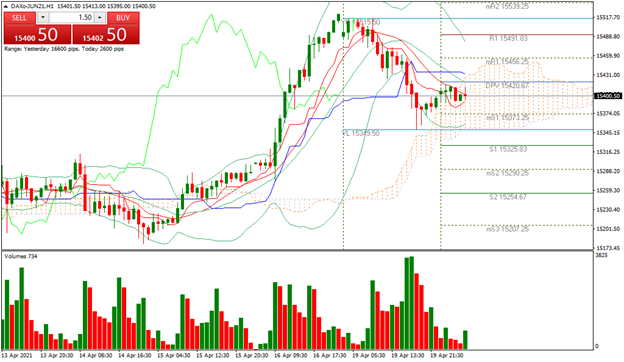 Support 1: 15,396.6
Support 2: 15,387.3
Support 3: 15,381.6
Resistance 1: 15,411.6
Resistance 2: 15,417.3
Resistance 3: 15,426.6
Pivot Point: 15,402.3
Price is entering into the Ichimoku cloud. Possible sideways. If the Bulls gain momentum, price could climb to the 1.517 area. Expected trading range between 15.381 and 15.426. Pivot point at 15.402.
---
BITCOIN -3.72%
Crypto market continues to correct. In this case the Bitcoin is falling 3.72%. During the weekend it corrected 15%. The current trading level is USD$54,185. Bitcoin's downward pressure is due to investors' profit taking after Coinbase's IPO, and because of possible restrictions on cryptocurrencies by Turkey and India. On the other hand, the Chinese government listed cryptos as alternative investment vehicles, which is good for this market.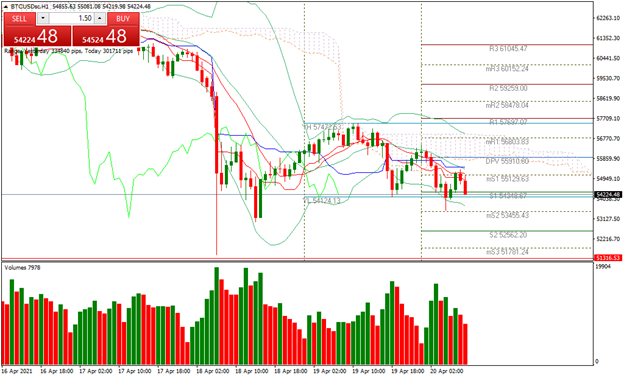 Support 1: 54,873
Support 2: 54,717
Support 3: 54,405
Resistance 1: 55,341
Resistance 2: 55,653
Resistance 3: 55,809
Pivot Point: 55,185
The price is below the short-term moving average. At the moment it is between support 1 and support 2. RSI is approaching the oversold level. If it bounces off support 2, possible move to 55.129 and then 56.803. Pivot point at 55.185.
---
GOLD -0.11%
The depreciation of the USD and the fall in Treasury bond yields in recent days, has favored gold to stay above the level of USD$1,760 per Troy ounce. The metal is currently down 0.11% and is trading at USD$1,768. The global coronavirus outbreak has increased the demand for the metal, mainly as a hedging instrument in portfolios. Investors are aligned with the FED, that the interest rate hike will not occur in the short term, and that inflationary pressure will be transitory.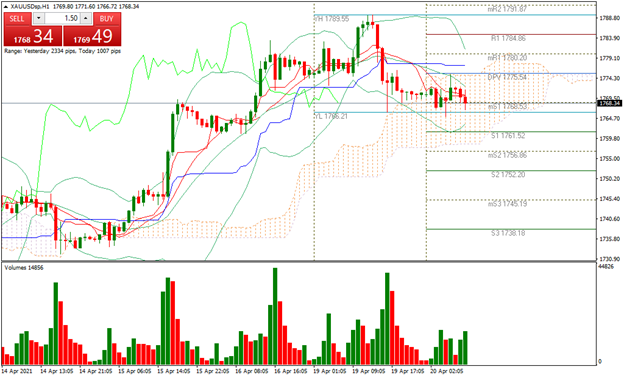 Support 1: 1,769.30
Support 2: 1,767.25
Support 3: 1,765.60
Resistance 1: 1,773.00
Resistance 2: 1,774.65
Resistance 3: 1,776.70
Pivot Point: 1,770.95
Expected trading range between 1.765 and 1.776. Pivot point at 1.770. RSI neutral. Next level for the Bulls is 1,790. Long term 2,000. The Bears are looking to break 1,750 support.
---
Sources
Reuters
Market watch
Bloomberg
Capitalix Market Research
Risk Disclaimer
Any information/articles/materials/content provided by Capitalix or displayed on its website is intended to be used for educational purposes only and does not constitute investment advice or a consultation on how the client should trade.
Although Capitalix has ensured that the content of such information is accurate, it is not responsible for any omission/error/miscalculation and cannot guarantee the accuracy of any material or any information contained herein.
Therefore, any reliance you place on such material is strictly at your own risk. Please note that the responsibility for using or relying on such material rests with the client and Capitalix accepts no liability for any loss or damage, including without limitation, any loss of profit which may arise directly or indirectly from the use of or reliance on such information.
Risk Warning: Forex/CFDs trading involves significant risk to your invested capital. Please read and make sure that you fully understand our Risk Disclosure Policy.
You should ensure that, depending on your country of residence, you are allowed to trade Capitalix.com products. Please ensure that you are familiar with the company's risk disclosure.
Want to read more?
Login and enjoy all Daily Analysis articles