Daily Review for April 19, 2021
April 19, 2021, 9:23
Market opens mixed worldwide.
Concern in Europe about the increase in Coronavirus cases. Member states start importing additional volumes of Pfizer vaccines.
Traders are attentive to the results of technology companies. Eyes are mainly on Netflix and the number of subscribers of the platform.
Crypto market discounts part of last week's gains. Bitcoin starts the rebound after a 15% drop over the weekend.
Silver with possible trend reversal after China announced permits for banks to import gold and silver into the Asian country.
DAX 30 maintains the level of 15,474 points. Sideways trend, while corporate results of companies in the USA are presented.
---
NASDAQ 100 +0.07%
Nasdaq 100 starts the week up 0.07% and trading at 14,035.88 points. Investors mark positions in the index awaiting the results of Netflix, Intel and IBM. On the Netflix side, analysts estimate an EPS of USD$2.97 and sales of USD$7.14 billion. The key figure for the company is the number of subscribers.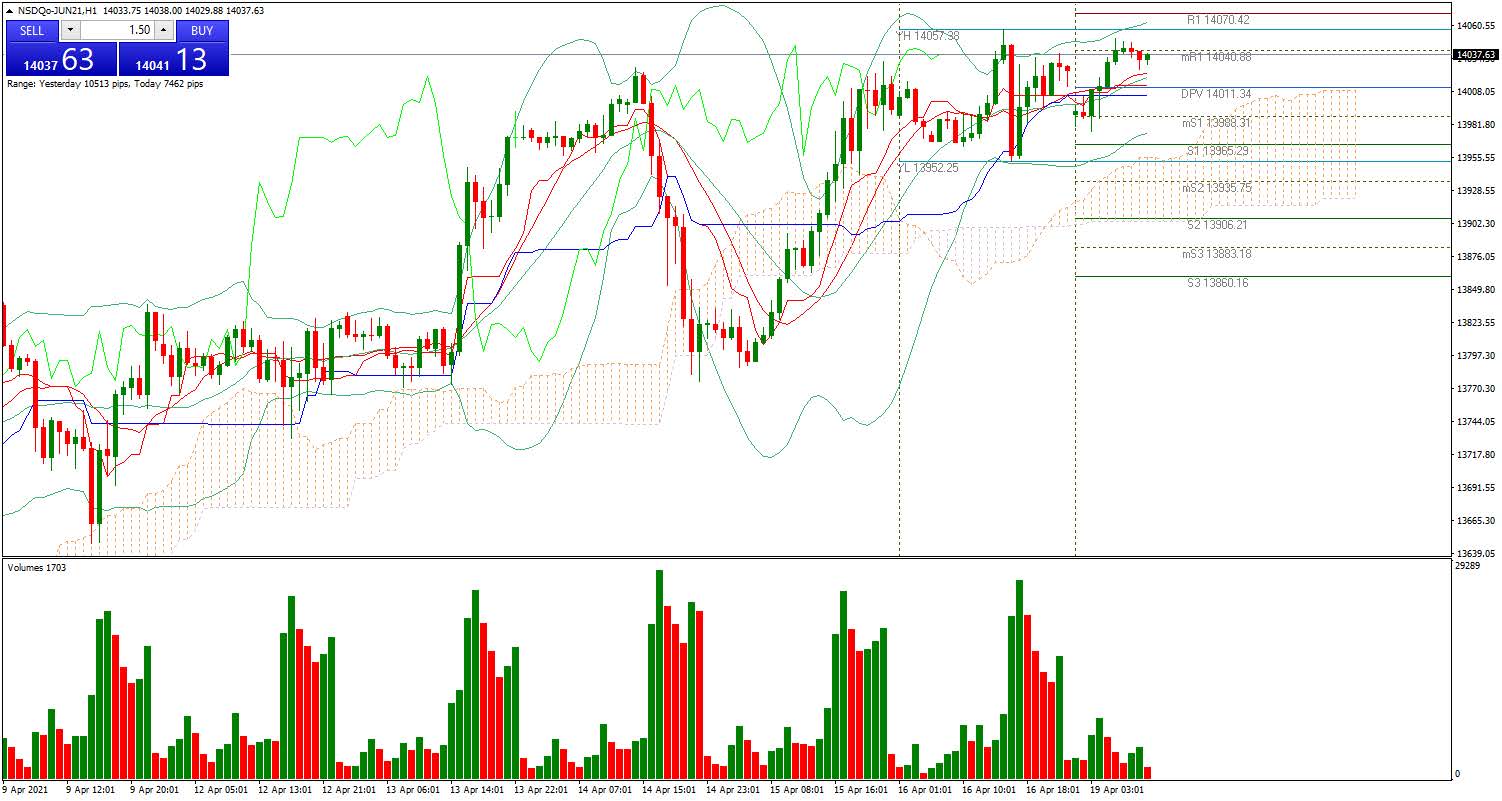 Support 1: 14,026.66
Support 2: 14,019.08
Support 3: 14,010.91
Resistance 1: 14,042.41
Resistance 2: 14,050.58
Resistance 3: 14,058.16
Pivot Point: 14,034.83
Price at the Ichimoku cloud. Expected trading range between 14.008 and 13.928. Pivot point at 14.034. RSI neutral. Current level above the moving average.
---
BITCOIN +2.69%
Weekend under pressure in the crypto market. Bitcoin fell 15%, and during the Asian session the price dropped 8%. At this point the price started to rebound and the current level of ascent remains at 2.69%. The correction of cryptocurrencies is explained by the Bulls' profit taking after the Coinbase IPO. It is also due to the significant rise in Dogecoin at the close of last week.
Support 1: 56,757.4
Support 2: 56,270.7
Support 3: 56,027.4
Resistance 1: 57,487.4
Resistance 2: 57,730.7
Resistance 3: 58,217.4
Pivot Point: 57,000.7
Price between support 2 and support 3. Pivot point at 57,000. Possible upward movement towards 60,840 level. Estimated trading range between 56,027 and 58,217. Buying volume recovering momentum.
---
SILVER -0.37%
Silver price failed to consolidate above the 50-day moving average and returned to the downtrend. At the moment the price is down 0.37% and is trading at 25.98. Possible increase in demand for the metal and gold, because the Chinese authorities have granted permission to banks to import these metals in the Asian country.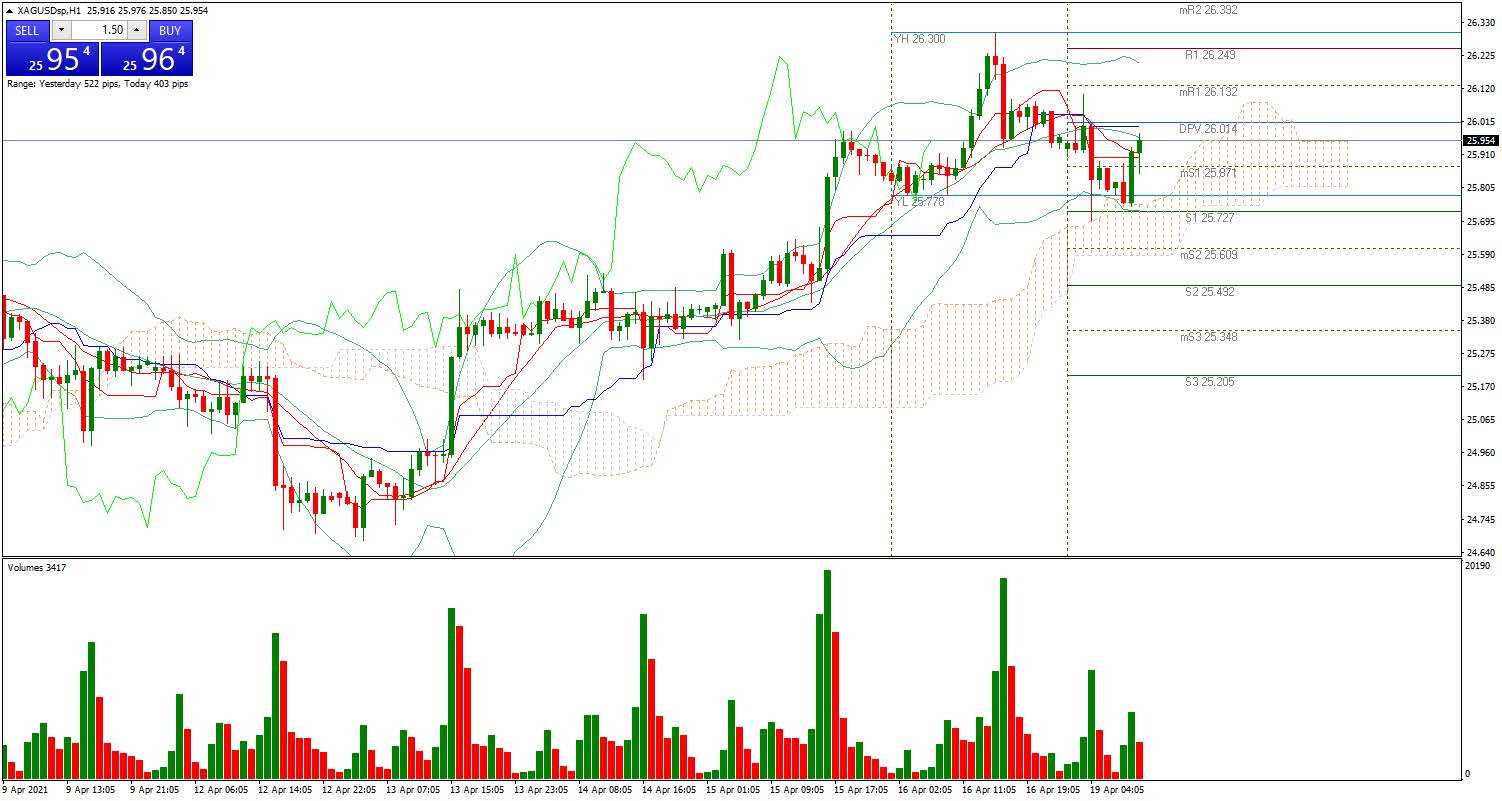 Support 1: 25,847
Support 2: 25,733
Support 3: 25,669
Resistance 1: 26,025
Resistance 2: 26,089
Resistance 3: 26,203
Pivot Point: 25,911
RSI neutral. Ichimoku cloud projects trading range between 25.95 and 25.81. Pivot point at 25.91. Price is above support 1 and resistance 1.
---
DAX 30 +0.04%
European market opens mixed as a result of the continued advance of coronavirus cases. During the week, new volumes of Pfizer vaccines will be imported. Meanwhile, the DAX 30 is up 0.04% and is trading at 15,481. Today, there is no macroeconomic data, so the market is watching for corporate results on Wall Street.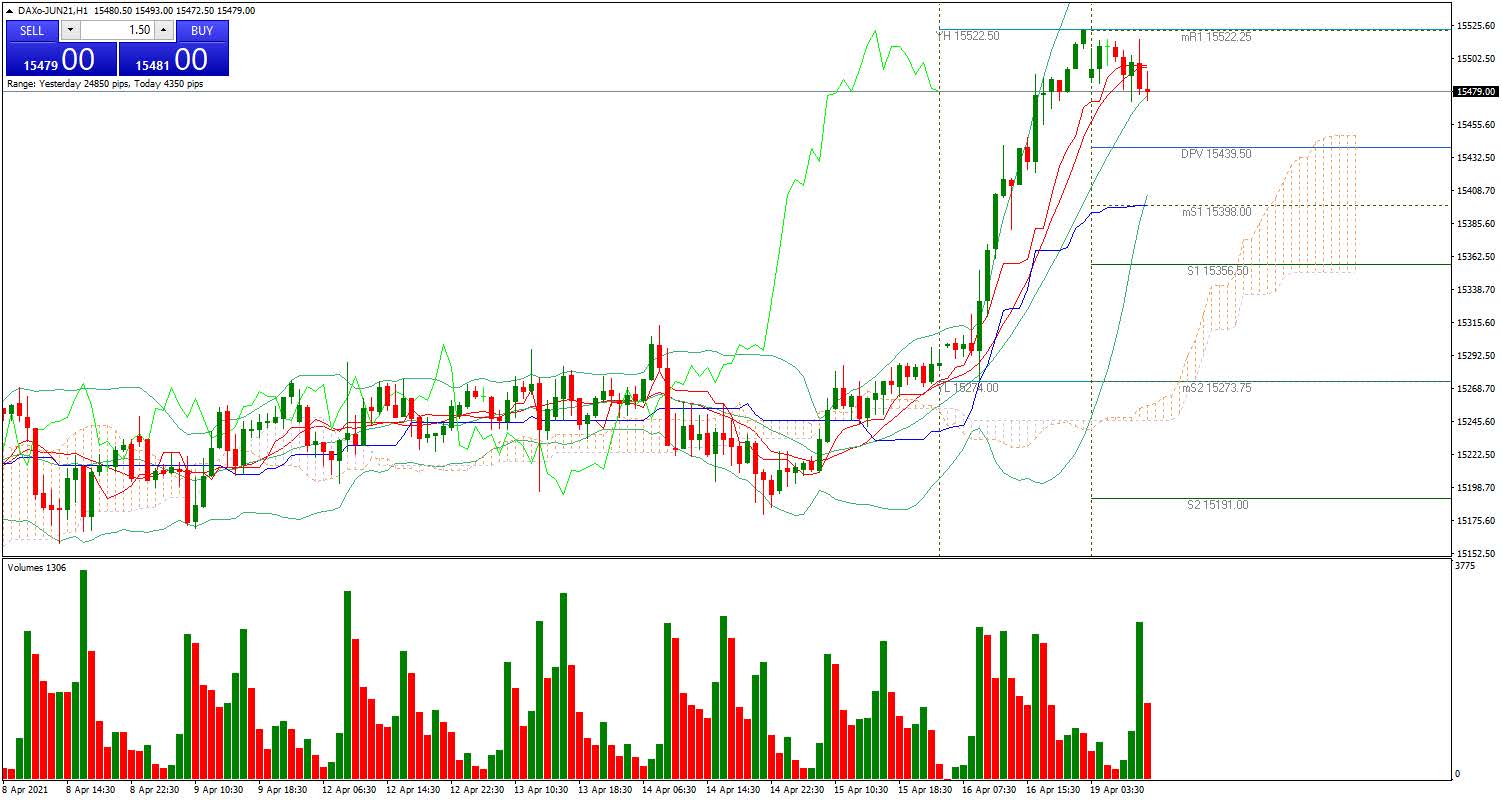 Support 1: 15,471.6
Support 2: 15,456.3
Support 3: 15,439.6
Resistance 1: 15,535.6
Resistance 2: 15,520.3
Resistance 3: 15,503.6
Pivot Point: 15,488.3
The index formed a floor at 15,191. Possible further upward move to the level of 15.525. RSI leaving the overbought zone. Trading range between 15.439 and 15.503. Pivot point at 15.488.
---
Sources
Reuters
Market watch
Bloomberg
Capitalix Market Research
Risk Disclaimer
Any information/articles/materials/content provided by Capitalix or displayed on its website is intended to be used for educational purposes only and does not constitute investment advice or a consultation on how the client should trade.
Although Capitalix has ensured that the content of such information is accurate, it is not responsible for any omission/error/miscalculation and cannot guarantee the accuracy of any material or any information contained herein.
Therefore, any reliance you place on such material is strictly at your own risk. Please note that the responsibility for using or relying on such material rests with the client and Capitalix accepts no liability for any loss or damage, including without limitation, any loss of profit which may arise directly or indirectly from the use of or reliance on such information.
Risk Warning: Forex/CFDs trading involves significant risk to your invested capital. Please read and make sure that you fully understand our Risk Disclosure Policy.
You should ensure that, depending on your country of residence, you are allowed to trade Capitalix.com products. Please ensure that you are familiar with the company's risk disclosure.
Want to read more?
Login and enjoy all Daily Analysis articles