Daily Review for April 1, 2021
April 1, 2021, 12:12
Q1 2021 closes with upward movements in equities, commodities, fixed income and cryptos. 
Q2 starts with good prospects for economic recovery. The main bet is on the global mass vaccination program. 
Silver is correcting but trying to catch up with gold's recovery trajectory. 
Bitcoin is gaining popularity in the corporate world and Bulls are looking for new all-time highs. 
Crucial OPEC+ meeting. The market expects them to extend production cuts. 
Despite increased restrictions in France and Italy Europe opens higher. 
Traders are awaiting NFP volatility anticipation.
---
SILVER  -0.90%
Q1 ends and the market leaves interesting opportunities and prospects for Q2. Commodities evidenced a first quarter with interesting rallies. If Q1 was defined as planning, Q2 could be the first chapter of execution, so equities will show mixed movements depending on the economic performance of the public and private sectors. Silver performance depends upon the economy, because if there is economic growth, the need for silver for the industry usage increases.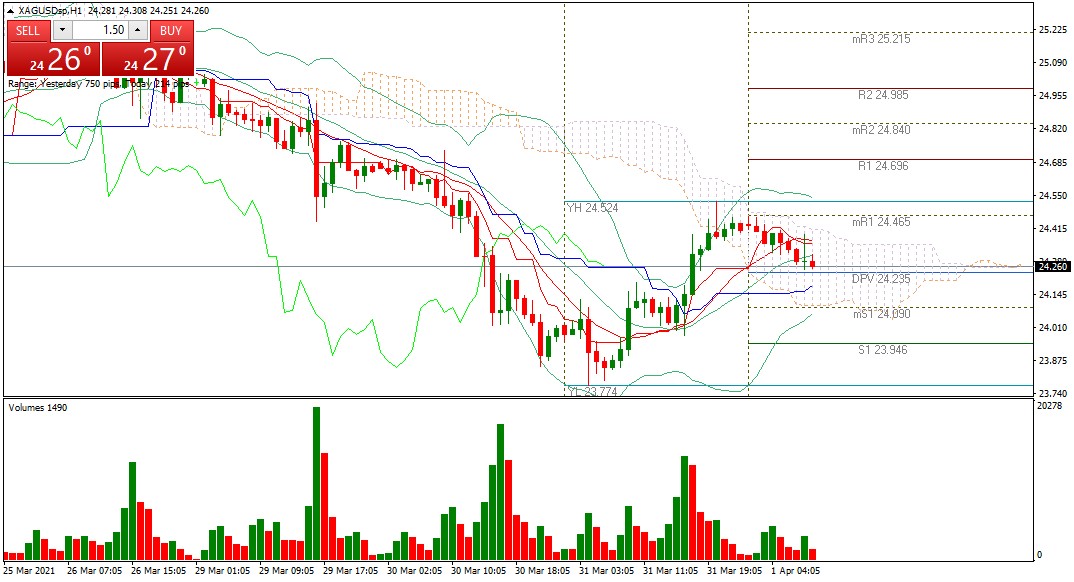 Support 1: 24.289
Support 2: 24.211
Support 3: 24.149
Resistance 1: 24.429
Resistance 2: 24.491
Resistance 3: 24.569
Pivot Point: 24.351
Sideway movement. Trading range between 24.149 and 24.569. The price is at the 38.2% and 23.6% Fibonacci retracement levels. It is also slightly below the short and medium term moving average. The Bears are looking for the 21 zone. The Bulls are looking for the 26 zone. Pivot Point in 24.351. 
---
BITCOIN  +0.41%
The cryptocurrency closed Q1 with a price of USD$58,951. Bitcoin's market capitalization remains above USD$1 trillion. The price has doubled since January 2021 to date. The incorporation of more companies to the industry has favored its valuation. Among them Tesla, Visa, Square and yesterday, for example, Goldman Sachs, started offering Bitcoin to its clients.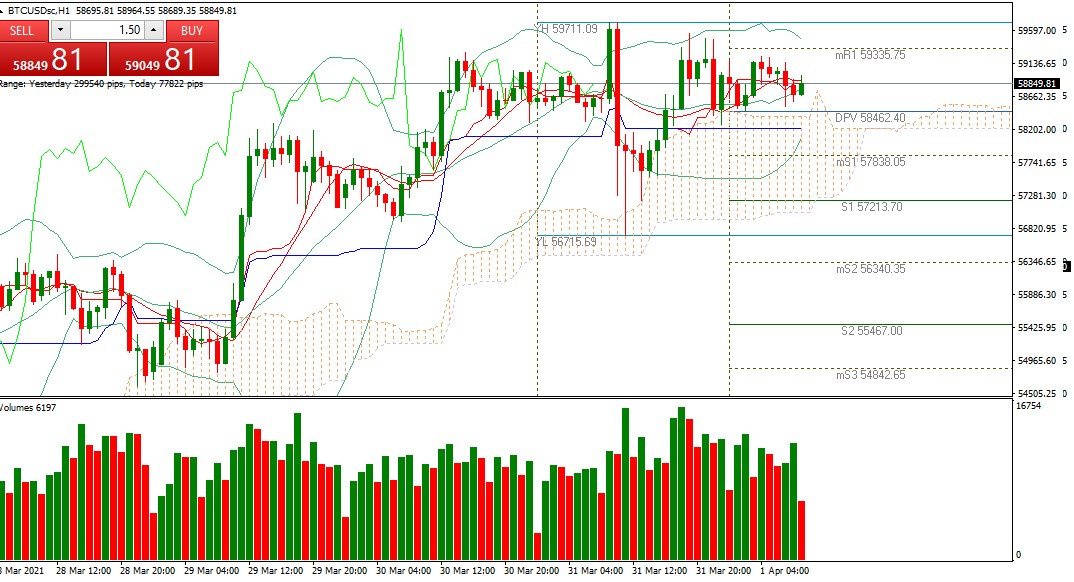 Support 1: 58,677.0
Support 2: 58,575.7
Support 3: 58,429.8
Resistance 1: 58,924.3
Resistance 2: 59,070.3
Resistance 3: 59,171.5
Pivot Point: 58,823.0
Bullish outlook. Ascending channel formation. The price is above the short term moving average. It is also at the 23.6% Fibonacci level. Bulls forecats the price at USD$70,000 for Q2. Pivot point at 58.823.
---
CRUDE OIL +1.42%
Crucial day for crude market. Today is the OPEC+ meeting, where important decisions on production and demand estimates will be made. One scenario is that they extend the production cut for another month while they continue to evaluate economic performance. Another and less likely scenario is that they increase production levels to take advantage of the current price level. According to the IEA, crude inventories are decreasing in the US (-0.876M), which is the reason for the rise in the price of the commodity at this time.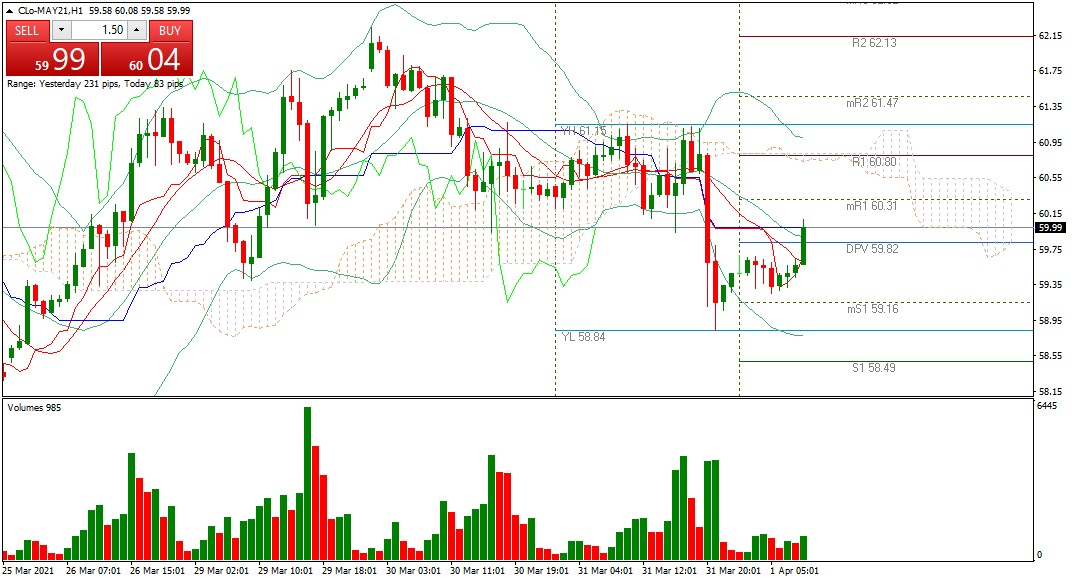 Support 1: 59.50
Support 2: 59.37
Support 3: 59.29
Resistance 1: 59.71
Resistance 2: 59.79
Resistance 3: 59.92
Pivot Point: 59.58
Bulls are defending the double support 1 at 59.16. If the trend remains bullish, we could see the price reach the resistance at 62.13. In the best scenario, in Q2 the price could take the upward channel above 70 and approach 80. Pivot point at 59.58.
---
DAX30 +0.21%
In spite of the new confinement measures in Europe, the European stock exchanges open higher. The Swiss SMI is up with 0.40%, followed by the EuroStoxx 50 with 0.21%. The DAX maintains its bullish outlook and is trading at 15,052 points. The German stock market is rising due to increased domestic demand, lower unemployment and because the market is estimating a manufacturing PMI above 50 which indicates economic expansion.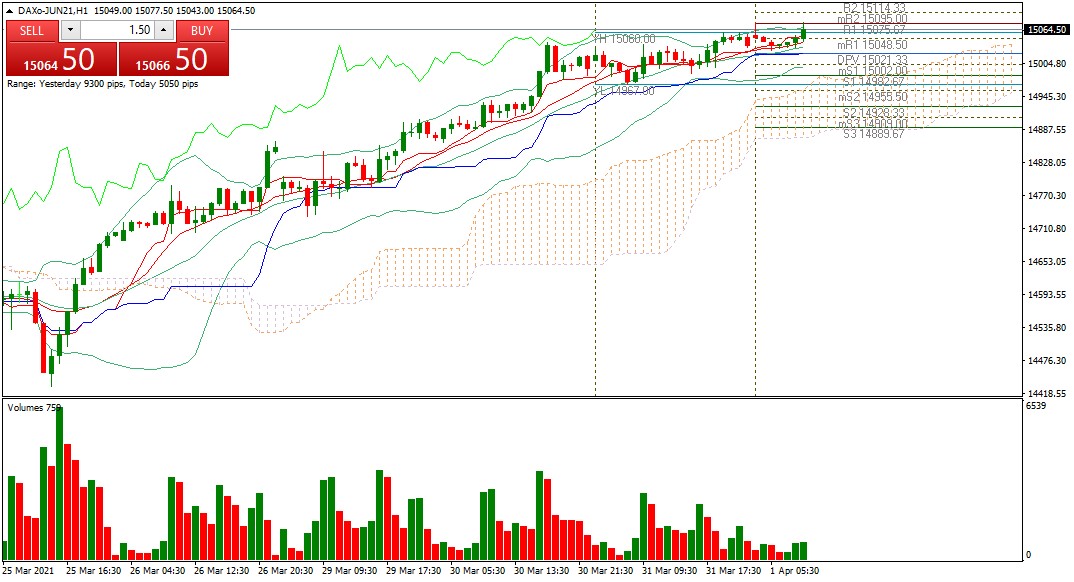 Support 1: 15,047.6
Support 2: 15,021.3
Support 3: 15,008.1
Resistance 1: 15,087.1
Resistance 2: 15,100.3
Resistance 3: 15,126.6
Pivot Point: 15,060.8
Price remains above the Ichimoku cloud. It also continues to form the ascending channel. With the current trend, the price could reach the resistance 1 and 2. RSI has not entered the overbought zone, so we could see bullish movements. Pivot point at 15,060.
Risk Disclaimer
Any information/articles/materials/content provided by Capitalix or displayed on its website is intended to be used for educational purposes only and does not constitute investment advice or a consultation on how the client should trade.
Although Capitalix has ensured that the content of such information is accurate, it is not responsible for any omission/error/miscalculation and cannot guarantee the accuracy of any material or any information contained herein.
Therefore, any reliance you place on such material is strictly at your own risk. Please note that the responsibility for using or relying on such material rests with the client and Capitalix accepts no liability for any loss or damage, including without limitation, any loss of profit which may arise directly or indirectly from the use of or reliance on such information.
Risk Warning: Forex/CFDs trading involves significant risk to your invested capital. Please read and make sure that you fully understand our Risk Disclosure Policy.
You should ensure that, depending on your country of residence, you are allowed to trade Capitalix.com products. Please ensure that you are familiar with the company's risk disclosure.
Want to read more?
Login and enjoy all Daily Analysis articles