Daily Review for September 22, 2021
September 22, 2021, 7:02
Global stock exchange futures are turning positive.
The Hong Kong Stock Exchange is closed today, so Evergrande shares will not be traded on the spot market.
The Fed will present its economic projections. The institution will also make its interest rate decision. Analysts expect interest rates to remain unchanged.
Crude oil prices continue to trend higher, mainly because the Gulf of Mexico producers have not yet started 100% of their production capacity. US inventories are expected to fall by 2.4 million barrels.
The price of Bitcoin continues in negative territory. Given the market volatility, investors have opted to buy traditional safe-haven assets such as gold and silver.
---
S&P 500 +0.08%
Evergrande announced that it reached an agreement with creditors for the first financial obligation on Thursday. However, rating agency S&P classified the company with a high probability of default. The Hong Kong stock exchange is closed today due to the Chinese festival, so Evergrande shares cannot be traded on the spot market. The S&P500 is currently up 0.08% and is trading at 4,358. Traders are also aware of the Fed's economic projections and interest rate decision.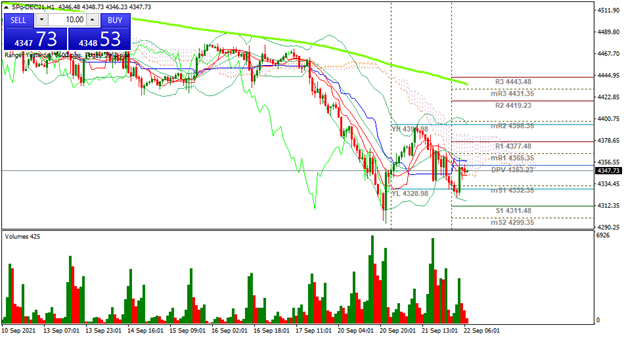 Support 1: 4,354.1
Support 2: 4,350.3
Support 3: 4,344.9
Resistance 1: 4,363.3
Resistance 2: 4,368.7
Resistance 3: 4,372.5
Pivot Point: 4,359.5
The price rose up to resistance 2, where it started to descend towards support 1. However, the index has reached the pivot point, which could lead to a change of trend. Possible sideways movement. Bulls will have to overcome resistance 2 in order to consolidate the price above resistance 3.
---
CRUDE OIL +1.15%
Today we will have the IEA crude oil inventories report. Analysts expect a drop in inventories by 2.4 million barrels. At the moment the price of crude oil is up 1.15% and is trading at USD$71.30 per barrel. Oil producers in the Gulf of Mexico, after the passage of storm Nicholas, are beginning work on damage assessment and improvements. On the other hand, in Europe, the price of energy continues to rise.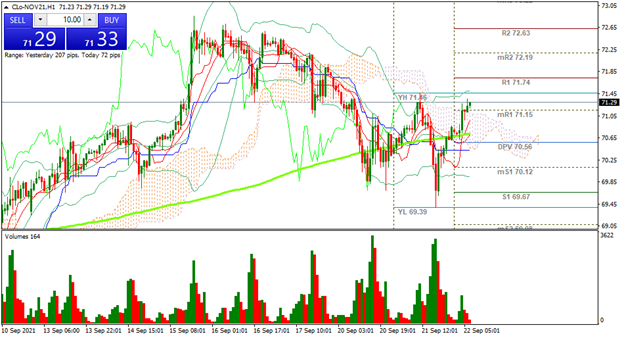 Support 1: 71.12
Support 2: 71.00
Support 3: 70.88
Resistance 1: 71.36
Resistance 2: 71.48
Resistance 3: 71.60
Pivot Point: 71.24
The price is above the 200-day moving average. Expected trading range between USD$70.88 and USD$71.60. Pivot point for trend change at USD$71.60. Neutral RSI. Possible double top formation at USD$71.31. If confirmed, the price could decline towards the pivot point or towards support 1.
---
BITCOIN -0.99%
Bitcoin price has dropped to USD$40,506. From this support, the Bulls bought the crypto, so the price rebounded towards the resistance 1. At the moment the price is at the pivot point, where a trend reversal could occur. At the moment the Bitcoin is down 0.99% and is trading at USD$42,004. The possible default of Evergrande has caused traders to invest in traditional safe haven assets such as gold and silver. Therefore, the appetite for more volatile assets such as cryptos has lost interest for the time being.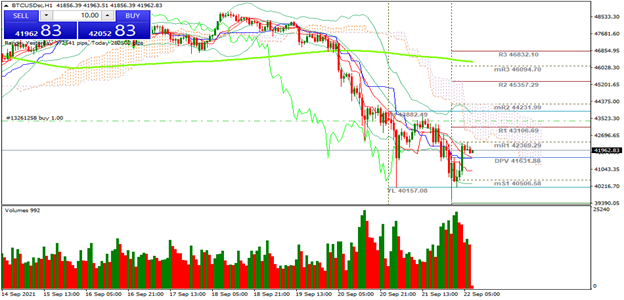 Support 1: 41,755.2
Support 2: 41,614.7
Support 3: 41,395.7
Resistance 1: 42,114.7
Resistance 2: 42,333.7
Resistance 3: 42,474.2
Pivot Point: 41,974.2
The price is below the 200-day moving average. Expected trading range between USD$41,395 and USD$42,474. Pivot point at USD$41,974. RSI neutral. Bearish channel. The Bulls are trying to keep the price above USD$40,000.
---
GOLD -0.03%
Positions in the metal continue to increase as the maturity of Evergrande's first financial obligation approaches. Gold is currently down 0.03% and is trading at USD$1,776 per Troy ounce. Traders are waiting the Fed statement. Analysts expect the FED to keep interest rates unchanged at 0.25%. For this week, an increase in long positions of the metal is expected, mainly due to the degree of volatility that is occurring in the market.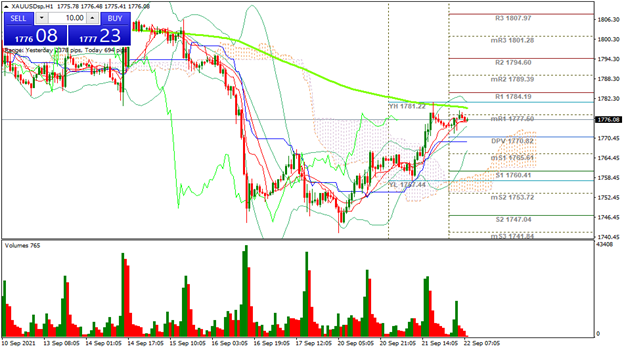 Support 1: 1,775.84
Support 2: 1,775.22
Support 3: 1,773.99
Resistance 1: 1,777.69
Resistance 2: 1,778.92
Resistance 3: 1,779.54
Pivot Point: 1,777.07
Price is at resistance 1. Expected trading range between USD$1,773 and USD$1,779. Pivot point at USD$1,777. Neutral RSI coming out of the overbought zone. If the price rises above the 200-day moving average, it could reach USD$1,800 again.
---
Sources
Reuters
Market watch
Bloomberg
Capitalix Market Research
Risk Disclaimer
Any information/articles/materials/content provided by Capitalix or displayed on its website is intended to be used for educational purposes only and does not constitute investment advice or a consultation on how the client should trade.
Although Capitalix has ensured that the content of such information is accurate, it is not responsible for any omission/error/miscalculation and cannot guarantee the accuracy of any material or any information contained herein.
Therefore, any reliance you place on such material is strictly at your own risk. Please note that the responsibility for using or relying on such material rests with the client and Capitalix accepts no liability for any loss or damage, including without limitation, any loss of profit which may arise directly or indirectly from the use of or reliance on such information.
Risk Warning: Forex/CFDs trading involves significant risk to your invested capital. Please read and make sure that you fully understand our Risk Disclosure Policy.
You should ensure that, depending on your country of residence, you are allowed to trade Capitalix.com products. Please ensure that you are familiar with the company's risk disclosure.
Want to read more?
Login and enjoy all Daily Analysis articles