Daily Review for September 20, 2021
September 20, 2021, 7:03
Global market selloff. Stock indices, equities, commodities and cryptos fall.
US 10-year and 30-year treasury yields rise. Euro bunds yields also in positive territory. Fixed income attracting investors.
Dow Jones loses 300 points. Janet Yellen warned of the fiscal policy adjustment that the United States must make to better exit the pandemic. The Fed announced the start of tapering from this week.
The DAX 40 goes into operation. At the moment, the index is falling, driven by market fall and the German elections.
Gold prices look to change trend. Traders start buying metals to mitigate portfolio volatility risk.
Cryptos also fall in the market. The expiration of futures and options contracts on cryptos push the market to support levels.
---
DOW JONES -0.92%
The stock market starts the week with significant falls in the global markets. On the equity side, Wall Street indices are in negative territory, mainly the Dow Jones, which is down 0.92% (324 points) at the moment and is trading at 34,260. In Asia, the China A50 Index is down 3.39% and in Europe, Italy's MIB is down 2.36%. The market sell-off is being generated after Janet Yellen's statements, who argued that the U.S. needs to adjust its fiscal policy to generate a more successful economic recovery. Likewise, the FED stated the start of tapering from this week.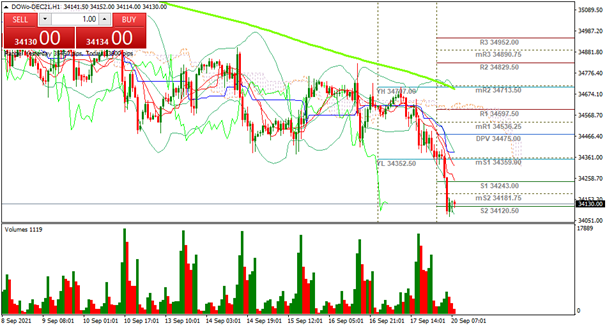 Support 1: 34,235.8
Support 2: 34,204.1
Support 3: 34,182.6
Resistance 1: 34,289.0
Resistance 2: 34,310.5
Resistance 3: 34,342.2
Pivot Point: 34,257.3
The price is at support 2, trying to bounce from this zone. However, the selling volume is outpacing the longs at the moment, so the index continues with bearish pressure. Expected trading range between 34,182 and 34,342. Pivot point at 34,257. RSI in oversold zone.
---
DAX 40 -0.95%
Today marks the start of the DAX 40, which includes 10 additional companies to the index, which were selected for having reported positive Ebitda (Earnings Before Interest Taxes Depreciations and Amortizations) over the last two years. The new companies include Puma, Porsche, Airbus, Zalando, among others. The market contagion effect has generated downward pressure on the European market. The index is currently down 0.95% and is trading at 15,339. In Germany, Scholz won the debate according to local analysts. Businessmen and traders are paying close attention to the evolution of the election.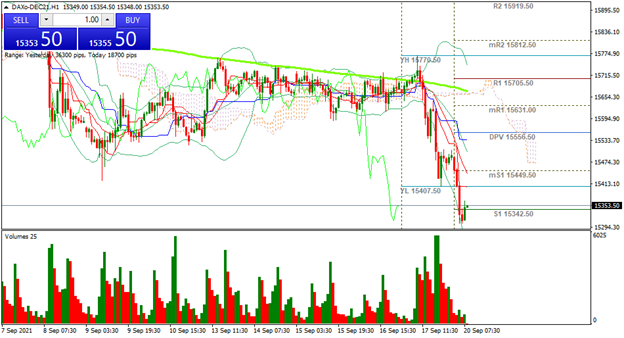 Support 1: 15,318.4
Support 2: 15,285.2
Support 3: 15,265.9
Resistance 1: 15,370.9
Resistance 2: 15,390.2
Resistance 3: 15,423.4
Pivot Point: 15,337.7
The index is at support 1, descending from the level of 15,770. Expected trading range between 15,265 and 15,423. Pivot point for trend change at 15,337. RSI in oversold zone.
---
GOLD -0.07%
Global sell-off is also being transmitted to commodities, which are showing massive declines in the three main segments, agriculture, energy and industrials. However, the fall in equities could lead to a turnaround in metals, mainly gold and silver. Gold is currently down 0.07% and is trading at USD$1,750 per Troy ounce. If the market continues in negative territory, traders could start buying gold to mitigate the risk of volatility in their portfolios.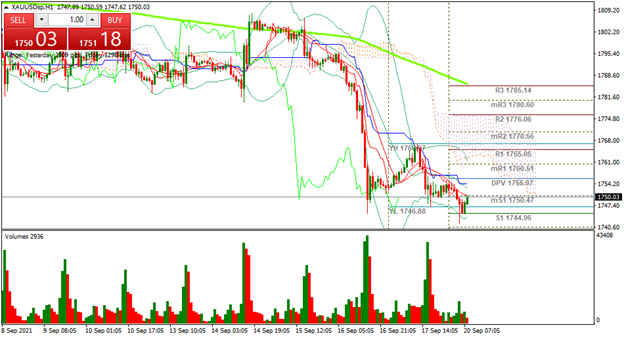 Support 1: 1,745.91
Support 2: 1,743.18
Support 3: 1,741.36
Resistance 1: 1,750.46
Resistance 2: 1,752.28
Resistance 3: 1,755.01
Pivot Point: 1,747.73
The price of gold is at support 1. If the price changes trend, it could climb towards resistance 1. If it overcomes this, the next target level is USD$1,785. Pivot point at USD$1,747. RSI neutral.
---
BITCOIN -4.93%
The market sell off also included cryptocurrencies. Bitcoin is currently down 4.93% and is trading at USD$45,602. Ethereum is down 6.46% and Cardano is down 7.84%. The above three are the cryptos with the largest market capitalization. Part of the reason for the market drop was the expiration of Bitcoin options and futures contracts, which happened last Friday. Generally on expiration day, winners liquidate their positions, generating a breakout of the most immediate support zone. Possible rebound of cryptos, if traders decide to hedge equity portfolios with cryptos.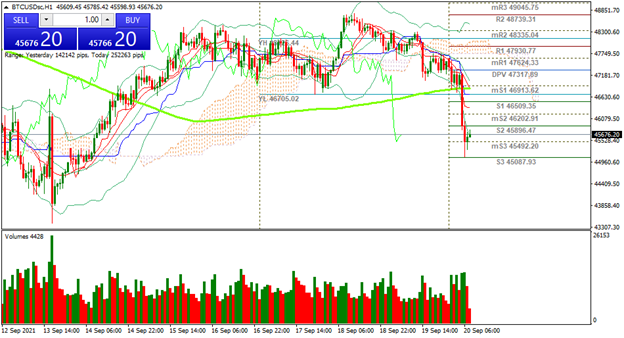 Support 1: 45,426.2
Support 2: 45,189.7
Support 3: 45,023.0
Resistance 1: 45,829.5
Resistance 2: 45,996.1
Resistance 3: 46,232.7
Pivot Point: 45,592.9
Bitcoin price is between support 2 and support 3. Expected trading range between 45,023 and 46,232. Pivot point at 45,592. RSI in oversold zone. The price is below the 200-day moving average, which generates bearish pressure for the Bitcoin.
---
Sources
Reuters
Market watch
Bloomberg
Capitalix Market Research
Risk Disclaimer
Any information/articles/materials/content provided by Capitalix or displayed on its website is intended to be used for educational purposes only and does not constitute investment advice or a consultation on how the client should trade.
Although Capitalix has ensured that the content of such information is accurate, it is not responsible for any omission/error/miscalculation and cannot guarantee the accuracy of any material or any information contained herein.
Therefore, any reliance you place on such material is strictly at your own risk. Please note that the responsibility for using or relying on such material rests with the client and Capitalix accepts no liability for any loss or damage, including without limitation, any loss of profit which may arise directly or indirectly from the use of or reliance on such information.
Risk Warning: Forex/CFDs trading involves significant risk to your invested capital. Please read and make sure that you fully understand our Risk Disclosure Policy.
You should ensure that, depending on your country of residence, you are allowed to trade Capitalix.com products. Please ensure that you are familiar with the company's risk disclosure.
Want to read more?
Login and enjoy all Daily Analysis articles