Daily Review for March 18, 2021
March 18, 2021, 13:49
Jerome Powell makes confidence in the market and the stock markets showed an upward momentum. 
In Europe, the market opens mixed. The third wave of covid-19 gains strength and governments are attentive to the outcome of the European Medicine Agency analysis of AstraZeneca's vaccine.
Bank of England will present the UK economic projections and its interest rate decision. 
Indices on Wall Street are mixed, as investors take profits and execute new strategies. 
U.S. 10- and 30-year bonds are rising, putting pressure on gold.
---
DAX 30 +0,20%
European stock markets open mixed. At yesterday's close, the market witnessed upward movements caused by the Fed's decision to leave interest rates unchanged. In Europe, the FTSE 100 is down 0.72% due to the uncertainty of AstraZeneca's vaccine. The European Medicine Agency is due to present its verdict today on the investigation into the side effects of AstraZeneca's vaccine. Its use in the European Union depends on this output. Meanwhile, the third wave of covid-19 is gaining momentum in Europe. The market is aware of the ECB President Christine Lagarde announcements and the Bank of England's interest rate decision.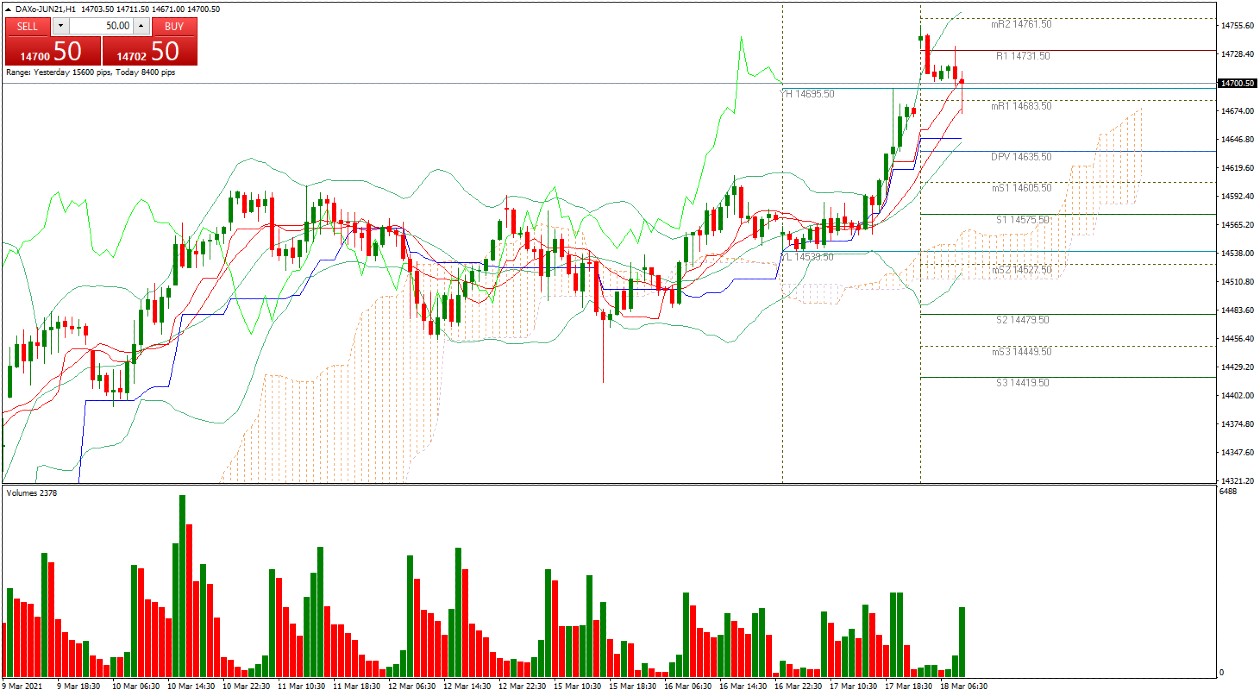 Support 1: 14,661.5
Support 2: 14,640.5
Support 3: 14,604.5
Resistance 1: 14,718.5
Resistance 2: 14,754.5
Resistance 3: 14,775.5
Pivot Point: 14,697.5
Bullish trend. Price is at resistance number 1. The next target for the Bulls is 15,000. Support to watch is at 14,661. Pivot point at 14,697.
---
DOW JONES +0,12%
Wall Street closed yesterday with gains on the back of the Fed presentation. Jerome Powell managed to reassure the market, and commented that the US economic recovery is expected to be faster than expected. The index is currently up 0.12% and is trading at 32,933 points. The members of the FED committee estimate that interest rates could rise in 2023, which gives investors and equities plenty of time to be on rally.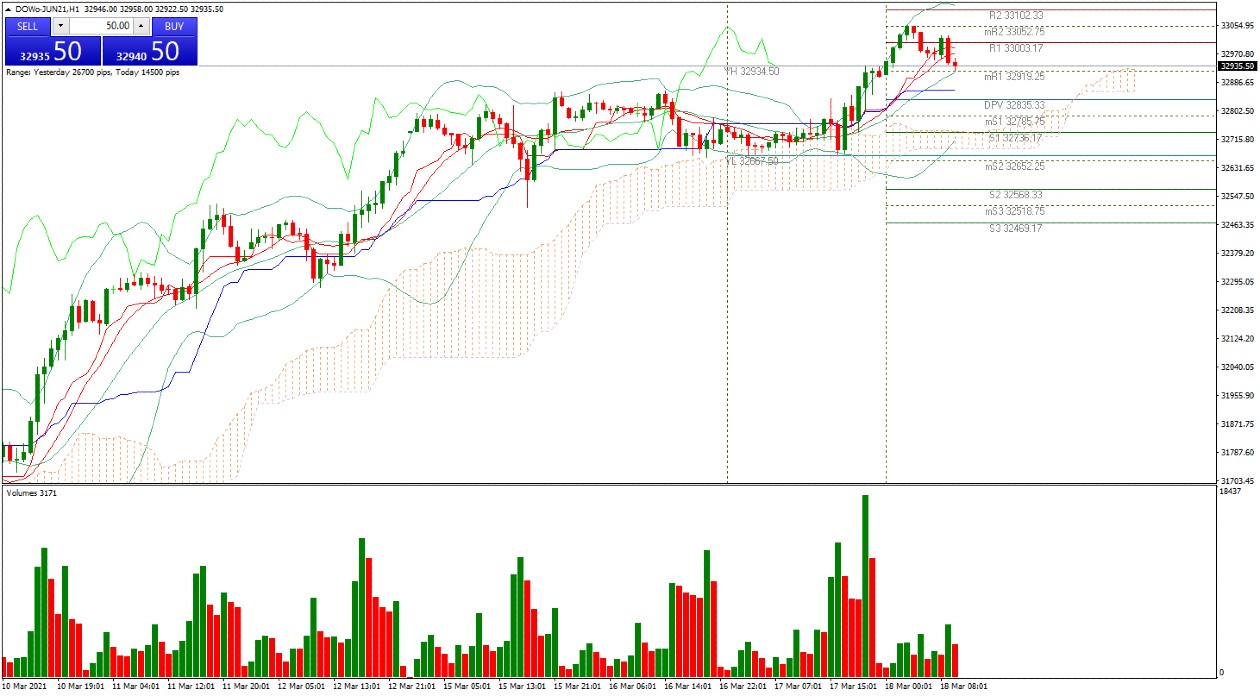 Support 1: 32,922.4
Support 2: 32,889.7
Support 3: 32,835.4
Resistance 1: 33,009.4
Resistance 2: 33,063.7
Resistance 3: 33,096.4
Pivot Point: 32,976.7
The index continues in the ascending channel. The price is above the Ichimoku cloud, but is starting to trend sideways. RSI is coming out of the overbought zone. Expected trading range between 32.835 and 33.096. Pivot point at 32.976.
---
GOLD +0.53%
Gold price is currently up 0.53% and is trading at USD$1,736 per Troy ounce. Gold continues to show an inverse correlation with Bonds. Said that, if Bonds go up, gold goes down and vice versa. In this sense, at the moment the 10-year and 30-year US bonds are rising. We could see pressure on gold for this reason, as well as for Powell's testimony, where he commented that he is not worried about inflation.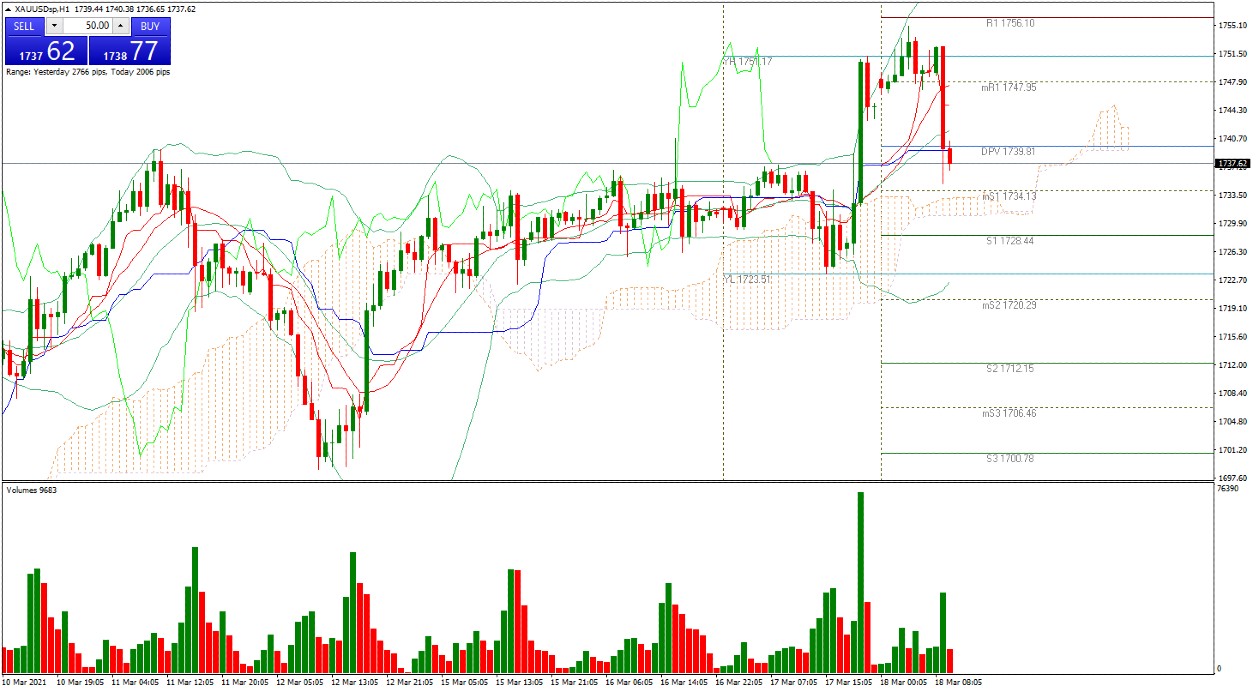 Support 1: 1,730.39
Support 2: 1,723.12
Support 3: 1,712.64
Resistance 1: 1,748.14
Resistance 2: 1,758.62
Resistance 3: 1,765.89
Pivot Point: 1,740.87
Price could evidence declines to support 2 and 3. Bulls maintain the target to recover gold in the short term to 1,700 and 1,800. Bears are looking to break support 3, and take gold into the downward channel at 1,650. Pivot point at 1,740.
---
S&P500 -0,38%
FED economic projections: 
1) US GDP growth of 6.1% for 2021; 3.3% for 2022 and 2.2% for 2023.  
2) Inflation projection is maintained at 2.2% for 2021; 2% for 2022; 2.1% for 2023. 
The Fed's positive tone generated confidence in the market and the S&P500 reached 3,978 points.
Support 1: 3,944.30
Support 2: 3,936.21
Support 3: 3,922.30
Resistance 1: 3,966.30
Resistance 2: 3,980.21
Resistance 3: 3,988.30
Pivot Point: 3,958.21
The price is falling as a result of profit taking from long positions. The index is above the Ichimoku cloud, which projects the price towards 3,953. The RSI is entering the oversold level, which could generate a rebound towards resistance 1. Pivot point at 3.958.
---
Sources
Reuters
Market watch
Bloomberg
Capitalix Market Research
Risk Disclaimer
Any information/articles/materials/content provided by Capitalix or displayed on its website is intended to be used for educational purposes only and does not constitute investment advice or a consultation on how the client should trade.
Although Capitalix has ensured that the content of such information is accurate, it is not responsible for any omission/error/miscalculation and cannot guarantee the accuracy of any material or any information contained herein.
Therefore, any reliance you place on such material is strictly at your own risk. Please note that the responsibility for using or relying on such material rests with the client and Capitalix accepts no liability for any loss or damage, including without limitation, any loss of profit which may arise directly or indirectly from the use of or reliance on such information.
Risk Warning: Forex/CFDs trading involves significant risk to your invested capital. Please read and make sure that you fully understand our Risk Disclosure Policy.
You should ensure that, depending on your country of residence, you are allowed to trade Capitalix.com products. Please ensure that you are familiar with the company's risk disclosure.
Want to read more?
Login and enjoy all Daily Analysis articles