Daily Review for February 19, 2021
February 19, 2021, 10:30
Global market is looking to recover from yesterday's decline and consolidate a post-pandemic economic recovery scenario
DAX 30 traders are watching the German manufacturing PMI as a supply indicator
Gold is looking for its market correlation and trying to regain the 1,800 level
In the US Crude oil inventories decreased, but the market is discounting the price due to the supply pressure that Saudi Arabia could generate
Investors begin to organize their portfolios and allocate capital in companies and industrial indexes
---
DAX 30 -0.01%
DAX 30 continues to fall as the US Treasury yields continue to rise. It is currently down 0.01% and is trading at 13,924. Meanwhile, traders are aware of the execution of the US economic stimulus plan, which could begin to be implemented in March 2021. Today we will have the manufacturing PMI in Germany, where the market forecast is 56.5.
Support 1: 13,914.6
Support 2: 13,892.8
Support 3: 13,876.1
Resistance 1: 13,953.1
Resistance 2: 13,969.8
Resistance 3: 13,991.6
Pivot Point: 13,931.3
Index has failed to consolidate above 14,000 points. During the market decline, price broke the support of 13,900. Expected trading range for today between 13,876 and 13,991, with pivot point at 13,931.
---
GOLD -0.14%
Starting this week, the market was optimistic due to the decrease in the number of covid-19 cases globally and signs of economic recovery. However, the data on unemployment benefits in the USA was higher than expected by the market, which led to a significant correction in the global stock markets. Meanwhile, gold broke the 1,800 support and is trying to recover the correlation with Equities in order to start recovering the 1,800 to 1,850 zone.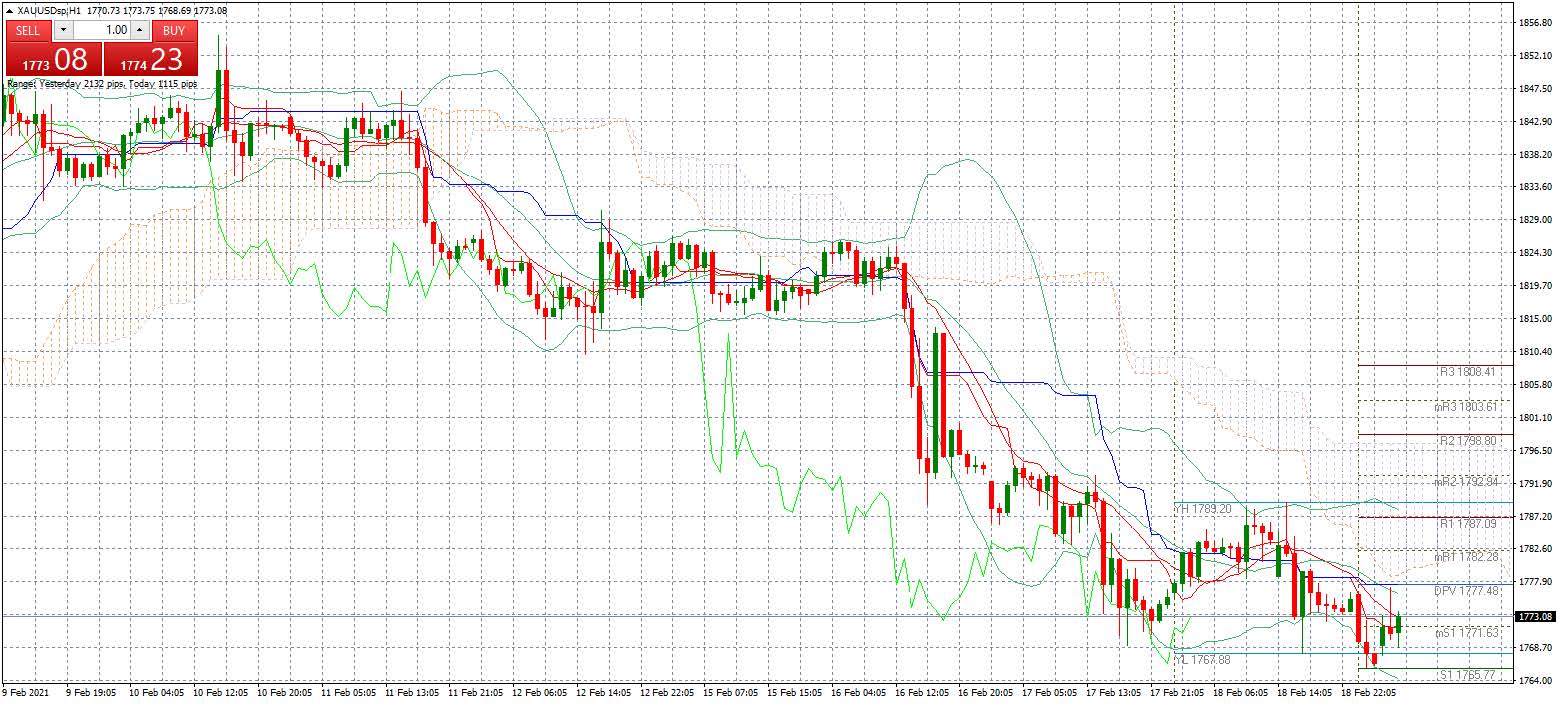 Support 1: 1,766.79
Support 2: 1,763.77
Support 3: 1,759.49
Resistance 1: 1,774.09
Resistance 2: 1,778.37
Resistance 3: 1,781.39
Pivot Point: 1,771.07
Gold Price is at the support 1. It is targeting resistance 1. Ichimoku cloud is above resistance 2. At the moment the market volume is balanced between buyers and sellers. Expected trading range for today between 1.759 and 1.781, with Pivot Point at 1.771.
---
CRUDE OIL -1.78%
Despite the 7,2 million barrel decline in US crude inventories reported by the IEA yesterday, the price of crude oil corrected from the 62.04 roof. Price dropped as a consequence of Saudi Arabia's announcement to start producing more crude oil in order to profit from the actual commodity price level. Meanwhile, market analysts see a possible rebound in the second half of the year towards 70 to 80 per barrel, an assumption based on the global economic recovery after the pandemic.
Support 1: 59,26
Support 2: 59,01
Support 3: 58,64
Resistance 1: 59,88
Resistance 2: 60,25
Resistance 3: 60,50
Pivot Point: 59,63
Price is above support 1. If it manages to bounce from this point, it will look for resistance 1. Expected trading range between 58.64 and 60.50.
---
NASDAQ 100 +0.01%
Negative week for the Nasdaq 100 as investors are selling technology stocks and shifting capital into industrial companies. This is as the market is beginning to see a post-pandemic economic recovery. The index is currently up 0.01% and is trading at 13,633 points. Two factors slowed the market's momentum. Fixed income and the US labor data. For today, the market could bounce, but without much strength as it is in a period of analysis before consolidating a trend.
Support 1: 13,613.38
Support 2: 13,600.38
Support 3: 13,589.51
Resistance 1: 13,637.25
Resistance 2: 13,648.12
Resistance 3: 13,661.12
Pivot Point: 13,624.25
Nasdaq 100 price is below resistance 1. It is looking to overtake this level to reach 13,749. The next point to consider is resistance 2. Pivot point at 13,624.
---
Sources
Reuters
Market watch
Bloomberg
Capitalix Market Research
Risk Disclaimer
Any information/articles/materials/content provided by Capitalix or displayed on its website is intended to be used for educational purposes only and does not constitute investment advice or a consultation on how the client should trade.
Although Capitalix has ensured that the content of such information is accurate, it is not responsible for any omission/error/miscalculation and cannot guarantee the accuracy of any material or any information contained herein.
Therefore, any reliance you place on such material is strictly at your own risk. Please note that the responsibility for using or relying on such material rests with the client and Capitalix accepts no liability for any loss or damage, including without limitation, any loss of profit which may arise directly or indirectly from the use of or reliance on such information.
Risk Warning: Forex/CFDs trading involves significant risk to your invested capital. Please read and make sure that you fully understand our Risk Disclosure Policy.
You should ensure that, depending on your country of residence, you are allowed to trade Capitalix.com products. Please ensure that you are familiar with the company's risk disclosure.
Want to read more?
Login and enjoy all Daily Analysis articles