Daily Review for August 20, 2021
August 20, 2021, 7:38
Cryptos keep the upward movement. Bitcoin seeks USD$50,000. Coinbase is looking to buy USD$500 million in cryptos.
The market continues to be confused about the Fed's position. Traders evaluate scenarios that could emerge from Jackson Hole.
New lockdowns in New Zealand and Australia put pressure on markets and commodities.
Crude oil trades at USD$63 per barrel. Buyers replace spot contracts with futures for delivery in November, December and January. Futures mixed in Europe. In the spot market, indices open in negative territory. The market awaits clearer signals from the FED and also support from the ECB
---
BITCOIN +6.18%
Bulls have started to gain ground, and are targeting the Bitcoin at USD$50,000, even USD$52,000. At the moment the Bitcoin price is up 6.18% and is trading at USD$47,143. The market cap of the overall crypto market is again at USD$2 Trillion. Market demand continues to gain strength. Coinbase announced the purchase of USD$500 million in cryptos. The company is also going to invest 10% of its profits in digital assets. This shows signs of market dynamism.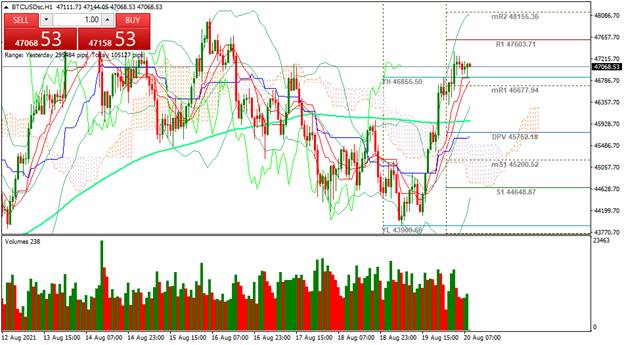 Support 1: 47,002.5
Support 2: 46,895.8
Support 3: 46,797.6
Resistance 1: 47,207.5
Resistance 2: 47,305.8
Resistance 3: 47,412.5
Pivot Point: 47,100.8
The price is between resistance 1 and the pivot point. If the buying volume continues, Bitcoin could head towards USD$48.155 and then USD$50.558. Pivot point at USD$47.100. RSI in overbought zone.
---
DOW JONES -0.23%
Global indexes are currently mixed as a result of new lockdowns in New Zealand and Australia. Market participants continue to be concerned about the increase in the number of cases of the Delta variant. Scientists are warning of a possible resurgence in September. At the moment, the Dow Jones is down 0.23% and is trading at 34,748. Jobless claims came in at 348,000 vs. 363,000 expected, so employment generation is on the rise in the US. However, the industrial sector is advancing a little more cautiously, as seen in the Philadelphia Fed manufacturing index, which came in at 19.4 out of 23 expected.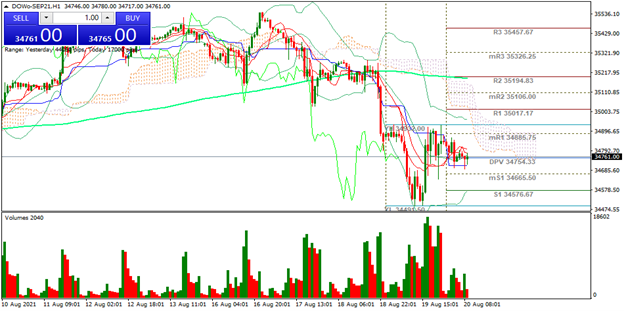 Support 1: 34,762.2
Support 2: 34,721.9
Support 3: 34,689.2
Resistance 1: 34,835.2
Resistance 2: 34,867.9
Resistance 3: 34,908.2
Pivot Point: 34,794.9
The price is below the 200-day moving average. It is currently at the pivot point, which could lead to a change in trend. Trading range between 34,689 and 34,908. Bears are targeting June levels.
---
CRUDE OIL +0.36%
Despite the decrease of inventories in the United States by more than 3 million barrels, the price continues with downward pressure. The fear of an increase in cases of the Delta variant has forced buyers of physical crude oil to buy futures contracts for the months near the end of the year in order to gain time in the face of the pandemic. At the moment the price of crude oil is up 0.36% and is trading at USD$63.76 per barrel.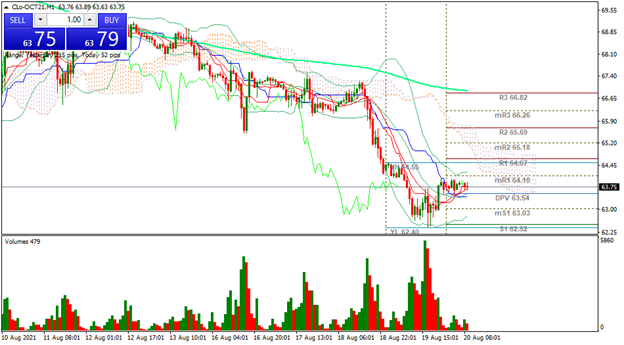 Support 1: 63.67
Support 2: 63.53
Support 3: 63.42
Resistance 1: 63.92
Resistance 2: 64.03
Resistance 3: 64.17
Pivot Point: 63.78
Crude oil price is between resistance 1 and the pivot point. If it manages to overcome that zone, we could see a diagonal movement towards USD$65.18. In the same way, there are important resistances to overcome, so the price could present sideways movement. Pivot point at USD$63.78.
---
DAX 30 -0.43%
European futures are in negative territory, so a downward opening is expected. The DAX 30 is down 0.43% and is trading at 15,723. The market continues to be confused about the Fed's tapering position. The bank seems to be convinced by the economic data, but the Delta variant makes them doubtful. The withdrawal of economic stimulus at this time could lead to higher volatility in the equity and fixed income markets in the near term. Traders continue to keep an eye on Jackson Hole. German Chancellor Angela Merkel is scheduled to meet with Vladimir Putin today.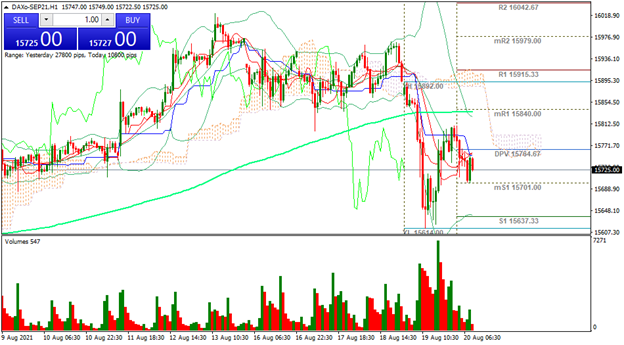 Support 1: 15,701.5
Support 2: 15,680.0
Support 3: 15,658.5
Resistance 1: 15,744.5
Resistance 2: 15,766.0
Resistance 3: 15,787.5
Pivot Point: 15,723.0
The price is below the 200-day moving average. It is still near the 15,800 resistance. Bulls maintain the target at 16,000. Pivot point for trend change at 15,723. The Tec DAX is up 0.13%.
---
Sources
Reuters
Market watch
Bloomberg
Capitalix Market Research
Risk Disclaimer
Any information/articles/materials/content provided by Capitalix or displayed on its website is intended to be used for educational purposes only and does not constitute investment advice or a consultation on how the client should trade.
Although Capitalix has ensured that the content of such information is accurate, it is not responsible for any omission/error/miscalculation and cannot guarantee the accuracy of any material or any information contained herein.
Therefore, any reliance you place on such material is strictly at your own risk. Please note that the responsibility for using or relying on such material rests with the client and Capitalix accepts no liability for any loss or damage, including without limitation, any loss of profit which may arise directly or indirectly from the use of or reliance on such information.
Risk Warning: Forex/CFDs trading involves significant risk to your invested capital. Please read and make sure that you fully understand our Risk Disclosure Policy.
You should ensure that, depending on your country of residence, you are allowed to trade Capitalix.com products. Please ensure that you are familiar with the company's risk disclosure.
Want to read more?
Login and enjoy all Daily Analysis articles