Daily Review for April 27, 2021
April 27, 2021, 8:27
Tesla beats EPS estimates but missed revenue expectations.
Nasdaq 100 rises and awaits Microsoft and Alphabet results.
DAX 30 reacts to the appreciation of the Euro and the European Union lawsuit against AstraZeneca.
Metal's traders are aware to silver's reaction to the FED interest rate decision. Bond yields start to rise.
Bitcoin bounces off the USD$48,000 floor. Bulls look to drive the price towards USD$57,000 before the expiration of the futures contract on the CME.
---
NASDAQ 100 +0.14%
Tesla presented its Q1 2021 results yesterday. The company reported an EPS of 0.93 beating the market estimate of 0.7428. However, the company's revenue was below market expectations, USD$10.39 billion vs USD$10.42 billion. In the aftermarket, the share price fell 2.49%. Nasdaq 100, on the other hand, rose during the Asian session. The Index is currently rising 0.14% and is trading at 14,028 points. Today we will have the financial results of Microsoft and Alphabet.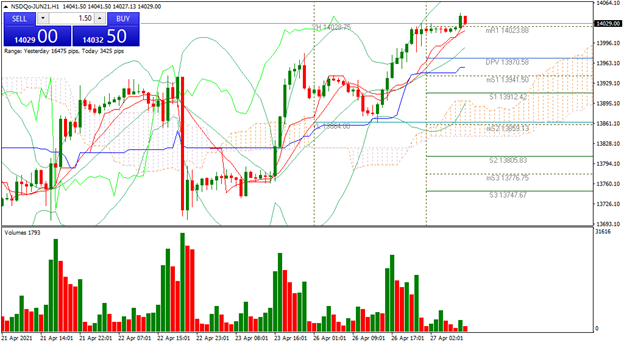 Support 1: 14,027.04
Support 2: 14,012.46
Support 3: 14,002.04
Resistance 1: 14,052.04
Resistance 2: 14,062.46
Resistance 3: 14,077.04
Pivot Point: 14,037.46
Bulls look to consolidate the price above the 14,000 quote. The Bears are looking for the 13,900 area. Price is above the Ichimoku cloud and heading for all-time highs. RSI is at the overbought level. Pivot point at 14,037.
---
DAX 30 –0.01%
According to the ECB, the monetary policy strategy continues to be focused on the fixed income purchase programs. This has caused the EURUSD to reach the 1.21 level and is starting to put pressure on the DAX. On the other hand, the European Union sued AstraZeneca because of its failure to deliver the contracted vaccines. Today we will have the business climate indicator in the Euro Zone.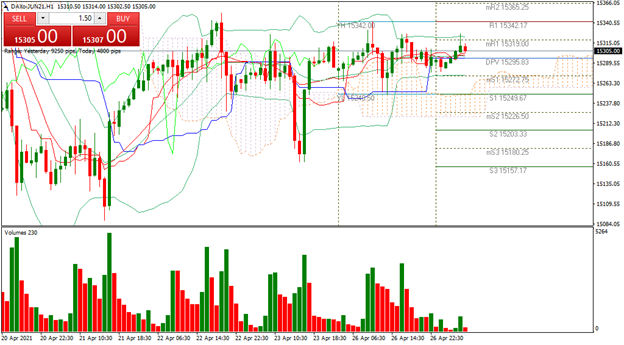 Support 1: 15,303.5
Support 2: 15,286.0
Support 3: 15,274.0
Resistance 1: 15,333.0
Resistance 2: 15,345.0
Resistance 3: 15,362.5
Pivot Point: 15,315.5
Sideway price movement. Expected trading range between 15,274 and 15,362. Pivot point at 15.315. RSI neutral. Possible move towards resistance 1. Bears are looking for 15.180.
---
SILVER +0.13%
Yields on the 10-year Treasury bond are up 0.81% at the moment, reaching a level of 1.5827. The 30-year bond is also up 0.46% reaching 2.254. Silver is trying to gain additional points ahead of the FED interest rate decision tomorrow. At the moment the price of silver is up 0.13% and is trading at USD$26.15.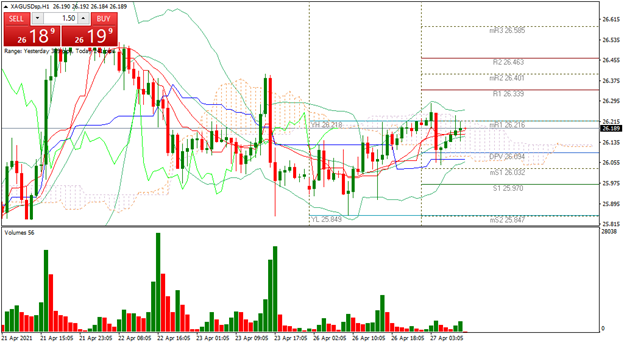 Support 1: 26.187
Support 2: 26.151
Support 3: 26.102
Resistance 1: 26.272
Resistance 2: 26.321
Resistance 3: 26.357
Pivot Point: 26.236
The price is above the 15 and 50-day moving averages. Possible price reaction to the US Consumer Confidence data. Expected trading range between 25.84 and 26.41. Pivot point at 26.23.
---
BITCOIN +3.55%
After marking a double bottom at USD$48,000, Bitcoin price rebounded and climbed to the current level of USD$54,681. The 30th of April 2021 is the expiration date of the Bitcoin futures contract on the Chicago Mercantile Exchange, so the price could show significant movement during this week. At the moment the price is up 3.55%.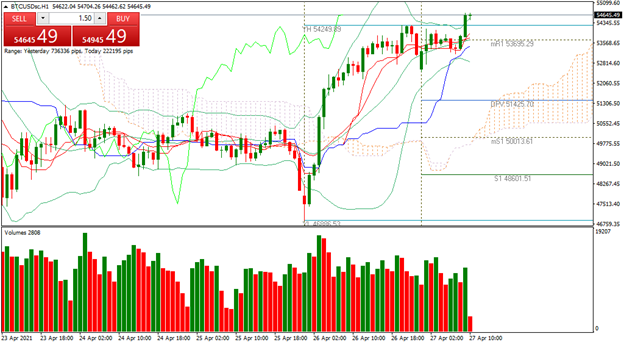 Support 1: 54,157.2
Support 2: 53,599.7
Support 3: 53,283.3
Resistance 1: 55,031.1
Resistance 2: 55,347.5
Resistance 3: 55,905.0
Pivot Point: 54,473.6
The price is above the Ichimoku cloud. Bulls are looking to consolidate above resistance 1. If successful, the next target is 57,000. Pivot point at 54,473.
---
Sources
Reuters
Market watch
Bloomberg
Capitalix Market Research
Risk Disclaimer
Any information/articles/materials/content provided by Capitalix or displayed on its website is intended to be used for educational purposes only and does not constitute investment advice or a consultation on how the client should trade.
Although Capitalix has ensured that the content of such information is accurate, it is not responsible for any omission/error/miscalculation and cannot guarantee the accuracy of any material or any information contained herein.
Therefore, any reliance you place on such material is strictly at your own risk. Please note that the responsibility for using or relying on such material rests with the client and Capitalix accepts no liability for any loss or damage, including without limitation, any loss of profit which may arise directly or indirectly from the use of or reliance on such information.
Risk Warning: Forex/CFDs trading involves significant risk to your invested capital. Please read and make sure that you fully understand our Risk Disclosure Policy.
You should ensure that, depending on your country of residence, you are allowed to trade Capitalix.com products. Please ensure that you are familiar with the company's risk disclosure.
Want to read more?
Login and enjoy all Daily Analysis articles